Automation is a threat, gender pay gap is evident the 2019 AIGA Design Census reveals
Facts report ahead! 10% of designers make less than $25,000, 2% make more than $200,000 and just a mere 4% of designers feel stable in their jobs. On another, more colorful note, illustrators are the most underpaid and the happiest of all creatives at the same time, so money is not related to job satisfaction. These are some of the highlights in the latest Design Census 2019 survey by the American Institute of Graphic Arts (AIGA) and Google.
The annual survey was compiled with information submitted by 9,429 participants, including students, educators, freelancers, and business owners based in the US.
Most designers make between $50,000 and $75,000 a year regardless of gender while males are the biggest earners in an industry which has a gender pay gap issue to address -as soon as possible.
Also, the census reveals that only 11% of women designers hold leadership positions, automation is a threat, so is the trend of mega-companies acquiring small design studios and 65% of designers feel satisfied with their jobs - a significant 17% drop from 2017.
"The number of designers who feel worried about their job more than tripled from 2017, with the vast majority of designers saying they feel concerned about the stability of their current position," notes Liz Stinson, managing editor of AIGA's Eye on Design reports Fast Company.
"We spent months developing a tight lineup of survey questions, and while the 2019 Design Census questions and resulting data set are stronger than in previous years, there is always room for improvement" notes AIGA.
"In order to get a more accurate picture of the current state of design, we went beyond simple data visualizations and identified the key areas of interest as well as the topics that required a more nuanced approach. To do this we created Python code that enabled us to work with both quantitative and qualitative data, regardless of the number of responses, as some questions enabled the user to select multiple-choice answer options. Once the data was streamlined, we used applied pivots and different types of aggregation. We then compared qualitative-textual answers with different scales, like charting the broad correlation between salary and satisfaction. Download the raw data and give the data a whirl" encourages AIGA.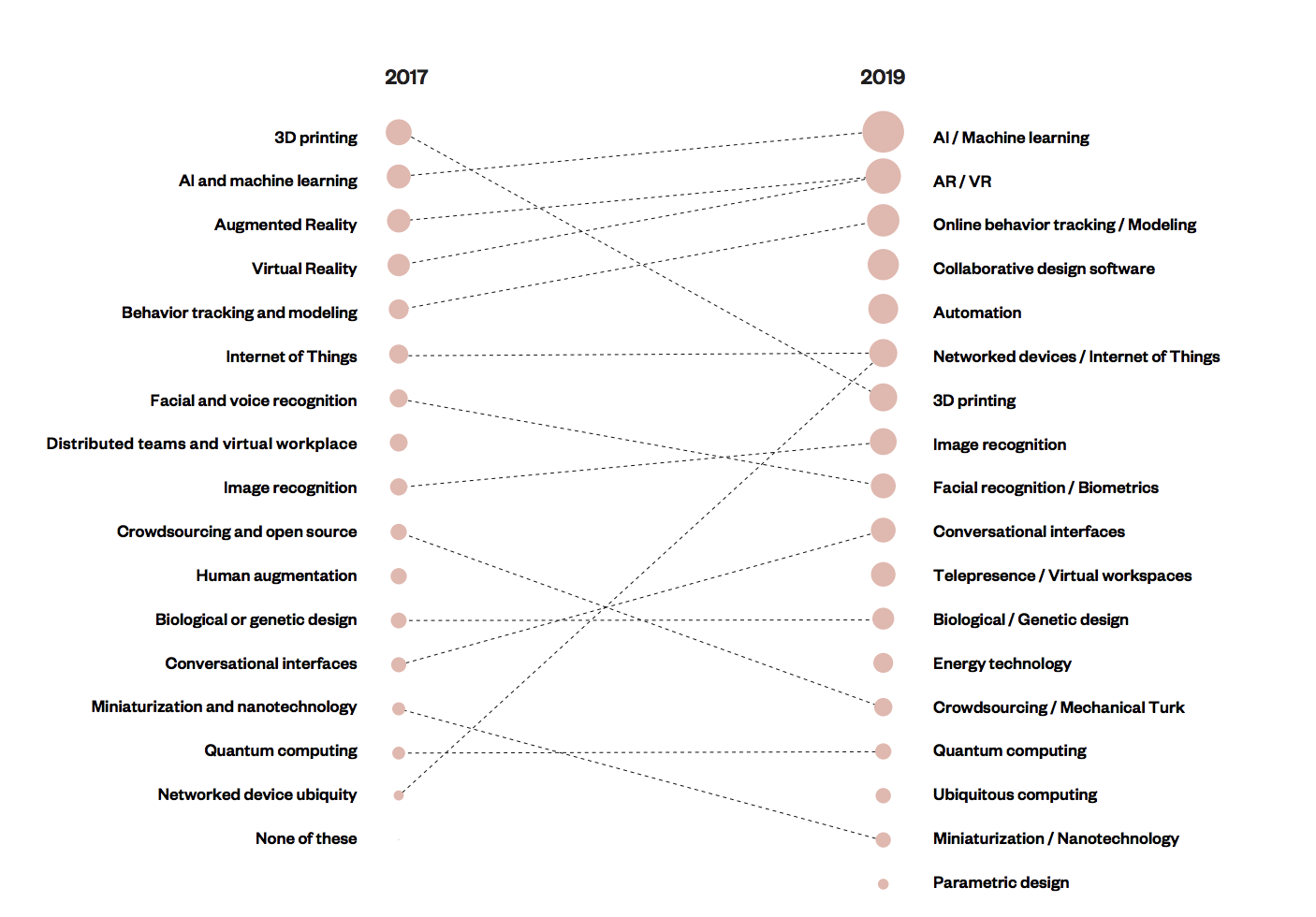 "I think many strides could be taken to examine the economic barriers to this profession; software subscriptions, event ticketing costs, private university tuition—all of these costs are some form of gatekeeping whether intentional or not" answers Mike Tully, 29, art director of The Brooklyn Rail, adjunct professor, Brooklyn, NY of the most most important issues facing design professionals
Only 11% of women designers hold leadership positions, automation is a threat, so is the trend of mega-companies acquiring small design studios
The 2019 AIGA Design Census was open to the public for five weeks starting April 1, 2019, and it was shared directly with AIGA's members and attendees of the AIGA Design Conference, as well as the wider U.S. design community via social media, paid advertising, and Eye on Design's readership. As noted by AIGA there are hopes to extend the Design Census to the rest of the world by next year.
Till then explore the economic, social, and cultural factors shaping today's design practice and track the evolution of the creative industry here.
Tags/ inspiration, google, designers, aiga, design census, us, survey, salary, gender pay gap, deisgn census 2019, results