Look Both Ways: Debbie Millman curates the must-see typographic exhibition of the week
Curated by Debbie Millman, chair of the MPS Branding program at the School of Visual Arts the exhibition "Look Both Ways: The Illicit Liaison Between Image and Information" is a must-see.
The exhibition brings together a wide range of typographic work from 60 individual artists, including Jean-Michel Basquiat, Shepard Fairey, Dave Eggers, Deborah Kass, Jenny Holzer, Miranda July, Kim Gordon, and more, from Millman's personal collection and beyond.
Look Both Ways showcases the many ways in which words, text and information influence art, design, literature and music.
"Bold typographic expression has become the cultural currency of communication and the centerpiece of connection. Objects and experiences all around us now contain an inscription, an impression or a point of view. Our bodies, clothing, public events, sports, politics and even the products we consume have given people, by way of social media and the Internet, an instantaneous way to communicate globally. On an intimately personal level, tattoos have assumed the atavistic power that religious amulets once had to convey messages about ourselves, with the immediate power of images and words. This dynamic is evident today in all disciplines of visual communications, reflecting the condition of our culture" notes the press release of the exhibition.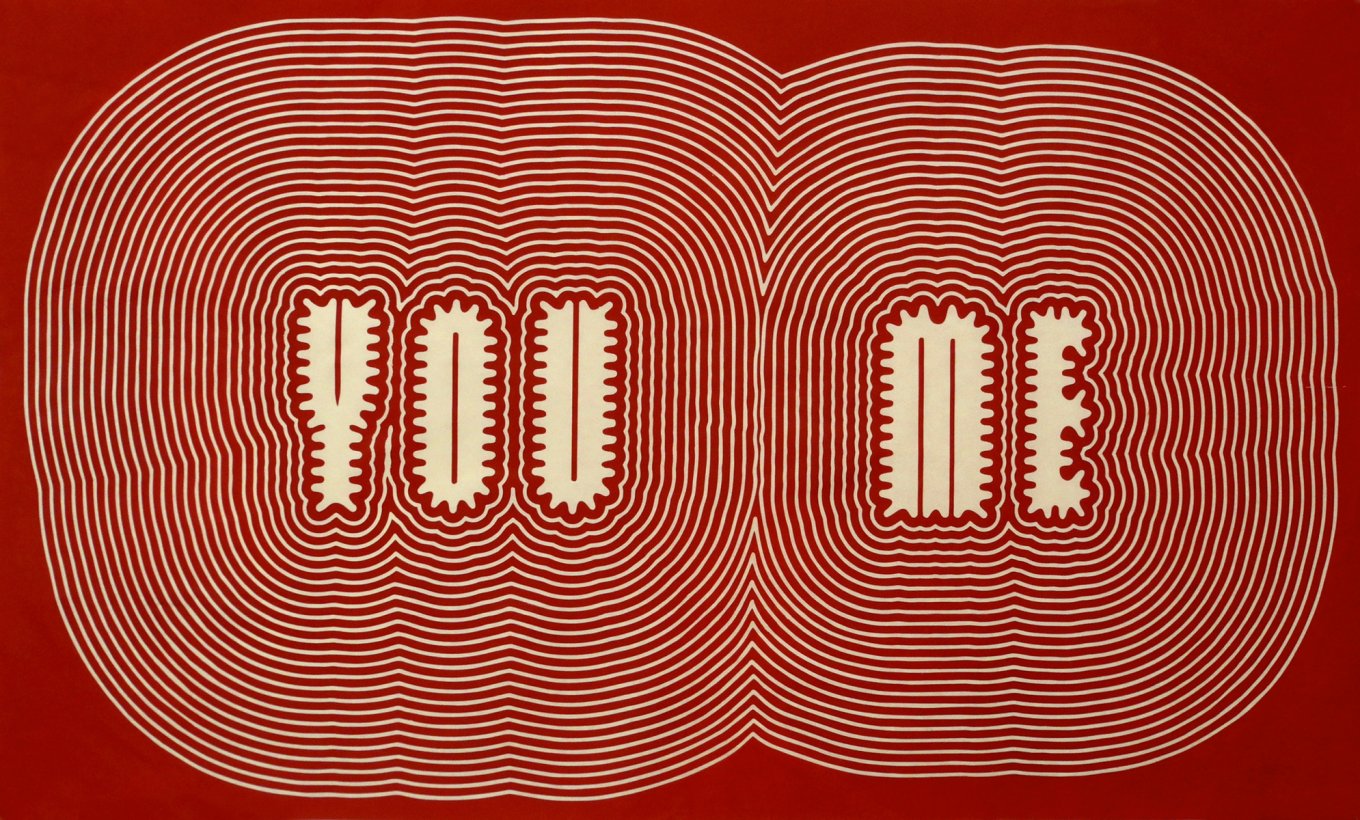 Paula Scher, "You Me," 2015. Courtesy of the artist
"This exhibition is a stark reminder of the power language has to rule all facets of culture. These works will undoubtedly incite many passionate discussions."
The works in this exhibition come largely from Millman's own personal collection of text-based art. In addition to her work as an educator and leader at SVA, Millman is an acclaimed designer, writer, and strategist and has been hosting her "Design Matters" podcast for more than 14 years.
"I am thrilled to partner with SVA to share this selection of typography works from a group of innovative and outspoken artists, several from my own personal collection," said curator and MPS Branding chair Debbie Millman.
"This exhibition is a stark reminder of the power language has to rule all facets of culture. These works will undoubtedly incite many passionate discussions" adds prolific designer and writer whose work has been published in The New York Times, New York Magazine, Print magazine, and Fast Company, Millman.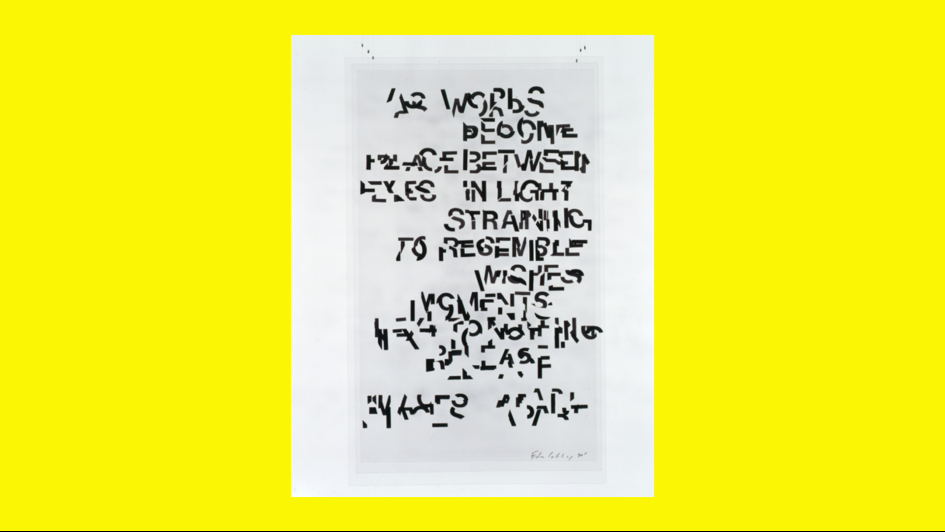 Edwin Schlossberg, "As Words, Tidal Gestures Series," 1990. Courtesy the artist
Millman served as president of Sterling Brands for 20 years and in 2019, was honored with an AIGA Medal. Millman is the author of six books, including the illustrated essay from which the exhibition borrows a title: Look Both Ways. An influential force in the design industry Millman chose the pieces in this show with one criterion.
"They moved me emotionally and I admired them aesthetically. About one-third of the pieces come from my own collection, another third are from artists and designers that I know personally and admire tremendously, and the rest are from artists and designers whose work I both revere and also believe fit into the intellectual and visual intent of the exhibit" said Millman.
Look Both Ways is free and open to the public, and will be on view from August 24 through September 21 at the SVA Chelsea Gallery. Check more here.
Slider images via SVA Chelsea Gallery, photo credit @JSP Art Photography.
Tags/ origins, exhibition, paula scher, school of visual arts, podcast, debbie millman, design matters