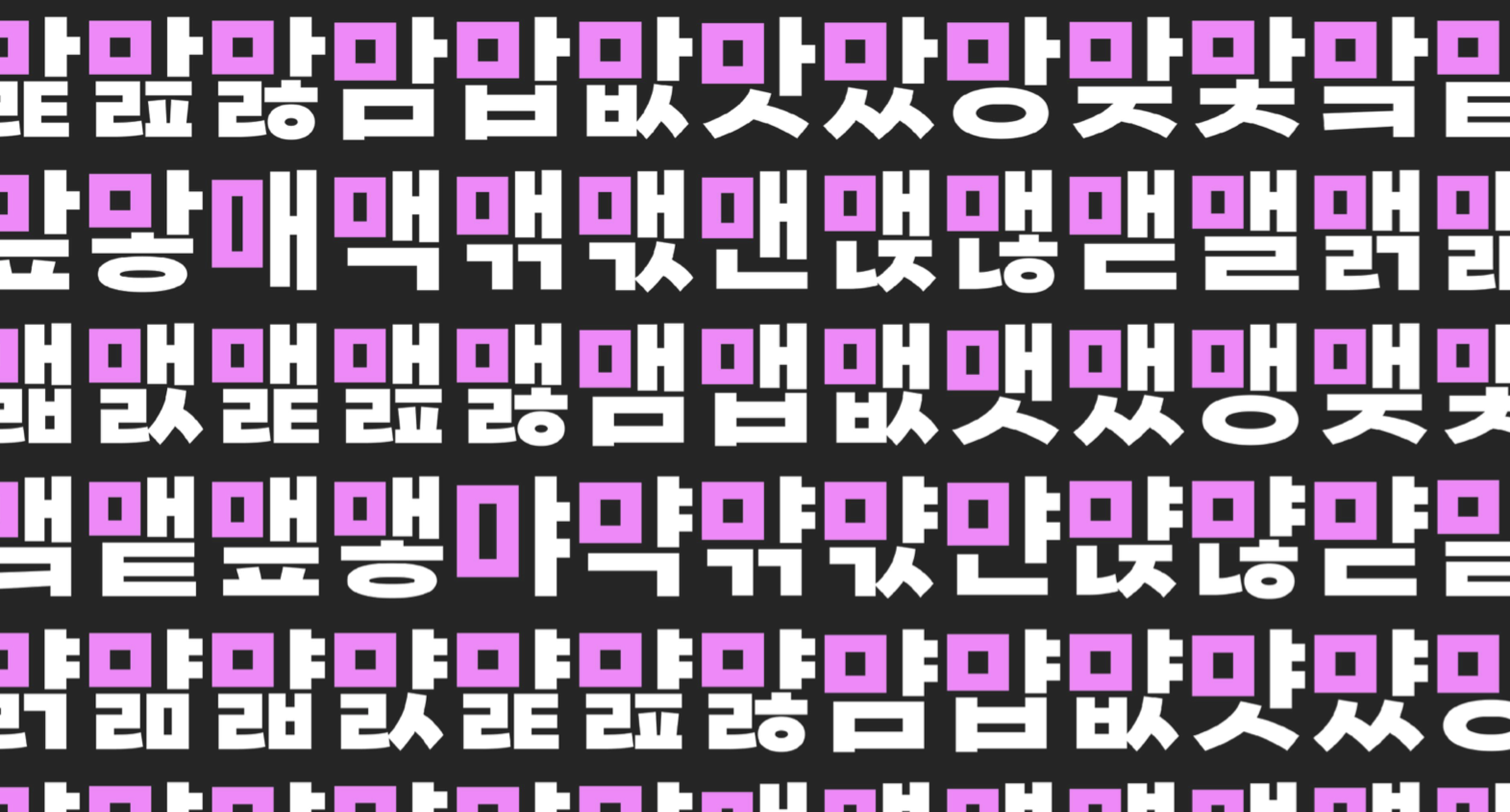 ATypI: Sandoll Inc on how to design Hangul type
Korea's representing type foundry Sandoll Inc. (a.k.a. Sandoll) introduced the process and know-how of making Hangul type at the recent ATypI (Association Typographique Internationale) conference, which was held in Japan for four days from the 4th to the 7th of September.
At ATypI, the world's most prestigious typography conference, which started in Switzerland in 1957 and marked its 63rd anniversary this year, Sandoll presented its' development system and design methodology for designing Hangul which is very complexly composed with strokes in two parts with the presentations "Hangul Type-Design Methodology" and "Building Hangul like an Architect."
During the insightful talks, Sandoll expressed expectations that gradually developing the design process and technology will be the major force for producing CJK types and quality types by reducing the production time and reducing the burden of development.
The presentation was done by Sandoll Lab's director Wujin Sim with type design team director Chorong Kim and type designer Dohee Lee.
"The presentation at ATypI conference was a great opportunity to remind Sandoll and Sandoll's designers have the skills and know-how which is the best in the world" comments Wujin Sim. "I will keep study for a more effective and productive process and also a methodology for Sandoll's Happy Design philosophy" he adds.
"I am personally honored to present at the ATypI conference this year following last year. If last year was the occasion to announce Sandoll's new Hangul type to the whole world, this year was a chance to give out Sandoll's accumulated know-how after the numerous global projects, to the type foundry and the type designers in the world" adds Chorong Kim.
Here are the highlights of Sandoll's insightful presentations provided by the type foundry to Typeroom.
"To make a set of Korean font, type designers have to draw from 2,350 at least to 11,172 Hangul glyphs in maximum. Therefore there are a lot of glyphs to revise. Also, it requires more time.
But only with few glyphs, 17% of minimum and 4% of maximum Hangul glyphs is all it needs to be revised. Director Wujin Sim and Team Director Chorong Kim wrote a story using just essential glyphs and do typesetting then read it at the early stage of the process.
They selected all the glyphs that consist of these essential Jaso (grapheme in Korean). They added 77 glyphs to help making the story. So the number of glyphs is 409 in total. After the glyphs were selected, they made words, then sentences, then a short story using the words made out of the selected glyphs. The story made out of the 1st revision is a bit strange but can catch the overall impression.
Director Wujin Sim and Chorong Kim proofread the English translated version of the story which was made in the selected glyphs of Hangul and then revised the glyphs. Through the process of this proofread, it became more enjoyable than before to revise.""There are a lot of similarities between the process of making Hangul type and building architecture.
So by Hangul's characteristics and making Hangul type's process, type designers can build Hangul type like an architect.
Hangul has a regular pattern, so by using this characteristic, a lot of letters could be made effectively.
The following process is considered when type designers make Hangul type.
The first step is to systematically make a plan.
The next step is to use a type module according to the plan.
Throughout the whole process, technology is required in every step, which is much the same with the process of building architecture."
On top of the presentations during this year's ATypI conference Sandoll also held a Hangul design workshop for type designers in other countries.
Designers from around the world who attended the workshop spent time experiencing how to design Hangul types while it harmonizes with the Latin and important issues of Hangul types for UI・UX based on the global project that Sandoll have done.
The workshop was done by Sandoll's type design manager Chorong Kim and Saja Typeworks type designer Aaron Bell.
Director Wujin Sim is active in education, publishing and practical activities focusing on design methodology of books and types. His books include "Manual of Body Text Typesetting" (2015) and "Easy-to-Find InDesign Dictionary" (2015). Type design manager Chorong Kim studied type design at the ISBA Besançon and ESAD Amiens in France and designed Hangul and Latin at Sandoll. Type designer Dohee Lee studied Visual Design at Seoul National University and designed various brand's font at Sandoll.
Tags/ details, type design, typefaces, type foundry, atypi, seoul, tokyo, korea, presentations, talks, sandoll, hangul type, cjk, atypi 2019