019 presents Ines Cox: SHOW is the latest billboard to love in 019's ongoing project in Belgium
In collaboration with Design Museum Gent, 019 presents "SHOW" by Ines Cox.
On view, until the 20th of September at Design Museum Gent, the billboard is the latest project presented on the side of the museum in Drabstaat.
Cox's "SHOW" is part of an ongoing project of Gent's graphic design collective 019 which provides an alternative exhibition platform for graphic designers with every design remaining in place for 2 months.
The 50 sq.m. billboard is all that remains of the exhibition project 019 — Museum Of Moving Practice from 2017, during which the collective temporarily occupied a section of the museum. Billboard is based on the Billboard Series concept on the wall of the 019 building in Dok Noord since September 2015 (a joint project of artlead, All Things Contemporary Vzw & 019).
"Feeds glide before our eyes, fingertips tap-dance on glass surfaces and while we scroll deeply into an endless universe, we view, tag, like and comment. Publishing became posting and posts appear on walls and in groups. The vocabulary, with which the software on our computers and phones talks to us, is full of metaphors related to the physical world. A story can mean different things now" notes the museum of Cox's "SHOW" billboard.
Ines Cox (born 1987) is a Belgian graphic designer running her own independent studio in Antwerp.
In 2009 she graduated from Luca School of Arts (Ghent, BE) and continued studying for a second Master course at Werkplaats Typografie (Arnhem, NL).
She has been collaborating with a wide variety of artists, institutions, and brands on both printed and digital matter. In her practice, commissioned projects run parallel to self-initiated autonomous work and research. A former teacher of Typography at the Graphic Design department of the Royal Academy in Antwerp, Cox has researched the art of type from January 2017 until the end of 2018 at the institute.
Cox's latest project, titled SAVE, is a culmination of the designer's two-year research period at the Royal Academy of Fine Arts Antwerp where she explored "our relationships with technology, focusing particularly on the designer's perspective and the reciprocal nature of the interaction with their computer. To do this, she consciously observed, documented and imitated the aesthetics that appeared on her own screen, generated by the computer and its software" notes It's Nice That.
019 is the nineteenth project of Smoke & Dust, an independent not-for-profit organisation and artist collective founded in 2008 by Valentijn Goethals, Tim Bryon and Tomas Lootens. Centered in a 450-square-meter former welding factory in the Old Docks area of Ghent, Belgium, 019 is the largest project of S&D to date.
019 invites a diverse range of local and international artists, graphic designers, composers, collectives, and other creative practitioners to explore the potential inside and around the building.
Cox joins a distinguished group of collaborators which includes Experimental Jetset, Bieke Criel and more.
Enter 019's graphic design crusade here.
019 invites a diverse range of local and international artists, graphic designers, collectives, and other creatives for impressive collaborations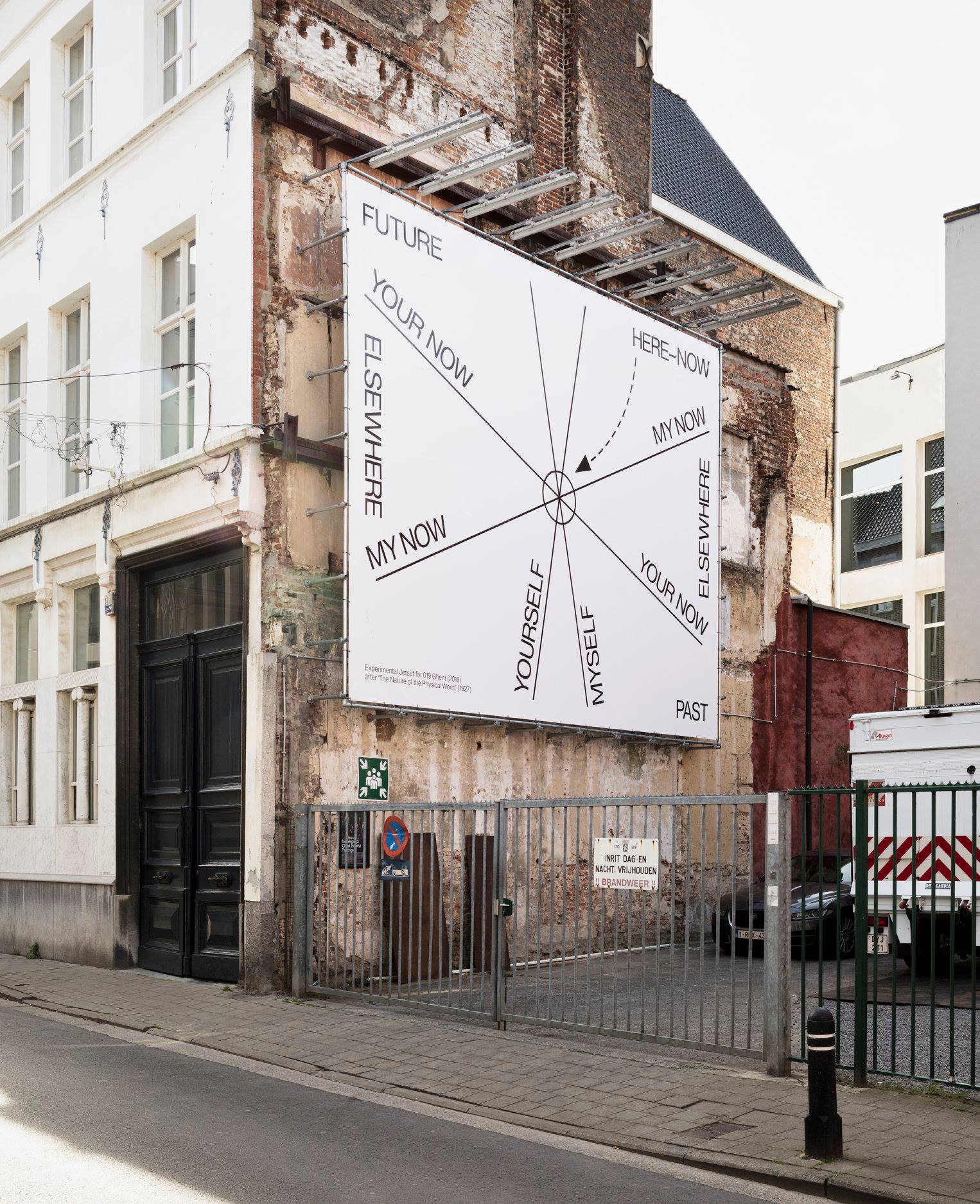 Experimental Jetset: You are here/ You are now at Design Museum Gent. "For a while now, Amsterdam-based graphic design unit Experimental Jetset has been exploring the language of diagrams, city maps, time tables, and clock dials. But instead of using this diagrammatic language in an objective, empirical way, EJ tries to employ this language in a more intuitive, poetic manner. For EJ, diagrams are ultimately open plans, spatial constructions that could (and should) be interpretable in multiple ways. On the subject of their billboard, Experimental Jetset says: 'City maps in public spaces often contain the indication 'You Are Here', usually accompanied by an arrow. When you think of it, that's quite an existential message. We thought we could emphasize this sense of existentialism even more, by adding a second phrase: 'You Are Now'. Because that's ultimately where we all are: here and now'. Added to that, Experimental Jetset's billboard is also a reworking of a scientific diagram found in a publication from 1927 ('The Nature of the Physical World', by Arthur Stanley Eddington)" notes 019 of the Experimental Jetset's collab.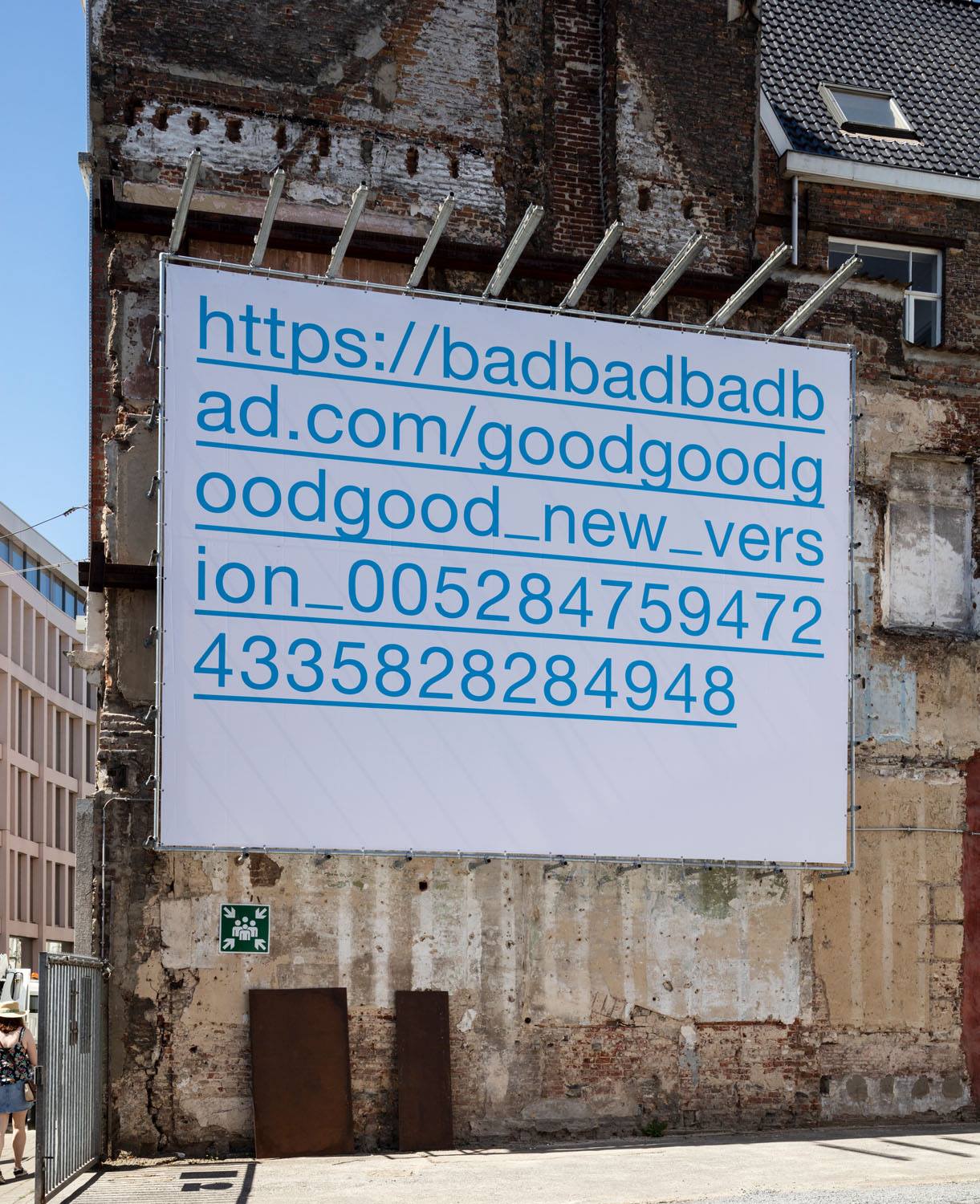 Bráulio Amado, ≃01:05:24.
All images by Michiel De Cleene via 019. Slider images by Elias Derboven via Ines Cox.
Tags/ inspiration, museum, experimental jetset, belgium, ghent, ines cox, billboard, 019, collective, gent, design museum gent