#MadeIn1989: Design Museum celebrates 30 years in 30 logos
This year marks 30 years since the Design Museum originally opened its doors in a converted banana warehouse in Shad Thames, among the once economically vibrant London docklands.
"Asked to pick the single most rewarding achievement in my long design career so far, I would not hesitate to say firmly the Design Museum in London" notes Sir Terence Conran, who established the museum in 1989 to promote awareness of design in education, industry, commerce, and culture. "Design is such a fascinating world and only recently people begin to understand how fundamental design is to the quality of life" he says in an interview with 2019 designer in residence, Ella Bulley.
The museum's beginnings were in the Boilerhouse Project, an independent project at the V&A museum financed by the Conran Foundation and directed by Stephen Bayley. It all started in 1981 when Sir Terence Conran led a consortium that won a bid to redevelop an 11-acre site at Butler's Wharf, consisting mainly of Victorian warehouses that had fallen into disuse. Around 1986 a building site was earmarked as the new home for the Design Museum.
The site was originally a 1940s banana-ripening warehouse. It was most recently a store for South Korean military supplies before its conversion into Design Museum. The architect was Stuart Mosscrop of Conran Roche, who had created the shopping center at Milton Keynes a decade before. The interiors were designed by Paul Williams and Alan Stanton, also of Conran Roche. It was deliberately designed to be a homage to the International Style of the 1930s as a sort of Bauhaus-on-Thames. Notable for its white walls, marble floors, generous balconies and glass-brick walls which let in lots of light, it was very much a statement of forward-looking progress, in contrast to the Victorian warehouses of the surrounding area.
The new museum was opened by Margaret Thatcher on 5 July 1989. "Sir Terence, ladies and gentlemen, I will speak very briefly because Sir Terence has said most of the things that need to be said" noted Thatcher in her opening speech. "First, we needed this Design Exhibition Centre in London. I call it an Exhibition Centre and not a museum—a museum is something that is really rather dead, and this is a living exhibition, and how we came to design as we do, how the early artifacts and the early consumer goods were designed. How present-day is designed, the best of design. It is a living history, so they call it a museum—I would like to call it a record of design, as something living from the past into the future. We owe such a lot to Sir Terence himself for bringing good design within the reach of everyone. And there is no earthly reason why we should not have good design, whether it's in clothes, whether it's in furniture, whether it's in houses. The outstanding characteristic of the post-war period has been to take the very best, whether it be clothes, housing, things that you have in houses, in cars, and turn it into mass production so that we may all profit from it. And Sir Terence is one of the great believers of that in design, in that he brought new quality of standards, value for money and culture to people who could not otherwise have had it."
"Of course, design is relevant to everything. Some of the newspapers give prizes to companies who look at design as a total concept, not only the things they produce—what do they look like—but do they work? Are they safe? Are they up to British standards? Can they be well maintained? Can you clean them? Will they last? But more than that. When they're trying to sell to people who visit those companies, they're interested to see them as they go into the foyer—is it is well designed? Is there someone there to welcome them? As they go round the factory the layout is well designed. And this conveys the impression that those manufacturers, those shops that pay attention to these things, are concerned not only about the general design but about each and every detail and they give value for money. And if design is like many other things, you can be taught a good deal about it if you go round an exhibition with someone who will tell you what it is all about, and why things are done in a particular way. And so I'm very glad that you will have little commentaries while you go round this Design Museum, or Exhibition, on living standards of the things that we have on display, so that young people will be able to learn and that students will be able to learn from those who have had excellent design which has stood the test of the years."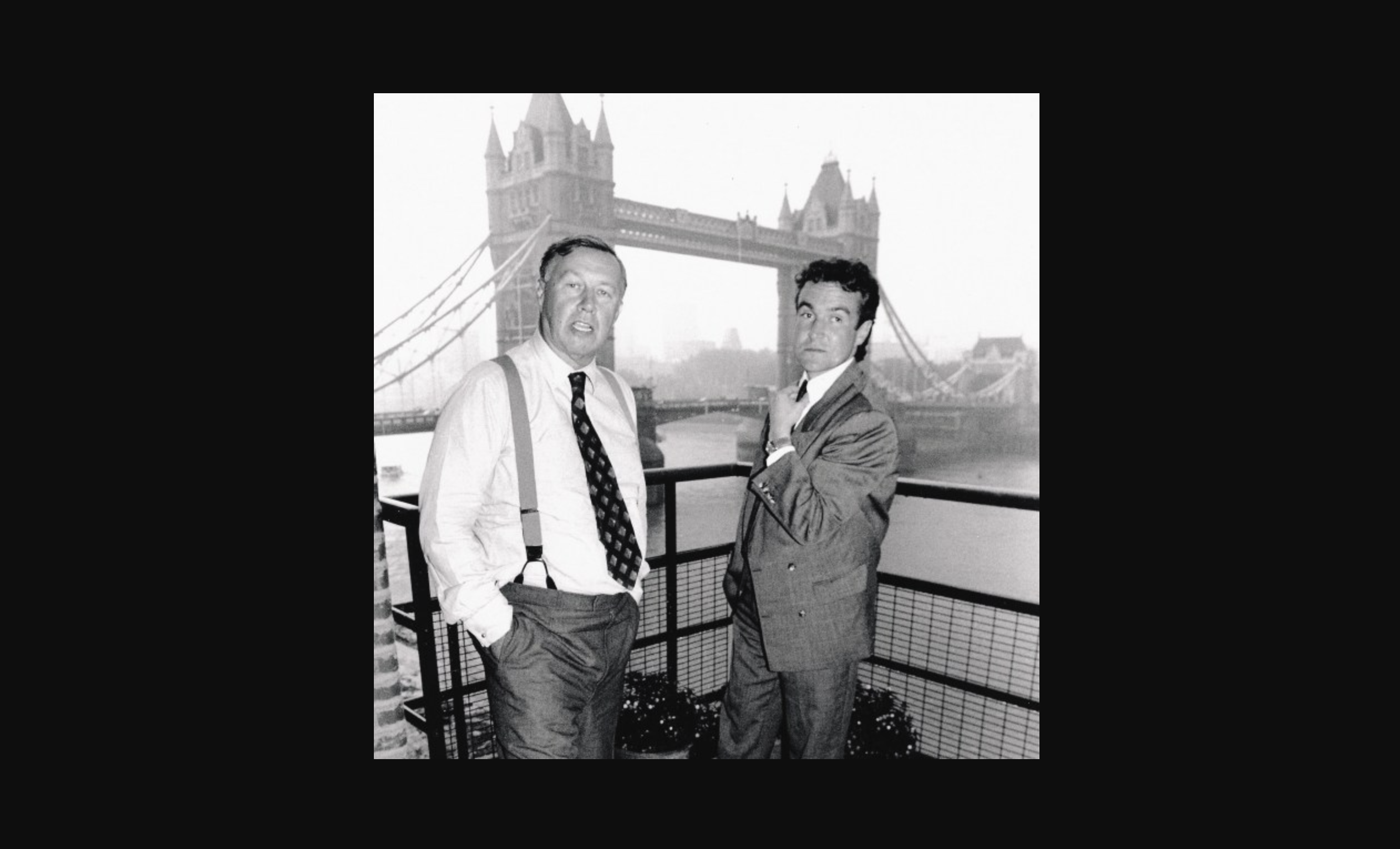 Sir Terence Conran and Stephen Bayley
"And of course it is very appropriate that this great exhibition should be in Docklands. The interesting thing as we go up and down this great river of London, which is itself an example of liquid history, you see buildings on either side many of them many years ago beautifully built, the windows perfectly designed, the paintwork around them of excellent quality, relevant for the needs of the century for which they are built, but like good design relevant when they are being adapted to the century in which we live. The proportions are there. The workmanship is there. The elegance is there. And young people can learn so much from it and it is very marvelous that it is being revived and it is as exciting to us now as it was when it was built.
"I call it an Exhibition Centre and not a museum—a museum is something that is really rather dead, and this is a living exhibition, and how we came to design as we do, how the early artifacts and the early consumer goods were designed" said Thatcher
"Now Sir Terence may I thank all of those who sponsored this great undertaking. £6½ million are needed and I believe and hope they've got £6½ million. Have you got it? And they want more to run it. And here are some of the sponsors who gladly entered into this exciting enterprise. It is very interesting that more and more of these big museum/art galleries/exhibitions are being sponsored by the private sector. Nor surprising, because the things we buy and the jobs we do are really the essence of the life in which we live and so more and more a part of the sense of community and that we wish in fact to enjoy the things we buy and know more and more about them."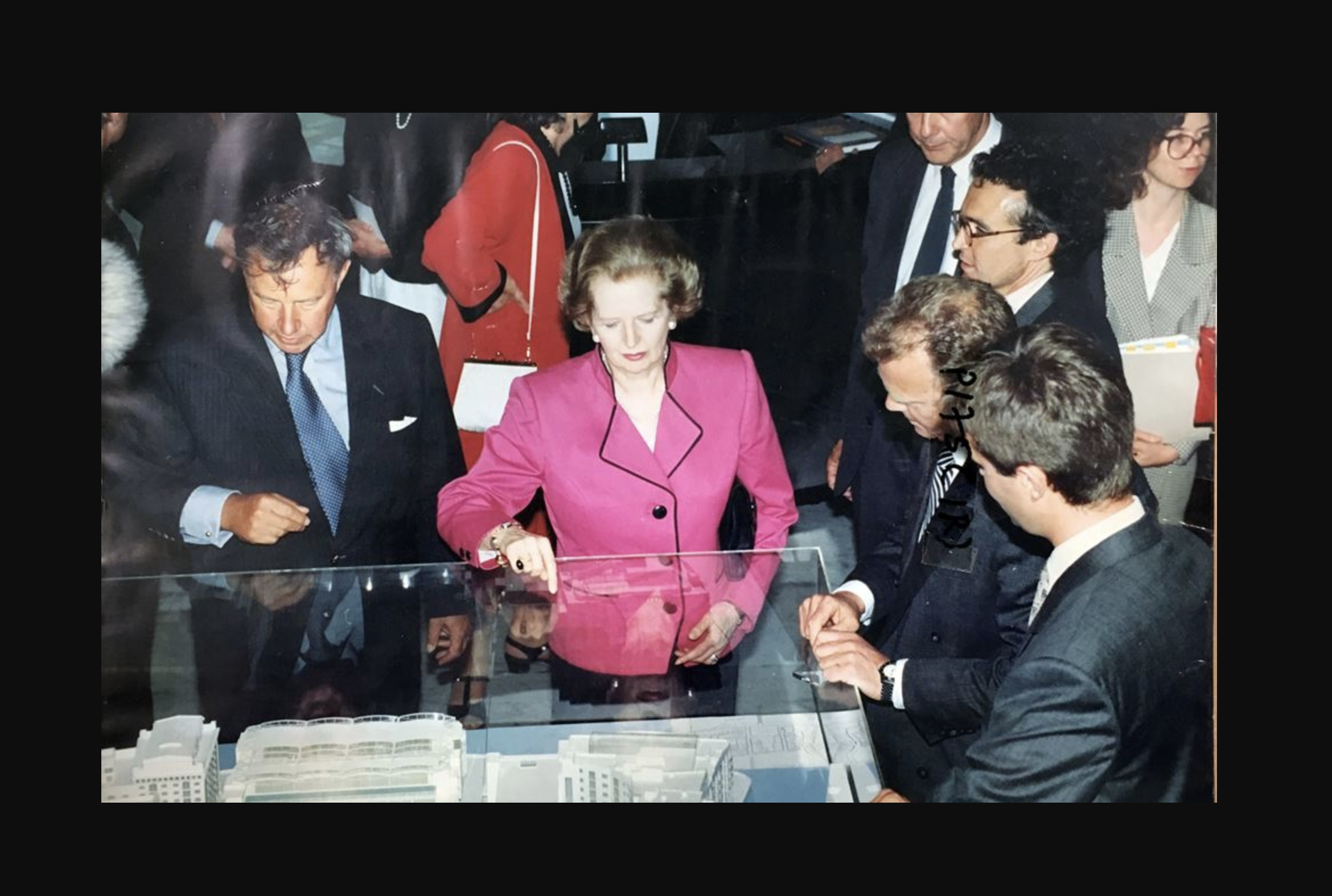 Margaret Thatcher at the opening of Design Museum in 1989.
"I have just one thing to say, Sir Terence. I thought that there weren't quite enough British things. But we have some very well designed things and I'm sure that that will be put right very quickly. Because we also would like it to be a window to the world, of how the good things that we can produce so that people needn't import them the whole time and the good things that we export to the world because we're good. I would also like to say thank you to some of our educational and technical colleges for the very good work they do in design and to some of the schools. When I was Education Secretary years ago, I said please start to teach the children how to design. They are now doing it and this will be a very great asset to them. So it is an honor and a pleasure for me to come and formally open the Design Museum/Exhibition" said Thatcher.
In the event of Design Museum's 30th birthday, the institution highlights some of its most iconic exhibition during the Shad Thames era. Commerce & Culture (1989) set the agenda for the Design Museum to come, Eileen Gray (1992), one of the earliest exhibitions to showcase the work of pioneering Irish designer, Is Starck a Designer? (1993) which examined the Starck's maverick approach to design, Conran Foundation Collection which ran between 1993 and 2004 and invited designers to choose items that would enter the museum's collection, The Power of Erotic Design (1997), a show that broke all previous visitor records as an important examination of how designers have used eroticism in their work and Designer of the Year (2003), aka the inaugural Designer of the Year competition with Apple's former master of design Jony Ive as the winner and Designs of the Year which kicked off in 2008.
Following a long search for larger premises to expand its activities, in 2008 the Design Museum selected the former Commonwealth Institute, a 1960s building in Kensington High Street, West London, as its new home.
"Design is such a fascinating world and only recently people begin to understand how fundamental design is to the quality of life"
The unique landmark, a Grade II listed building had stood vacant for over a decade, was transformed by a design team led by John Pawson who made the building fit for a 21st-century museum, whilst at the same time retaining its unique spatial quality. The Design Museum worked with John Pawson on the interior fit-out of its building. OMA were responsible for the overall master plan and in conjunction with Allies and Morrison for the refurbishment of the exterior of the museum.
The 2019 exhibition program features the annual showcase of the years' best new design, Beazley Designs of the Year 2019. Last but not least the archival display "Made in 1989 – Celebrating 30 years of the Design Museum", on until 12 January 2020, revisits the birth of the institution thirty years ago.
To celebrate the anniversary, Design Museum unveiled a set of commemorative graphics drawn up by designers who honored the institution's birthday. Contributions spanning the industry –from graphic designer Anthony Burrill to Antony Gormley, Paul Smith and Marina Willer– explore the museum's bold take on design as it forms our world.
Thirty years on, Design Museum continues to promote design in all its forms, striving to make the impact of functional and innovative creations visible to all.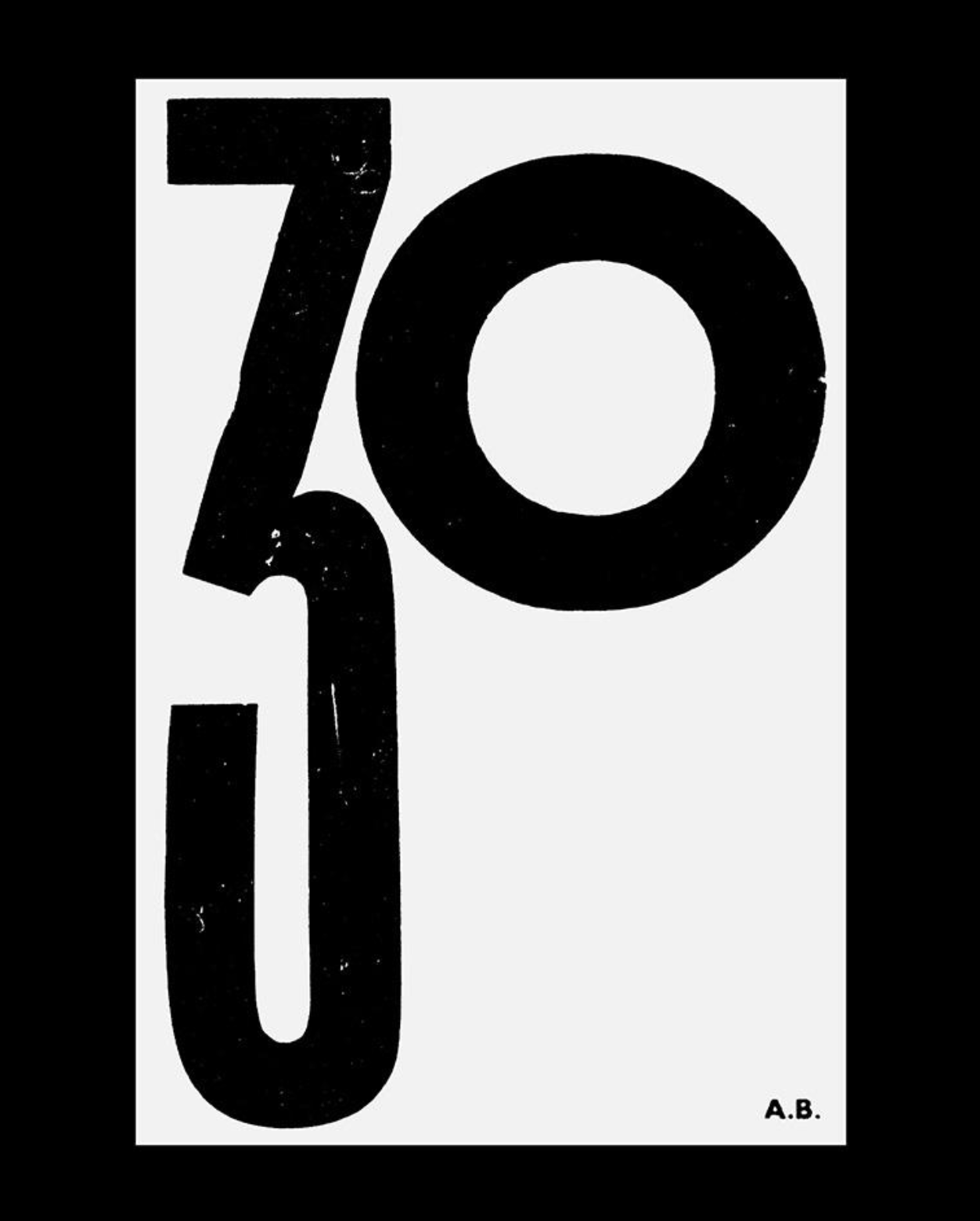 Design by Anthony Burrill
Slider images captions: designs by Marina Willer, Quentin Jones, Margaret Calavert, James Joyce, Studio Ayaskan, Craig & Karl and Frith Kerr. All images via Design Museum.
Tags/ design, inspiration, logos, apple, anniversary, anthony burrill, design museum, paul smith, beazley designs of the year, sir terence conran, celebration