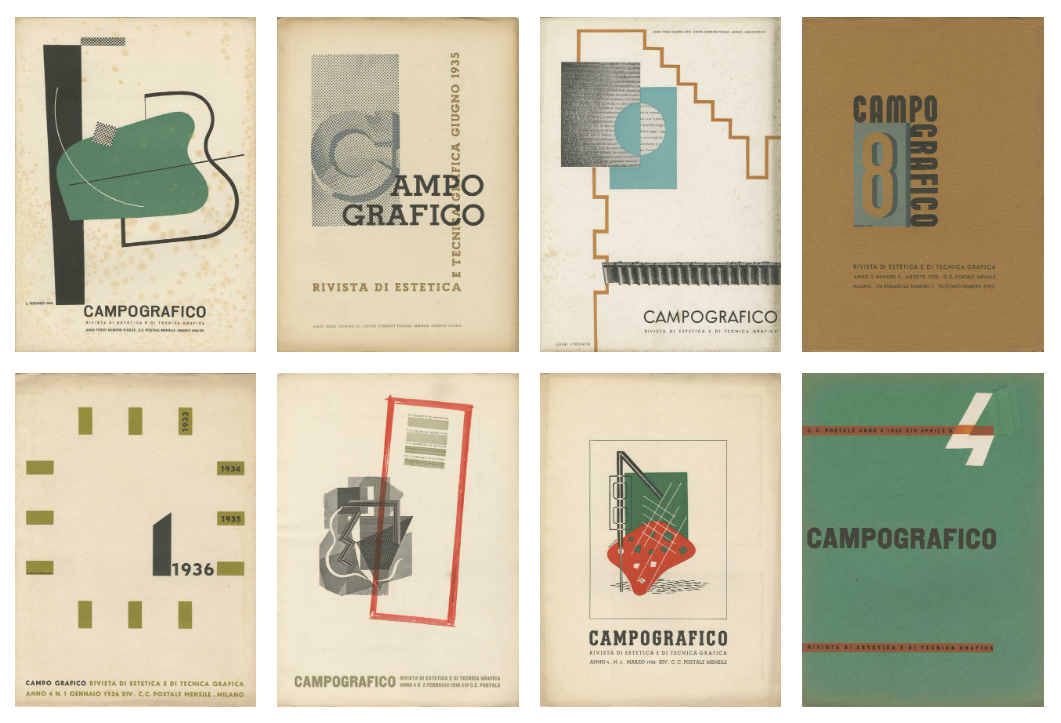 Campo Grafico: this must-own catalog narrates Italy's New Typography revolution
This catalog of the exhibition "Campo Grafico 1933/1939: nasce il visual design" held from 25 March to 10 April 2022 at the ADI Design Museum and published by AIAP Edizioni is a limited-edition typographic beauty to celebrate.
The catalog – in addition to the narration of the salient features of "Campo Grafico" history accompanied by over 100 images – includes an illustrated poster with all 66 covers and the transcription (with English translation by James Clough) of 12 original articles of the original Italian magazine that is regarded a collective cultural phenomenon recognized all over the world for its "distinctiveness and peculiarity."
Designed by Gaetano Grizzanti, who co-curated the exhibition alongside Mauro Chiabrando, Pablo Rossi and Massimo Dradi of the www.campografico.org team, and Giancarlo Tosoni, the publication is explicitly inspired by "campista" graphics, expressing all the facets of this multifaceted phenomenon.
On the eve of 90th anniversary of "Campo Grafico – Rivista di estetica e di tecnica grafica", published between 1933 and 1939, all 66 cover issues were exhibited for the first time, marking the importance of a cultural work recognized worldwide.
Even 90 years later "the geometric and dynamic harmony of the solids (titles, texts, bodies, typographical accuracy, threads, dithering, images and colors) and of the voids (so-called white space) that arises, today as yesterday, from the Campo Grafico original pages" is inspiring notes the team.
Born in Milan, Italy, as a "bet of free spirits, exploiting the historical chance formed in the first half of the thirties – between the rise of Nazism and the abyss of racial laws – under the influence of the great cultural and artistic avant-gardes of the twentieth century," Campo Grafico quickly became the fertile ground for the aesthetic trends and lines of thought that will give rise to the Italian Style in Typography and Visual Communication.
A book, a day: Archigraphiæ, Rationalist Lettering and Architecture in Fascist Rome by ECAL
Collective ingenuity work, design and printed after working hours by typography workers with the contribution of artists, intellectuals, poets and musicians as well as with the support of courageous entrepreneurs, Campo Grafico still lends itself to countless readings today: an incubator journal for modern graphic design and small Doric temple of modern aesthetic.With a unique goal to bring into the limelight "the continuous mutability of tendencies and means in this age of fruitful progression," all 1,650 internal pages of all 66 issues of Campo Grafico are fully digitized for the first time and available for viewing to all via the Association's website, here.
The limited-edition "Campo Grafico 1933/1939: nasce il visual design" catalog comes in 500 numbered copies and is available here.
Tags/ typography, type, exhibition, catalog, milan, italy, new typography, campo grafico