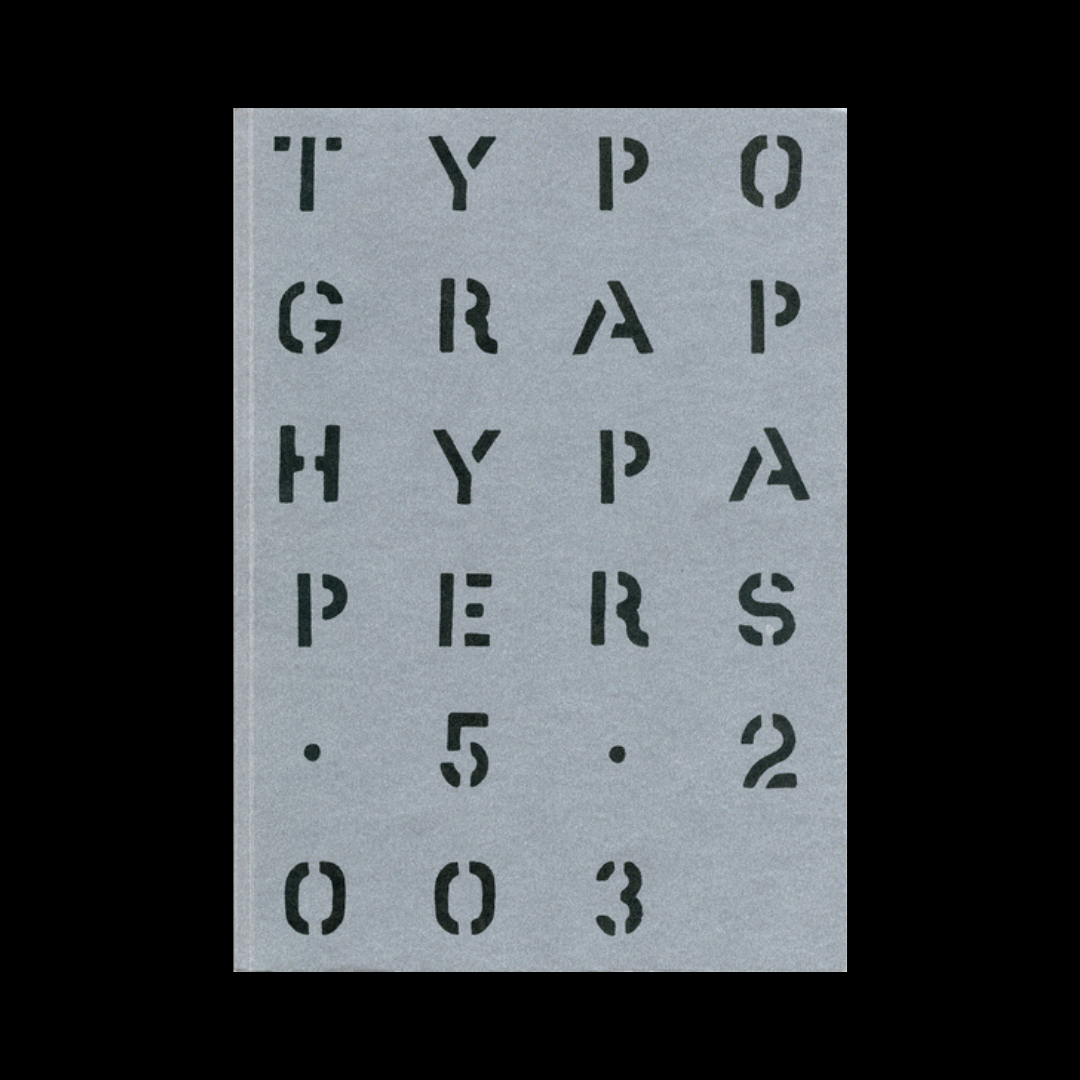 Spread the news! University of Reading's Typography papers are available as downloadable PDF files 
A great announcement follows: articles from the Typography papers series are being made available as free-to-download PDF files on the University of Reading's Typography & Graphic Communication website.
Available here, the selected articles were published in volumes 5, 6, and 7 of Typography papers with PDF files of articles in volumes 1, 2, 3, 4, 8, and 9 to follow.
"We look forward to reconnecting with existing readers and reaching new ones by means of this digital resource" reads the University of Reading's announcement. But what are these papers all about?
Conceived and developed by Paul Stiff at the Department of Typography & Graphic Communication, Typography papers were edited by Stiff from issue 1 through issue 8 — apart from volume 3 (edited by Christopher Burke and Sue Walker) and volume 4 (edited by Robin Kinross and Sue Walker). After Stiff passed away in 2011, Typography papers volume 9 (2013)was edited by Eric Kindel and Paul Luna.
"Whatever else it is claimed to be, typography is design for reading," wrote Paul Stiff in his editorial introduction to Typography papers volume 1 (1996). "In doing so, he sought to position Typography papers within then-current discussions and debates about cultures of reading, design, and typography, which, as he described them, ranged from the self-satisfied comfortable kind to the self-inflated nouvelle" reads the introduction to these precious volumes.
"Typography papers, in its contribution, would instead make a virtue of plainness both in writing and production. And at the risk of 'interdisciplinary messiness', it would welcome a 'variety of positions' and take a 'generous view of typographic designing both as a social activity and as a subject of critical enquiry'. Later, in 2005, with five volumes of Typography papers completed, Paul reflected on the venture in a short text that appeared in Progetto grafico (no. 4/5, 2005). He offered a variation on his editorial in volume 1, now justifying Typography papers ('because we could not find English-language places which were hospitable to writing seriously, at appropriate length, about our subject') and expanding on the use of the word 'typography' ('in a much broader and more generous sense than is suggested by its primary use in much of Europe: not just "printing", but rather "designing language for reading"')."
"Summarising the editorial mode of operation, Paul wrote: 'We ask our authors for evidence and reasoned argument; we are unafraid of accusations of pragmatism and empiricism because these are what our subject most needs now; and we are edgily curious about the boundaries between typography and other practices and subjects.' Each in its own way, the nine volumes of Typography papers aspire to the aims Paul set out, which he pursued himself with commitment, constancy, and vigour."
Following are the articles available to all via the Department's dedicated page. For the full list of contents check here.
-
Designing the Oxford Shakespeare: an interview with Paul Luna by Edward Ragg & Paul Luna
A recent discovery in Trajan's Forum: some implications for understanding bronze inscriptional letters by Paul Shaw
An account of the making of Common worship: services and prayers for the Church of England by John Morgan
Recollecting stencil letters by Eric Kindel
The public debate on Jock Kinneir's road sign alphabet by Ole Lund
-
The Newberry alphabet and the revival of the roman capital in fifteenth-century Italy by Nicolete Gray
The Newberry alphabet with a note on provenance by Paul F. Gehl
Leon Battista Alberti and the revival of the roman inscriptional letter in the fifteenth century by Giovanni Mardersteig
Brunelleschi's epitaph and the design of public letters in fifteenth-century Florence by Paul Stiff
-
The young Garamont: roman types made in Paris from 1530 to 1540 by Hendrik D.L. Vervliet
Extreme type: progress, 'perfectibility' and letter design in eighteenth-century Europe by Justin Howes
The 'Plaque Découpée Universelle': a geometric sanserif in 1870s Paris by Eric Kindel
Letterforms for handwriting and reading: print script and sanserifs in early twentieth-century England by Sue Walker
The Graphic Information Research Unit: a pioneer of typographic research by Linda Reynolds
The form of language by Giovanni Lussu
-
The Department published volumes 1 to 5 between 1996 and 2003. In 2004 Hyphen Press took over as publisher and issued volumes 6 to 9 between 2005 and 2013. Editing and production remained in the hands of the Department throughout.
Now, Typography papers "returns home."
Start reading here.
Tags/ typography, type, type design, university of reading, typography papers, graphic communication, paul stiff