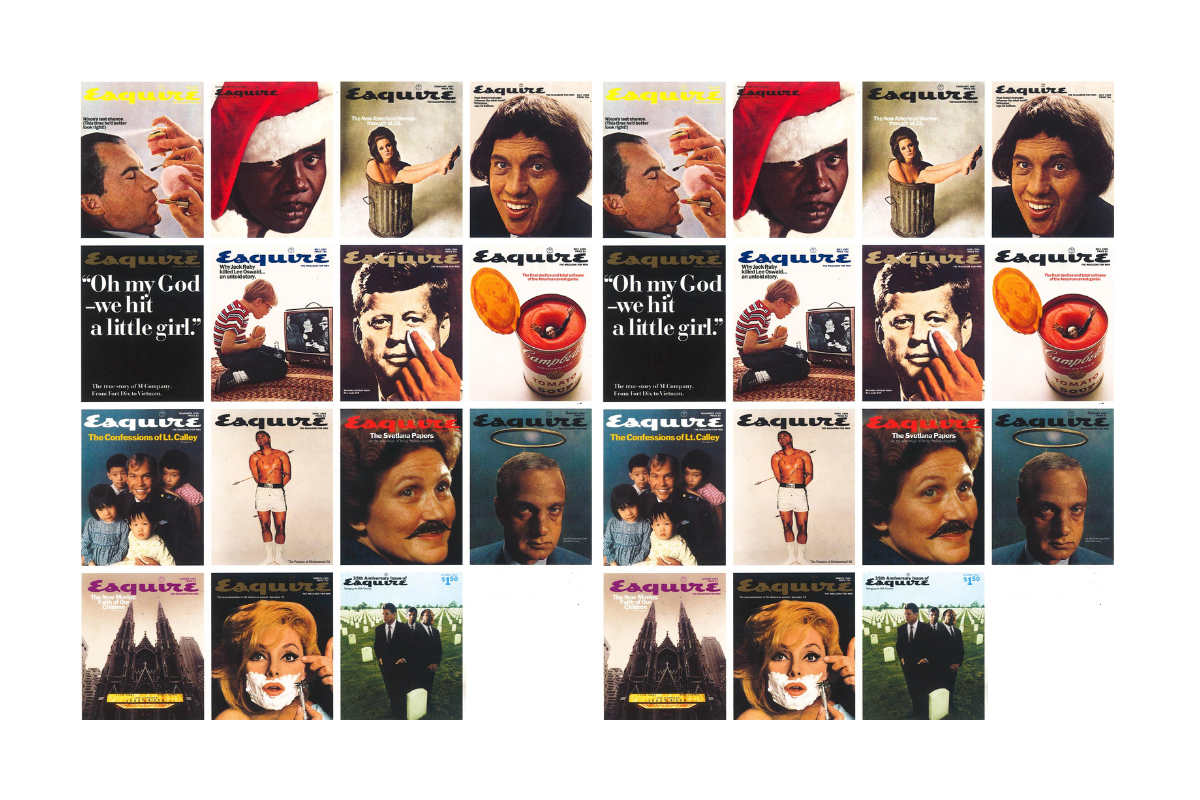 In Memoriam: George Lois (1931-2022)
"Adman-genius, innovative thinker, and a creator of cultural stigmas of advertising that lasts forever" the prolific advertising man and designer George Lois, who fashioned some of the most daring magazine covers and campaigns of the 20th century passed away. He was 91.
Nicknamed the "Golden Greek" and later (to his displeasure) an "Original Mad Man," George Lois was among a wave of advertisers who launched the "Creative Revolution" that jolted Madison Avenue and the world beyond in the late 1950s and '60s reports NPR.
A provocative master of visuals and words, Lois' Esquire magazine covers, from Muhammad Ali posing as the martyr Saint Sebastian to Andy Warhol sinking in a sea of Campbell's tomato soup, defined an era -and beyond.
"Before Lois even the most celebrated magazine covers like James Montgomery Flagg's Uncle Sam for Collier's or Norman Rockwell's poignant illustrations for the Saturday Evening Post depended on drawing or painting to illustrate the content or symbolize the spirit of the publication. Many covers suffered from a banal, formulaic style, and often text competed with the image" writes MoMA's press release of the "George Lois: The Esquire Covers" (2008-2009) exhibition.
"Lois stripped the cover down to a graphically concise yet conceptually potent image that ventured beyond mere illustration of the feature article. He exploited the communicative power of the mass-circulated front page to stimulate and provoke the public into debate, pressing Americans to confront controversial issues like racism, feminism, and the Vietnam War. These images hit the public with their messages artfully communicated with force and immediacy."
"I understood the power of graphic punches. I say that you can be creative and you can be cautious, but you can't be a cautious creator" said this cultural provocateur, author, and courageous designer who opted for covers that "can change the world."
Hailed as advertising's most famous art director, the original "Mr. Big Idea" and "a media renaissance man... an iconoclastic genius... a legendary advertising guru" per TIME Magazine, Lois is regarded as a revolutionary creative revolution and a "pioneering avant-garde mover of the culture."
A multi-awarded creative genius who would cite the racism of his Irish neighborhood for his drive "to awaken, to disturb, to protest" Lois was not flattered by the renewed interest in his work during the AMC's "Mad Men" frenzy — "when I was in my 30s I was better looking than Don Draper" he commented back in the days. His legacy will be revisited for years to come.
An ambitious agent provocateur — "If a man does not work passionately - even furiously - at being the best in the world at what he does, he fails his talent, his destiny, and his God" he once said — Lois (b. 1931) was the son of Greek immigrants who firmly believed that "only with absolute fearlessness can we slay the dragons of mediocrity that invade our gardens."
Per Lois' official site "he introduced and popularized the Xerox culture; he created the concept and prototype design for the New York supplement for the Herald Tribune (the forerunner of New York magazine); made a failing MTV a huge success with his I Want My MTV campaign; helped create and introduce VH1; created a new marketing category, Gourmet Frozen Foods, with his name Lean Cuisine; and (by inventing yet another new marketing phenomenon) persuaded America to change their motor oil at thousands of Jiffy Lube stations" and is "the only person in the world inducted into The Art Directors Hall of Fame, The One Club Creative Hall of Fame, with a Lifetime Achievement Award from the American Institute of Graphic Arts, CLIO, and the Society of Publication Designers, as well as a subject of the Master Series at the School of Visual Arts."
The author of numerous books such as George, be careful (Saturday Review Press, 1972), an autobiography; What's the Big Idea? (Doubleday, 1991), used as a text book in college communications courses all over the world; Ali Rap, The First Heavyweight Champion of Rap (Taschen/ESPN, 2006), a compilation of over 300 rap rhythms, witticisms, insults and wisecracks from Muhammad Ali; Iconic America (Rizzoli/Universe, 2007), a roller-coaster ride through the eye-popping panorama of American pop culture; George Lois: The Esquire Covers @ MoMA, a concise catalog of his famous covers now installed in MoMA's permanent collections (Assouline, 2010); Damn Good Advice (for people with talent) (Phaidon, 2012), 120 no-holds-barred, in-your-face lessons, explaining, demonstrating, and ultimately teaching how to unleash your potential in any creative-driven industry, published in seven languages or Lois Logos, The Creative Punch of Big Idea Branding (BIS Publications, 2015), Lois was born and raised in the Bronx, attended Pratt Institute for one year before leaving and changed the creative industry via his magazine covers, political campaigns and more.
Explore more of his impactful legacy here.
Tags/ moma, designer, mtv, esquire, campaigns, george lois, magazine cover, advertisign