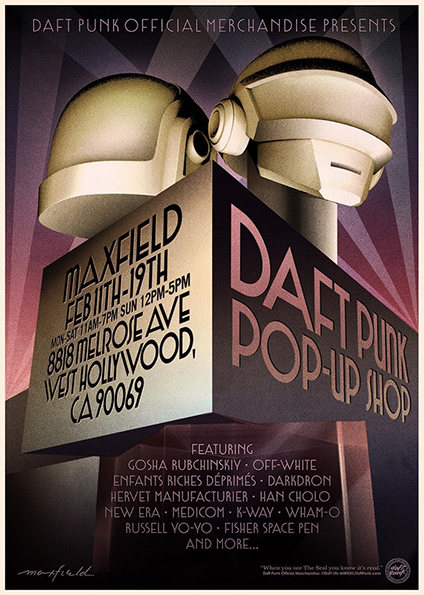 Daft Punk's archive on full display on their new pop-up shop
Just a couple of days ago Daft Punk shared a video of the impressive space which hosts the band's new LA pop-up shop. In the West Hollywood space that "glitters with all manner of Daft Punk artefacts", including robot helmets, artwork, posters and instruments the French duo are sharing a part of their history just in time for their USA invasion - last night Daft Punk made their live comeback at the 2017 Grammy Awards with The Weeknd.
The store hosts an archival retrospective including the duo's old set pieces, props, wardrobe, artwork, photography, and helmets.
In terms of product the pop-up stocks a ton of merchandising, including New Era caps, Medicom Toy vinyl figures, KWay Jackets, Wham-O Frisbees, Russell Yo-Yos and Fisher space pens. Furthermore Daft Punk teamed up with Virgil Abloh, Gosha Rubchinskiy and Enfant Riches Déprimés on collaborative products.
The store will be open from February 11-19 at 8818 Melrose Ave. in West Hollywood.
Tags/ history, photography, posters, props, french, artwork, daft punk, la pop-up shop, robot helmets, robot, instruments, grammy awards, old set pieces, pop-up, new era caps, medicom toy vinyl figures, kway jackets, fisher space pens, gosha rubchinskiy, enfant riches déprimés