Alpha code: Letterform Archive X Monotype's Lynne Yun on the Latin alphabet's brand new perspective
From crafting handwritten calligraphic pieces to designing type for the screen, Lynne Yun is a type designer who specializes in all types of letterforms. Yun enjoys the balancing act of form and function that is required when designing tools for communication and she enjoys sharing the joy of her craft through public speaking engagements and teaching workshops for organizations such as AIGA, TypeCon, and the Society of Scribes.
Being a designer at Apple Inc., Publicis, and Deutsch her insights are precious for anyone into typography and the letterforms and this past March, she shared her knowledge during Letterform Archive's lecture "Letters: A Code System".
"At the root of its identity, the Latin alphabet is a code system. It is a series of symbols that create a visual pattern that resemble the spoken language. From Morse code to stenography, there have been numerous inventions to express letterforms that go beyond the conventional A-Z. If dots and dashes can convey the Latin alphabet, what other unconventional methods could be used to express letterforms? Once we determine what makes a letterform a cohesive system, how far can that logic stretch before it breaks? How can this way of thinking apply in our current times, where algorithms are increasingly becoming adept in predicting systems and generating patterns? We will take a sweeping survey of letterforms and visual systems to gain a new perspective on our alphabet" notes Monotype's Lynne Yun.
The Latin or Roman alphabet is the writing system originally used by the ancient Romans to write the Latin language. Due to its use in writing Germanic, Romance, and other languages first in Europe and then in other parts of the world, and due to its use in Romanizing writing of other languages, it has become widespread. It is also used officially in China and has been adopted by Baltic and some Slavic states.
The Latin alphabet evolved from the visually similar Cumaean Greek version of the Greek alphabet, which was itself descended from the Phoenician abjad, which in turn derived from Egyptian hieroglyphics. The Etruscans, who ruled early Rome, adopted the Cumaean Greek alphabet, which was modified over time to become the Etruscan alphabet, which was in turn adopted and further modified by the Romans to produce the Latin alphabet.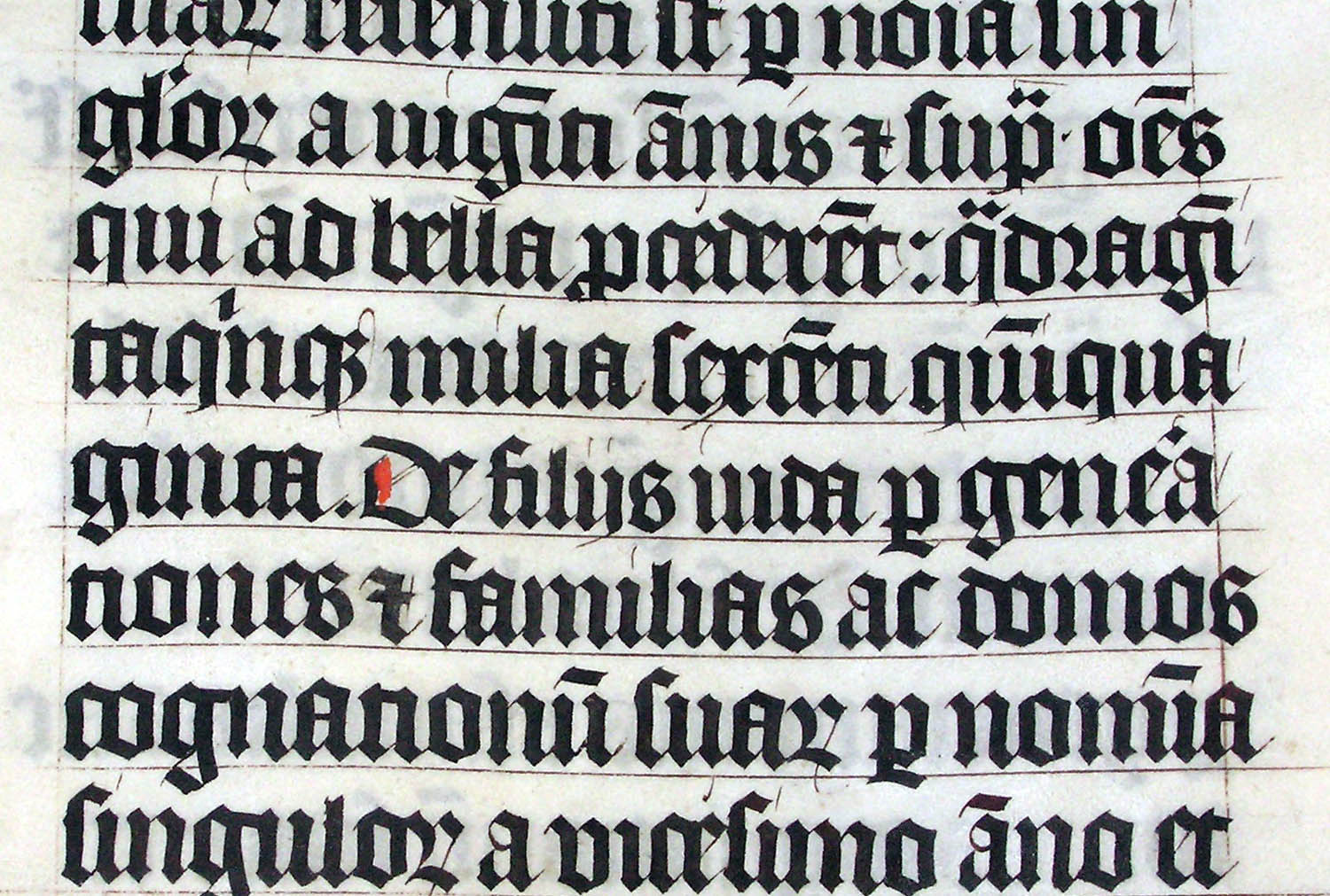 Calligraphy in a Latin Bible of AD 1407 on display in Malmesbury Abbey, Wiltshire, England. The Bible was hand written in Belgium, by Gerard Brils, for reading aloud in a monastery. The text on display is Latin, and it comes from the book of Numbers (Num 1:24-26).
During the Middle Ages, the Latin alphabet was used (sometimes with modifications) for writing Romance languages, which are direct descendants of Latin, as well as Celtic, Germanic, Baltic, and some Slavic languages. With the age of colonialism and Christian evangelism, the Latin script spread beyond Europe, coming into use for writing indigenous American, Australian, Austronesian, Austroasiatic, and African languages. More recently, linguists have also tended to prefer the Latin script or the International Phonetic Alphabet (itself largely based on the Latin script) when transcribing or creating written standards for non-European languages, such as the African reference alphabet.
The term Latin alphabet may refer to either the alphabet used to write Latin (as described in this article), or other alphabets based on the Latin script, which is the basic set of letters common to the various alphabets descended from the classical Latin alphabet, such as the English alphabet. These Latin-script alphabets may discard letters, like the Rotokas alphabet, or add new letters, like the Danish and Norwegian alphabets. Letter shapes have evolved over the centuries, including the development in Medieval Latin of lower-case, forms which did not exist in the Classical period alphabet. English is the only major modern European language requiring no diacritics for native words (although a diaeresis may be used in words such as "coöperation"). It is generally believed that the Romans adopted the Cumae alphabet, a variant of the Greek alphabet, in the 7th century BC from Cumae, a Greek colony in Southern Italy.
Letterform Archive has made this insightful lecture public and we are bound to watch it through the end and so you will.
Lynne Yun: Letters: A Code System from Letterform Archive on Vimeo.
This event was part of the Letterform Lecture series, co-presented by the San Francisco Public Library, and sponsored by Adobe.
Tags/ code, video, alphabet, Monotype, adobe, Latin Alphabet, Letterform Archive, lecture, Lynne Yun, San Francisco Public Library