Rüdiger Schlömer will teach us how to type knit our lives for good
Swiss designer Rüdiger Schlömer is the kind of creative you can count on even under the worst and most extreme cold weather conditions. After all, he is a man who knows how to infuse type into knitting.
Schlömer's book, Pixel, Patch und Pattern: Typeknitting (published by Verlag Hermann Schmidt) has been recently awarded the «Certificate of Typographic Excellence» from Type Directors Club, is currently on display in The World's Best Typography exhibition (TDC65) and as Pentagram's Eddie Opara notes, is filled with surprises.
Innovative, insightful and playful, the book -which has also been nominated for Design Prize Switzerland 2019/20 for «Communication Design»- challenges the readers to learn to knit a variety of typefaces modeled on digital designs by well-known type foundries including Emigre, Lineto, Parachute, and Typotheque and emblazon ones hats, scarves, and sweaters with smartly designed monograms, letters, or words.
"At first glance, the cover is extremely unassuming and without further inspection you would walk right past it. With a closer examination, its apparent pixelated, title in all caps wears a distorted, woven-textured effect with its added hybrid brew of Anglo-German: Pixel, Patch und Pattern. As your eyes peer down to the bottom of the cover, innocuously set in Futura, Typeknitting leaves you intrigued and you are overcome with curiosity" notes TDC's Communication Design Judge Opara of the publication which was published last winter by Verlag Hermann Schmidt.
"When opening the book, behold the incredible surprises that wait! You are taken into an alternative culture of typography that is knitted! The different stitching techniques are endless and transformative. The open, playful, thought-provoking, effortless, enterprising, and dynamic qualities are profound. You relish the fact that every design is made by hand. The end results are awe-inspiring. It brings life to modularity and systems. After viewing this book, you have to ask yourself, why do you sit at your computer, hour after hour? Are you really making something that is tangible?" he adds.
Typeroom's Loukas Karnis asked Schlömer some questions between his own type knitting lessons now that winter marches on in Europe.
Typeroom: So please introduce yourself to us.
Rüdiger Schlömer: I grew up in Paris, France, and Bremen, Germany and studied Visual Communication in Aachen and Art in Context in Berlin. In my studies, I became interested in experimental communicative formats that combined analog and digital principles, like hacking, reverse engineering or programming.
I find that many of these "new" principles can be found in older media or techniques, in music notation or textiles. I have been living in Zurich since 2011, Switzerland, where I work mostly on exhibition design, books, and self-initiated projects.
TR: How did you come up with the idea of mixing type with knitting?
For the occasion of the soccer World Cup in Germany, I developed a "Fan-Scarf-Remix"-Webtool together with my friend, designer and programmer Jan Lindenberg.
On the project website, you could remix existing fan-scarfs into individual messages and then download your remix as a knitting pattern. It was a playful, deconstructive answer -a hack- to the idea of national identity and its instrumentalization.
I started the project without any practical knitting skills, thinking that the knitting part would be just like printing out the final result ... which was very wrong. Suddenly I discovered the multitude of personal and regional knitting techniques and got interested in their practical exploration. Eventually I started a private knitting circle in my flat in Berlin with a couple of friends.
TR: Which was the first knitted typographic product you came up with?
The first machine-knit product I developed was remix-fan scarves editions, which I released in small editions. There are big differences between hand and machine knitting.
Hand knitting is very accessible, you just need two needles and some yarn. Machine knitting allows larger editions, but it needs a technical infrastructure and brings you back to the computer. I like to keep switching between both, analog and digital.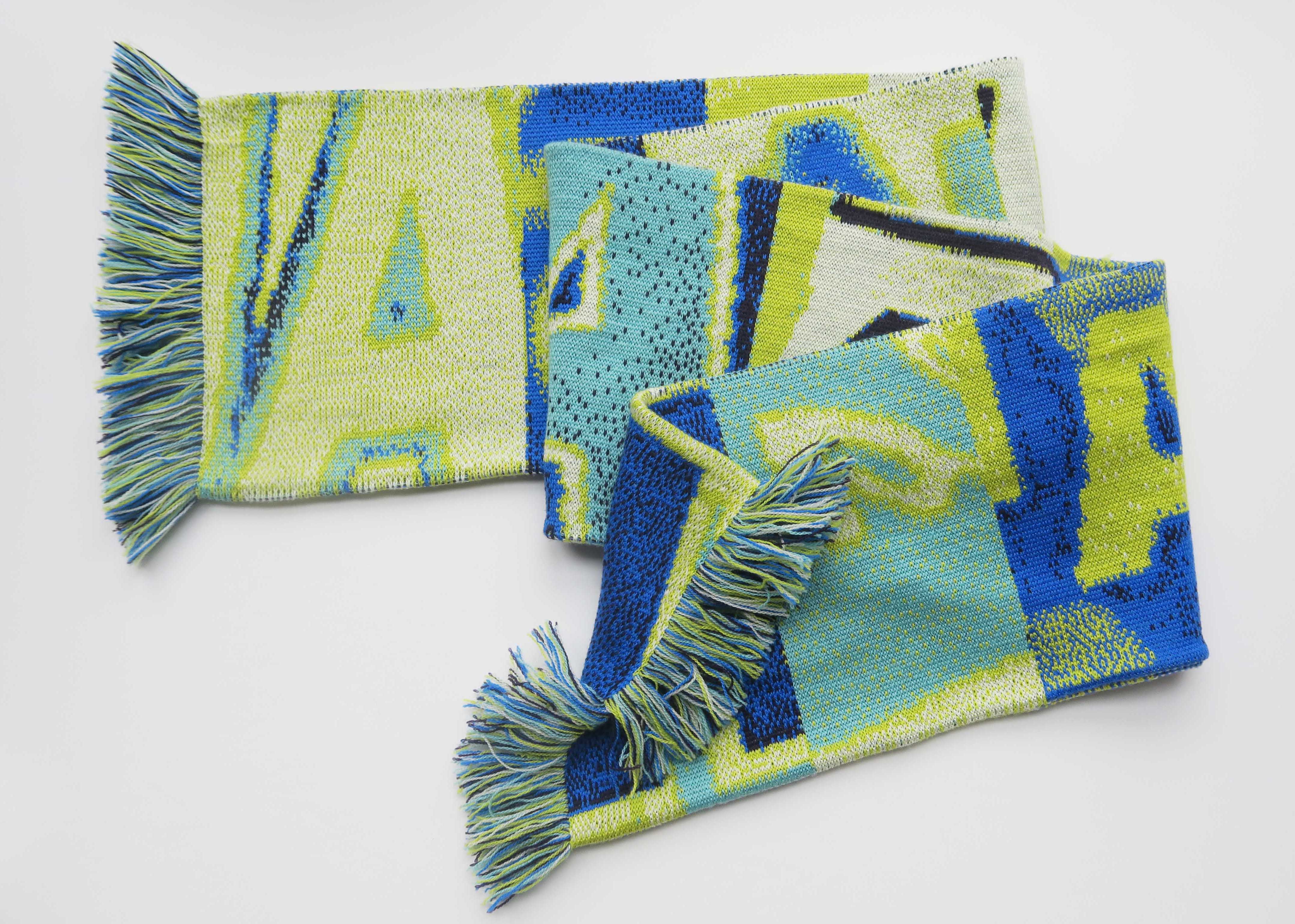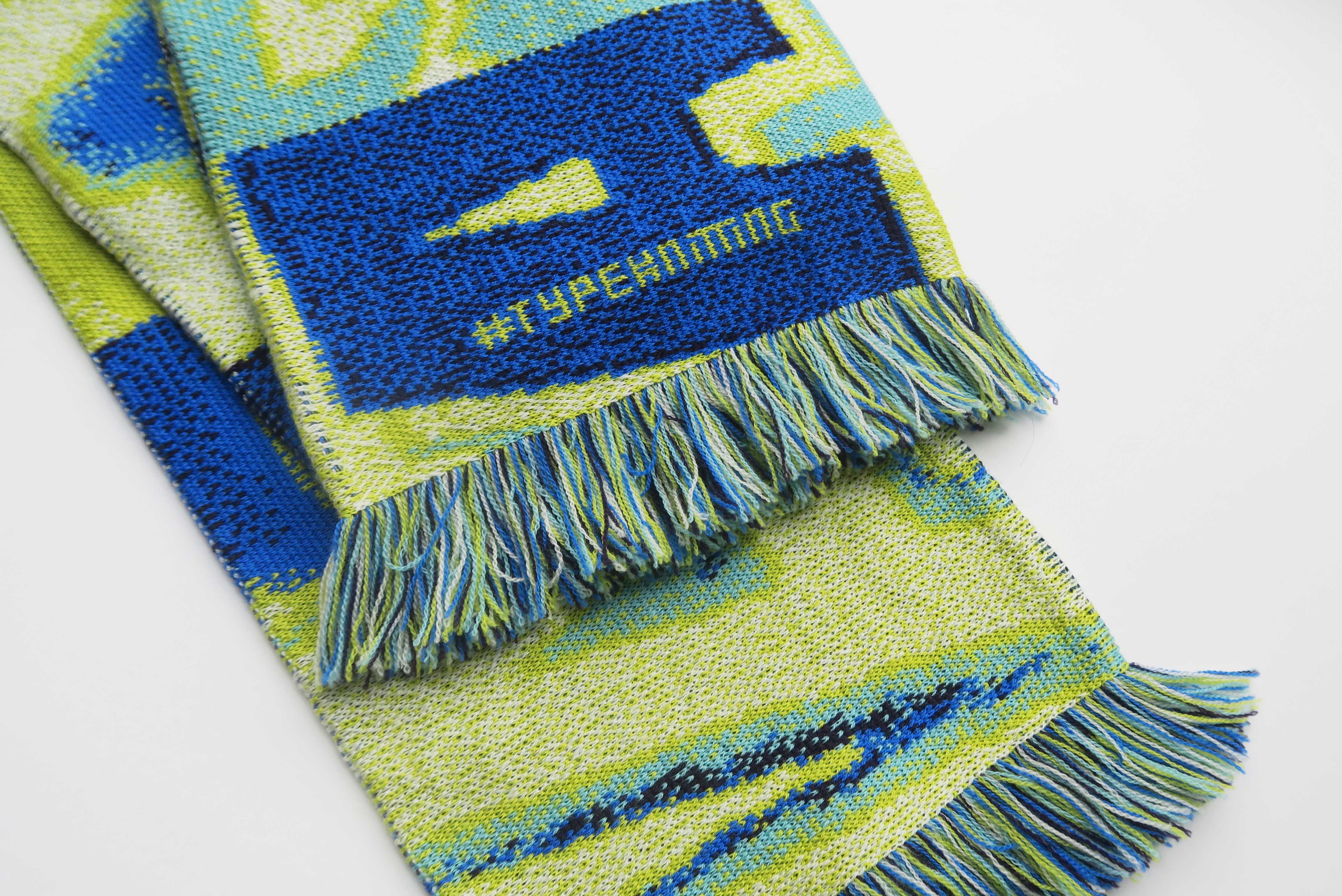 TR: You have called your project "generative typography". Please elaborate on this genre.
When looking at all the different hand knitting techniques, I see a lot of parallels to digital tools, layout programs or plugins. "Patchwork Knitting" for example, is based on geometric patches as basic elements. Instead of following a pixel-by-pixel knitting pattern, Patchwork Knitting gives you a basic grid, which you can freely combine into color and pattern combinations.
It's basically a modular, generative approach to pattern design, just very slow, because you knit it by hand. And since it's based on patches, it's perfect for knitting modular typography.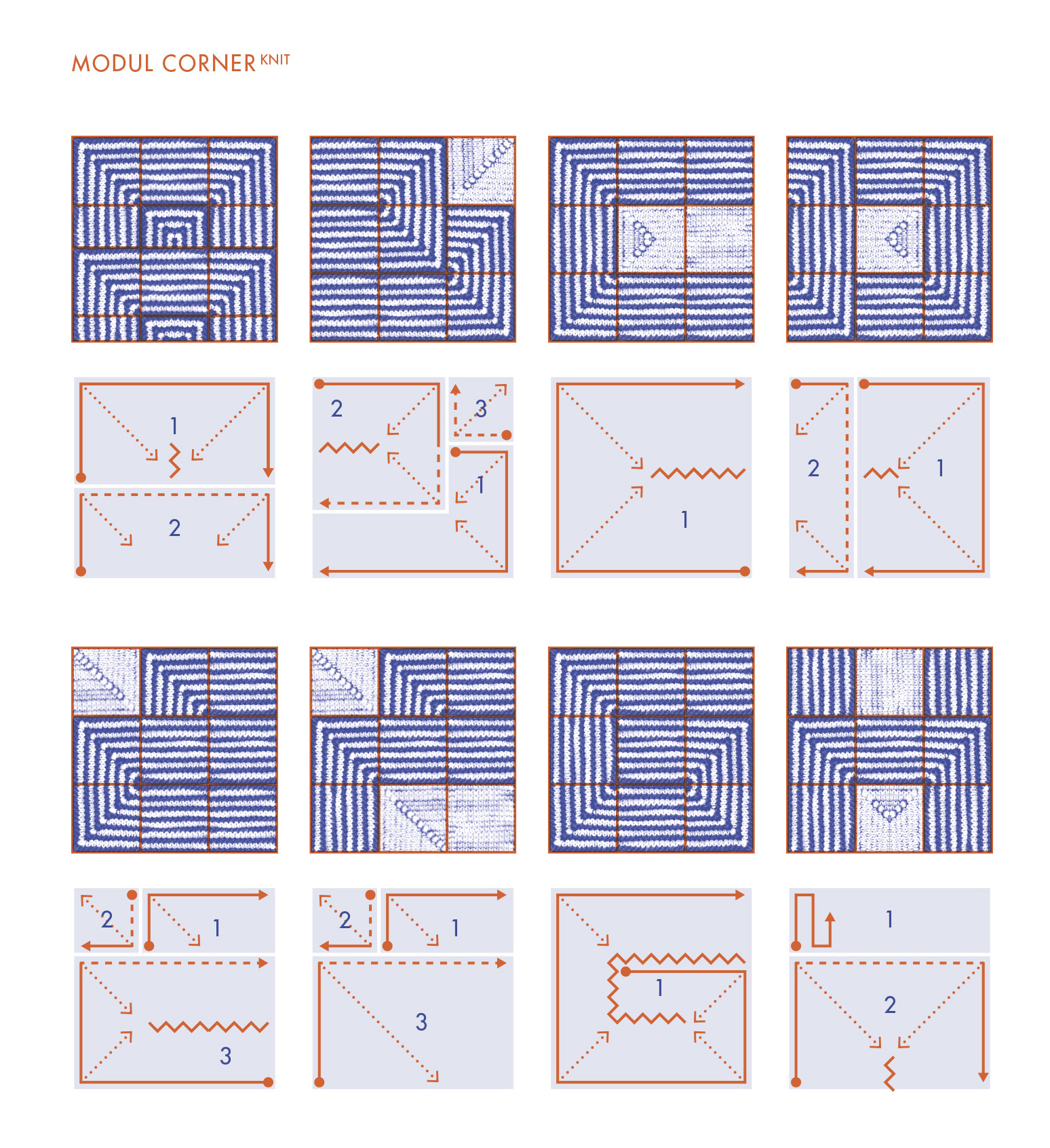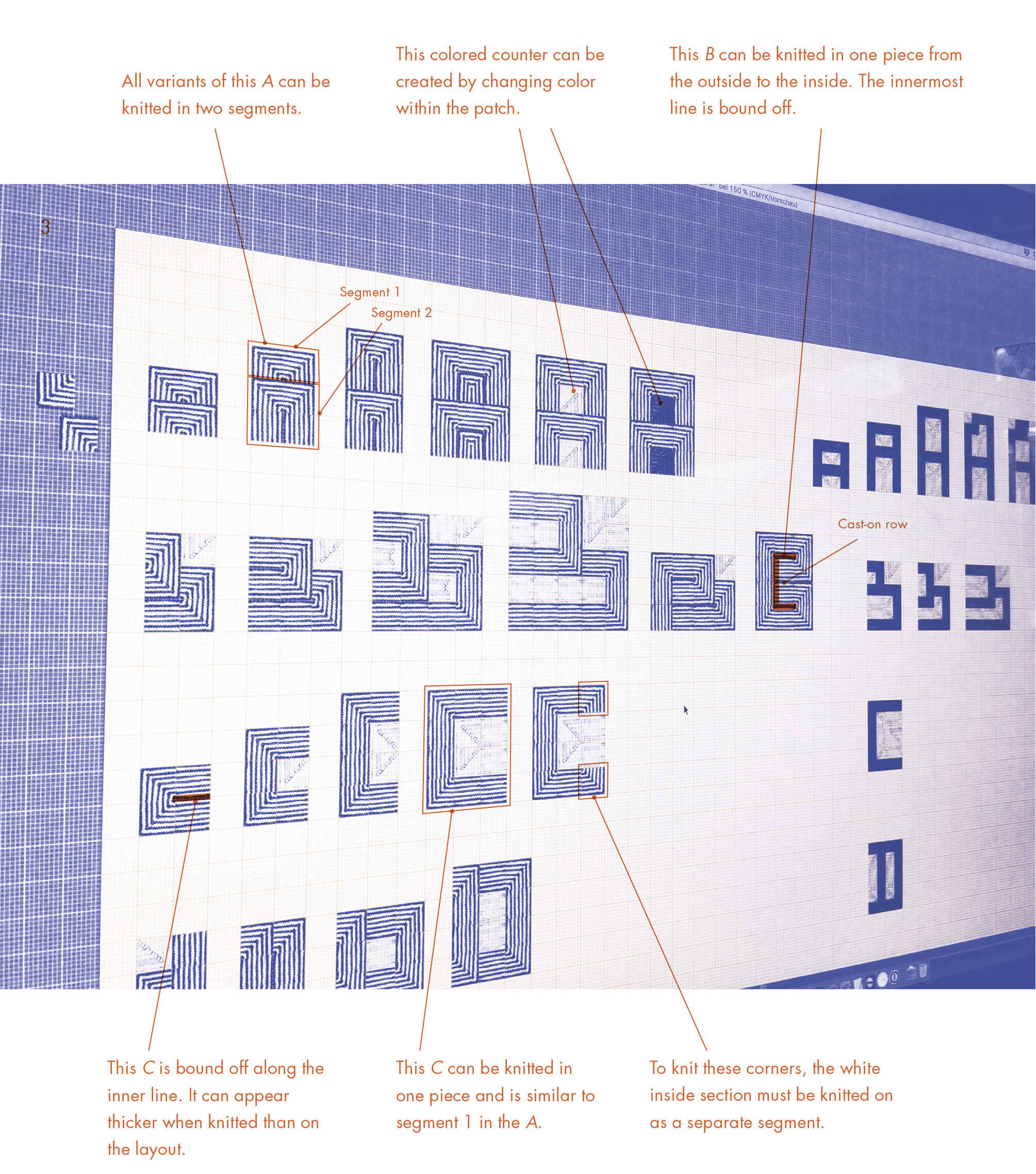 TR: What is your book "Pixel, Patch und Pattern – Typeknitting" all about?
My book shows typographers how to knit letters, and knitters how to include typography. It's a systematic introduction to how different types of letters can be constructed using different hand knitting techniques.
The four main chapters, PIXEL, PATTERN, PATCH, and MODULE go from intarsia knitting to slip-stitch patterns to patchwork knitting. These approaches are shown through knitted prototypes with typefaces from type designers like Andrea Tinnes or Christian Schmalohr, and type foundries like Emigre, Lineto, Nouvelle Noire, Parachute and Typotheque. It also contains instructions for some specific knitting projects, like pullovers, Selbu mittens or cushions.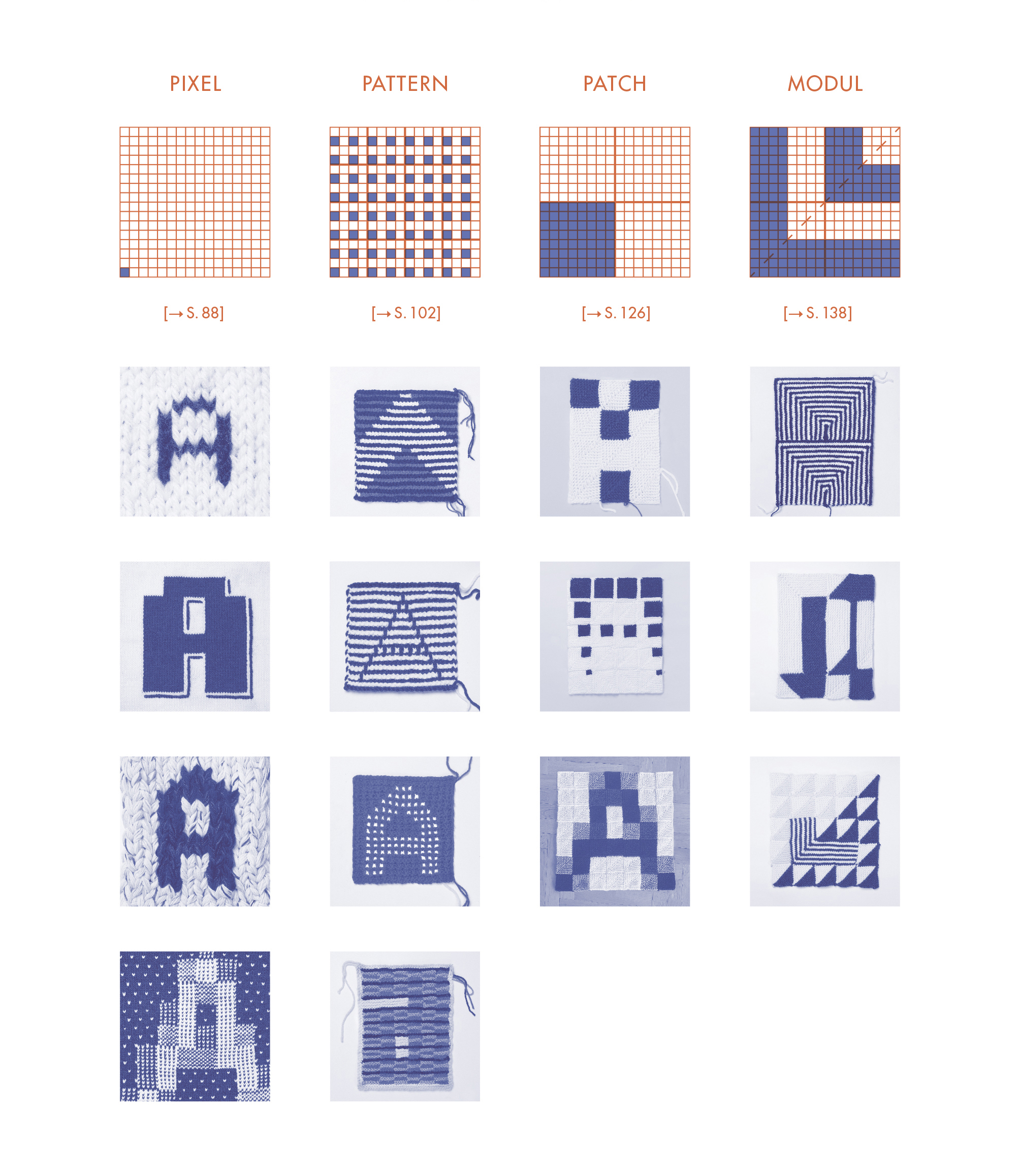 TR: How did you decide to collaborate with typographers on this project of yours?
When developing the book, I wanted to show "Typeknitting" as an open practice, not a collection of finished results. I saw my role as a mediator and translator between knitting and typography, two fields I know well enough to initiate this dialogue, without being a hardcore specialist in either.
As Typeknitting is a lot about communication through knitting and letters, the very process of it becomes communicative as well. The exchange with the contributing knitters and typographers was and still is essential in this process.
In most cases, I started with the different knitting techniques, and their structural, constructive characteristics. From there I looked for typefaces that would suit theses characteristics and then I knitted prototypes to illustrate the different principles. TypeJockey by Andrea Tinnes (Typecuts) turned this process around: it inspired an approach of combining structural and color patterns, which can be applied to many other fonts.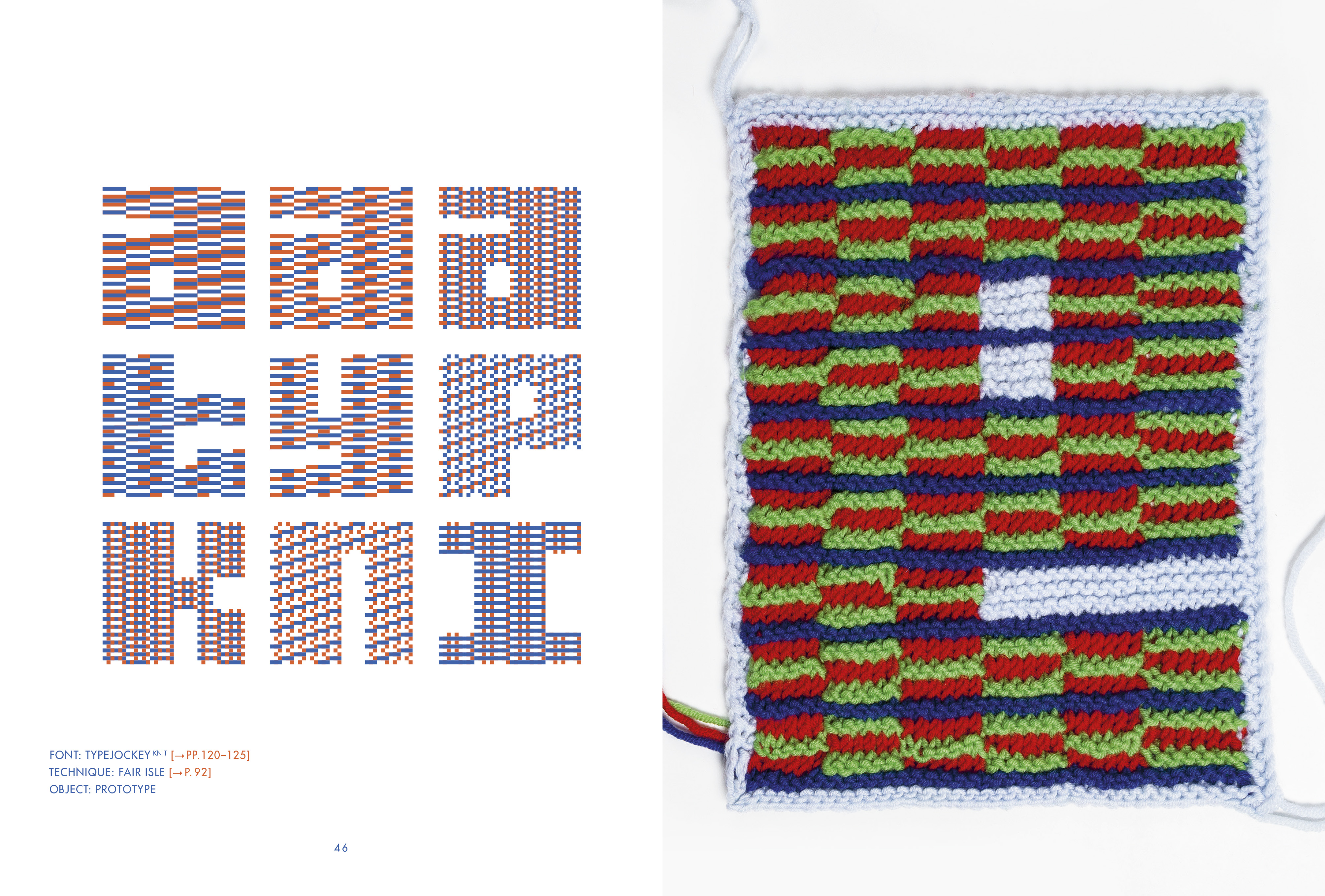 Typefaces are most knittable when they are pixel-based or have a strong constructive character. My book contains a collection of more than 30 typefaces, from bitmap classics like Emigre's Lo-Res and Oblong, to contemporary interpretations like Fidel Peugeot's Walking Chair. Some can be used for a specific technique, for example, dot-matrix fonts like Panos Vassiliou's Online One are perfect for slip-stitch-knitting.
Once you start exploring, the amount of knittable typefaces, knitting techniques, and the possible combinations is almost endless.
TR: What are the similarities between the craftsmanship of knitting and type design if any?
I think that the knitting structure has many parallels to a piece of text -even if you are not knitting letters. Loops form a texture, just like letters form a text. Roland Barthes described the text as "a tissue [or fabric] of quotations". Vice versa, you can also look at the knitting fabric as a text or code. But I would rather compare knitting to digital practice in general. The whole Typeknitting approach is somehow about the relationship between digital craft and analog programming, which form a kind of digital craftsmanship.
TR: Lots of people compare knitting to the protocols of software and the "Zen" qualities of the loops themselves. What's your take?
It depends whether you look at the process or at the physical result. When looking at finished knitwear you only see the visual characteristics of knitting textures and materials. This is like looking at a finished painting compared to experiencing the single brushstrokes. When you get into the process of knitting, the subjective experience is very repetitive, meditative, almost hypnotic. It's a very logical, algorithmic process, which definitely shows parallels to software. And as knitting is mostly based on two variables (knit and purl) it can be seen as a form of manual programming. I see many similarities and think it's no coincidence that knitting patterns look like code.
TR: Do you consider yourself a fashion or a typography hacker?
"Hacking" as I originally understand it, describes a subversive intervention of a system from the outside. Today you find so-called "Life Hacks" in every mainstream magazine. Using your leftover coffee grounds for plants has become a hack, or using empty shampoo bottles to store valuables. Most of these tricks my grandmother used a long time ago, they were just basic household knowledge.
Which makes you think, either hacking wasn't as subversive in the first place ... or that the imaginative usage of older things and practices (like knitting) have a lot of potentials to be discovered, which is helpful to many. I see my book as a "Plug-In", a joint between typography and knitting.
TR: If you were a knitted typographic element which one would you be and why?
My favorite element right now it the slip-stitch. Instead of knitting a loop, you simply slip the yarn over from the left to the right needle. This makes a pre-writing, pre-typographic element, which later can become a sign (or part of a sign), although it's basically a pause in the structure. I like the simplicity of this. It also looks to me like it could have evolved as a mistake at first, and was later systematized into a method.
TR: What are you working on right now?
Right now I am preparing a workshop program. The next will be at the Amsterdam knitting academy "De Amsterdamse Steek", and another at the Swiss Yarn Festival. I am really excited about working with experienced knitters, to get practical feedback on my methods and to exchange ideas for further methods and patterns.
Parallel to that, I am constantly researching typefaces and ways of graphic applications, which I plan to explore in workshops on the graphic side. Typeknitting is made for dialogue, it's a process of constant translation between the two fields, knitting, and typography. And besides the physical projects you make with it, the evolving interdisciplinary communication is one of its most interesting side effects. I am very curious about where this will lead to.
Learn how to loop your creativity with type here (German edition) and here (English edition).
All photos © Linda Suter
Tags/ inspiration, type, typeface, parachute, panos vassiliou, font, book, interview, world cup, tdc, eddie opara, rüdiger schlömer, type knitting, swiss designer