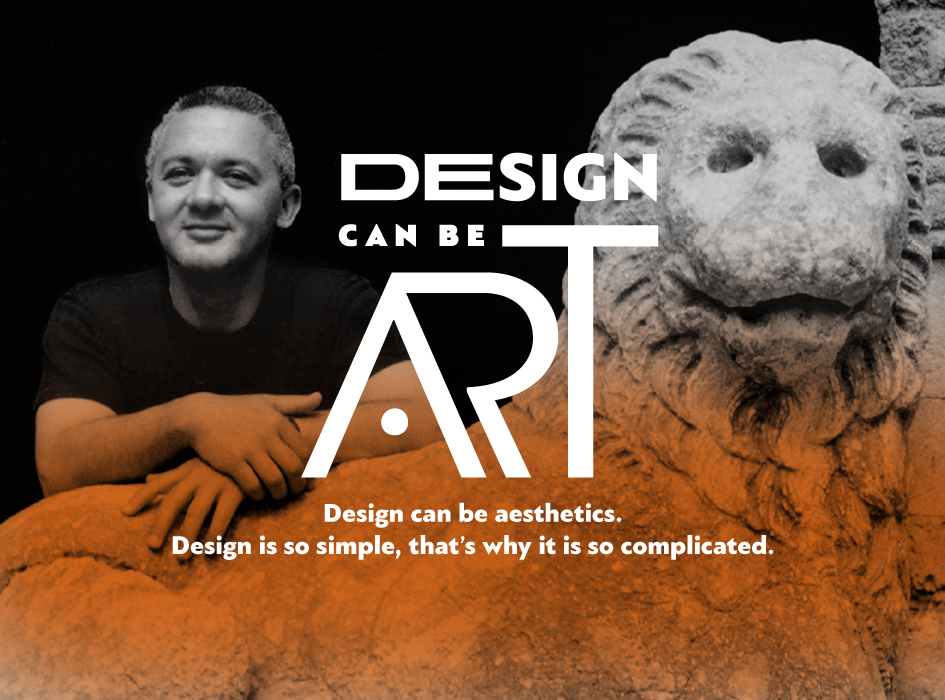 Paul Rand
"Paul's a gem [who] works on perfecting the exterior of a curmudgeon," Steve Jobs reminisced about working with legendary art director and graphic designer Paul Rand (1914–1996). "He's perfected it to new heights, actually" he added.
Born Peretz Rosenbaum on August 15, 1914, Paul Rand was raised in a strict Orthodox Jewish home in Brooklyn, New York.
Although his religion forbids the creation of images that can be worshiped as idols, the young Rand copied pictures of the models shown on advertising displays in his father's grocery store, and violated the rules big time. Art was no way to make a living, his father warned him, yet Rand attended night classes at Pratt Institute in Brooklyn.
"I literally learned nothing at Pratt; or whatever little I learned, I learned by doing myself" he stated later.
A self-taught-designer, Rand used to spend time in bookshops where he discovered 'Commercial Art' and 'Gebrauchsgrafik', two leading european graphic arts magazines which introduced him to Bauhaus-ideas. Working as a part-time illustrator, rand launched his first freelance project and landed a few minor accounts in the mid 1930's. Changing his name was a career choice.
"He remembered that an uncle in the family was named Rand, so he figured that four letters here, four letters there, would create a nice symbol. So he became Paul Rand."
His time as art-director for Esquire magazine was precious as it introduced him to William Weintraub. By the end of the 1930's, Weintraub left Esquire to open his own advertising office. Rand joined him as chief art-director at his agency and the rest is history, written in Futura.
Bringing intelligence to advertising, Rand was a seller. He knew that everything should communicate the message to sell. Sharp and visually smart throughout his career, he was not an easy person to deal with.
"He was a good teacher, but not always a pleasant one", Wyszygorod remembers. "He did not have the patience to go into lengthy discussions with someone who questioned his authority. He would digest it and come back with a bunch of answers and designs to explain what he meant."
A lover of minimal typography, Rand used strictly the most functional serif and sans-serif typefaces, combined with his own handwriting and he was one of the first creative minds that was absolute certain on this: a brand identity IS more important than a billboard. In the 50's, as the corporate identity business became the fastest growing and most lucrative graphic design speciality in the world, he grabbed his chance to prove himself right through the makeover of IBM. Rand decided to redesign their 1924 created logo.
"They had a slab-serif so i used a slightly different slab-serif" he said on his strategy to change things step by step. He remained the man that defined this colossal brand from the early 1970s until the early 1980s. IBM became Eye-Bee-M thanks to his ground-breaking vision for branding. Many interpreted his designs as simplistic.
"Ideas do not need to be esoteric to be original or exciting" was his answer.
As corporate design became the key aspect of his career, Rand played the field in his own terms.
"If you show them more than two ideas" Rand would say, "you weaken your position. (...) You make one statement, and this is it". His uncompromising principles are collected in the 1947 volume Thoughts on Design. He was only 33 when he gathered his words of wisdom as a mean to "demonstrate the validity of those principles which, by and large, have guided artists (designers) since the time of Polycletus".
Here we present you with some of his many timeless truths:
"The system that regards esthetics as irrelevant, which separates the artist from his product, which fragments the work of the individual, which creates by committee, and which makes mincemeat of the creative process will, in the long run, diminish not only the product but the maker as well."
"To achieve an effective solution to his problem, the designer must necessarily go through some sort of mental process. Conscious or not, he analyzes, interprets, formulates. He is aware of the scientific and technological developments in his own and kindred fields. He improvises, invents, or discovers new techniques and combinations. He co-ordinates and integrates his material so that he may restate his problem in terms of ideas, signs, symbols, pictures. He unifies, simplifies, and eliminates superfluities. He symbolizes — abstracts from his material by association and analogy. He intensifies and reinforces his symbol with appropriate accessories to achieve clarity and interest. He draws upon instinct and intuition. He considers the spectator, his feelings and predilections."
"It is in a world of symbols that man lives. The symbol is thus the common language between artist and spectator.... The fact that some of the best symbols are simplified images merely points to the effectiveness of simplicity but not to the meaning of the word per se. In essence, it is not what it looks like but what it does that defines a symbol."
"The emotional force generated by the repetition of words or pictures and the visual possibilities (as a means of creating texture, movement, rhythm, indicating equivalences for time and space) should not be minimized… The following are but a few instances of our everyday experiences in which the magical, almost hypnotic, effects of repetition operate: the exciting spectacle of marching soldiers, in the same dress, same step, and same attitude; the fascination of neatly arranged flower beds of like color, structure, and texture; the impressive sight of crowds at football games, theaters, public demonstrations; the satisfaction we derive from the geometric patterns created by ballet dancers and chorus girls with identical costumes and movements; the feeling of order evoked by rows of methodically placed packages on the grocer's shelf; the comforting effect of the regularity of repeat patterns in textiles and wallpapers; the excitement we experience at the sight of plane formations or birds in flight."
"Even if it is true that the average man seems most comfortable with the commonplace and familiar, it is equally true that catering to bad taste, which we so readily attribute to the average reader, merely perpetuates that mediocrity and denies the reader one of the most easily accessible means for esthetic development and eventual enjoyment."
Paul Rand created trademarks up to the day he died, on the 26th of November 1996. He was 82 years old.
Fonts
PF Bague Sans Pro
Photos
via Paul Rand
Tags/