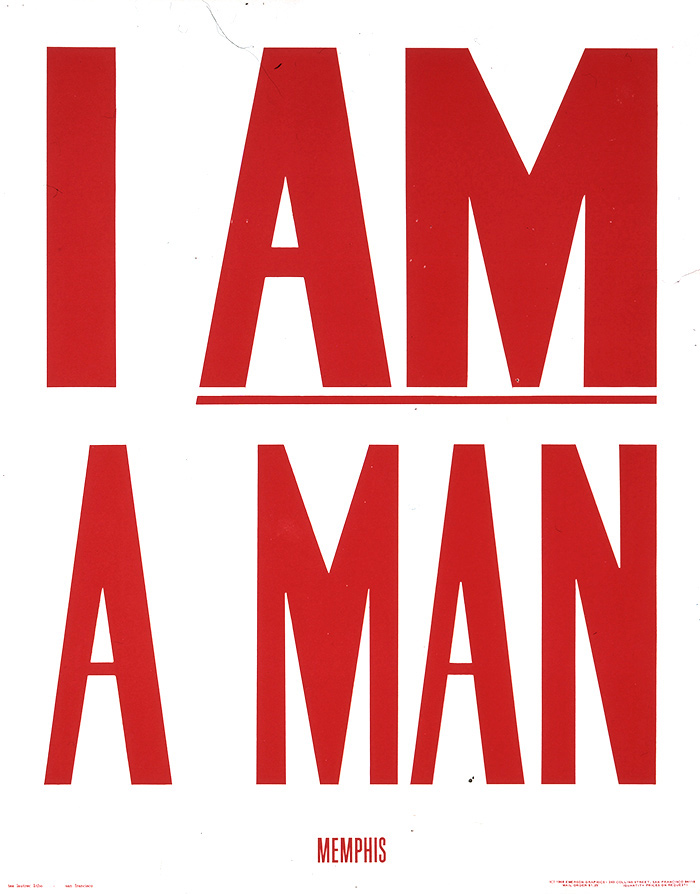 From I AM A MAN to Je suis Charlie: when typographic picket signs call for justice
On this week's cover of the first edition of the French satirical weekly Charlie Hebdo appears a cartoon of the Prophet Mohammed crying and holding up a "Je suis Charlie" sign under the words: "All is forgiven".
A follow up to the worldwide sympathy the "Je Suis Charlie" solidarity picket signs that rose up in the wake of the attack against it last Wednesday, in which 12 people were killed including five of France's top cartoonists.
But this viral slogan that was adopted by supporters of free speech and freedom of expression after the 7 January 2015 massacre, would never have happened without a certain picket, a raw call for change, that changed history, almost half a century ago.
On February 12, 1968, Memphis' sanitation workers, the majority of them African American, went out on strike demanding recognition for their union, better wages, and safer working conditions after two trash handlers were killed by a malfunctioning garbage truck.
The strike gained national attention as it dragged on through March, with the Memphis mayor refusing to negotiate. As they marched, striking workers carried copies of a poster declaring "I AM A MAN," a statement that recalled a question abolitionists posed more than 100 years earlier, "Am I not a man and a brother?"
Their picket signs spoke to the basic rights they felt were violated. Martin Luther King Jr. traveled to Memphis to support the workers and joined the cause. Speaking to a crowd of 6,000 in late March and returning on April 3 to deliver one of his most famous speeches, "I've Been to the Mountaintop" the black American leader placed the strike in a larger context, declaring:
"The masses of people are rising up. And wherever they are assembled today, whether they are in Johannesburg, South Africa; Nairobi, Kenya; Accra, Ghana; New York City; Atlanta, Georgia; Jackson, Mississippi; or Memphis, Tennessee—the cry is always the same: 'We want to be free.'"
The day after MLK was shot to death by a sniper's bullet -the escaped white convict James Earl Ray- on the balcony of the Lorraine Motel.
Nobody knows for sure how the sign idea originated. According to Jesse Epps, a union organizer sent to Memphis by the American Federation of State County and Municipal Employees in 1968, "it was a collaboration of union officials and civil rights activists". About 400 posters were printed in a church print shop. Epps said the words stemmed from the Declaration of Independence: "We hold these truths to be self-evident, that all men are created equal."
Today the posters are rare collector's items. In 2010, an original "I AM A MAN" protest poster sold for $34,000 at a New York auction -one of the highest prices for civil rights memorabilia.
Ever since, iconic slogans became a visual call to protest for civil rights and America's civil rights movement has been a template for campaigns across the world.
Dissidents in countries from China to Africa have all acknowledged the inspiration and courage they drew from America's activists and visual imagery of an ever emblematic and long-lasting "I Am A Man" slogan.
Five years ago, the New York Times columnist Thomas Friedman summed up the Arab uprising in a sign held aloft by a Libyan demonstrator. The sign read in Arabic: "Ana Rajul." Translation? "I am a man."
From Memphis through "Ana Rajul" or New York's "I Can't Breathe" printed slogan that called for justice after Eric Garner's tragic death -Garner was shot by a white police officer who placed him in a chokehold- to "Je Suis Charlie" picket signs are a visual element of our existence.
Typography can make history, hopefully for the best.
All images via Butdoesitfloat
Tags/ typography, campaign, charlie hebdo, i am a man, picket signs, martin luther king jr., civil rights