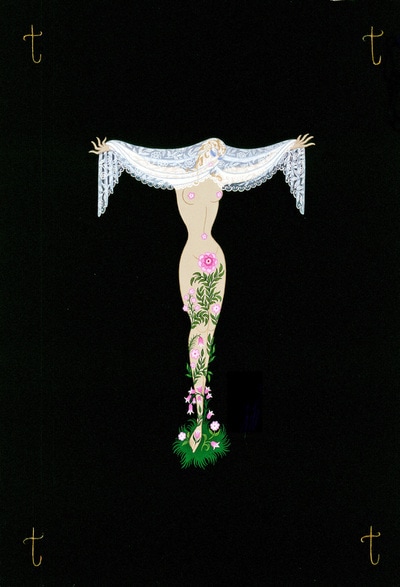 Erté's Alphabet Series is sublime typography from A to Z
"Not only do I do what I want to do, but I do my work in my own way and never have been influenced by another artist."
Erte's words on his life and legacy are not as smooth as his art but they are representative of a man who invented Art Deco as we know it. He was born in imperial Russia in 1892, the son of an Imperial Navy officer and a member of the Russian social elite. He died as one of the most recognisable
illustrators and designers of the early 20th century.
This is a fascinating story from A to Z:
A stands for Art Deco, the basic visual element for this one Russian born designer whose prolific career in theatre, sculpture and the graphic arts span throughout most of the 20th century.
B stands for Broadway and the 1987 musical Stardust, one of the artist's last efforts to show the world his free spirit before his death in 1990.
C stands for his two cats, Caramelle and Talia, with who he liked to work with. It also stands for classical music, his favourite background tunes.
D stands for dance. In his early days, Erté was attracted to the theatre and he wavered between becoming a dancer or an artist. "I came to the conclusion that I could live without dancing but could not give up my passion for painting and design", he recalled years later.
E stands for his pseudonym Erté which derives from the French pronunciation of his initials R.T, just like that of Tintin's creator Hergé.
F stands for his series of large graphic Figures Alphabet, an illustrative way to summarise the characteristic elements of his fancy manners.
G stands for the first evening gown he designed, at the very early age of six. His mother was so impressed, she actually had the thing made. Not everyone in the family was happy with his inclination though. His father was an austere Naval Officer for the Russian fleet.
H stands for Harper's Bazaar. Before the Second World War, Erté designed 250 covers for the monthly fashion magazine. "His highly stylized designs of sinuous women draped in beads and furs helped define 20th century fashion and design", wrote the New York Times in his obituary. And this is a quote from the book Erté At Ninety about those days: "When Erté was a regular contributor of cover illustrations for Harper's Bazaar in its days of elegance between the wars, it was his custom to write a brief description of each design. These mini-essays are as lyrical and insouciant as the drawings they describe - as much the essential Erté, as true to their time, and as much an emblem of the graceful, "smart" magazine Bazaar was in those days".
I stands for his inspirations. Erté admired the Persian and Indian miniatures at the Hermitage Museum as a child. Aside from inspiring the technical perfectionism that characterizes even his largest works, they were his introduction to the feminine eyes, the yeux des biches (doe eyes), that came to embody the flapper era.
J stands for his ability to juggle between arts. "Monotony engenders boredom and I have never been bored in my life. I'm in a different world, a dream world that invites oblivion", he wrote.
K stands for the key fairy tale element in his visuals. As the Italian publisher Franco Maria Ricci once commented "Erté's women seem like a woman disguised as a woman". Indeed, Erté's fairies can take almost any form: they are peacocks, and firebirds, and butterflies.
L stands for the lithographs his agency Seven Arts Limited advised him to produce. They pointed out that with graphics he could reach out to the general public that loves his work, and they were absolutely right. In the 1970's and 1980's, when he turned his hand to lithographs and serigraphs, he became widely known in the United States, while many of his works, including "The Alphabet" and ''The Numbers" series, were sold as posters.
M stands for Mata Hari. Just one of the exotic young dancers that had the privilege to wear his costumes in his early Parisian years. She was shot to death for being a spy in 1917 but Sarah Bernhardt and Anna Pavlova did not give a damn.
N stands for New York, where his 1967 exhibition took place and changed everything. When the Estoricks organized an exhibition of 170 of his works, the Metropolitan Museum of Art bought the entire collection.''It was, I believe, without precedent that a museum bought an entire exhibition of a living artist,'' Erté wrote many years later.
O stands for oblivion, his favorite word. "I'm in a different world, a dream world that invites oblivion", he wrote.
P stands for Paris, where this 20 year old free-spirited artist found a new home, under a new name - at couture designer's house Paul Poiret.
Q stands for his quote on his masterpiece, and perhaps Erté's best known and recognized series of paintings. His "AlphaErté bet Suite" or Erté's Alphabet. The paintings are on permanent display at the Centre Pompidou Museum in Paris, and they depict each letter of the alphabet in true Erté style.
In classic Erté artfulness each letter of the alphabet is formed using déshabillé (the state of being partly or carelessly dressed) - celebrating the human form. Erté began this project in 1927, completed it forty years later and released it in 1977.
He was quoted saying about this series:
"I started to work on the series of Alphabet paintings in 1927, after a very successful exhibition at the Galerie Charpentier in Paris. This gallery proposed another exhibition two years later for which I had planned to complete The Alphabet. Unfortunately, I was much too optimistic. I had not realised how much other work I would have to do at the same time. There was my contract with Harper's Bazaar... and for the theatre. The result was that in 1929, when my second exhibition opened, The Alphabet had not made much progress. From then on, little by little, I did complete one or two letters between various urgent commissions, but it was only forty years later that I finished the set. In 1967 (I was asked to) exhibit The Alphabet at an Erté show in London. This time I was ready - or at least I thought I was. While preparing to send the pictures to London, I suddenly noticed to my astonishment that one letter was missing in the series; it was the letter "L". I began to paint it immediately and completed it just in time for the show. As it turned out, this letter became the most successful of all in the eyes of the public."
R stands for his real name Romain de Tirtoff.
S stands for his faith in serigraphy. "This is a new avenue for creative expression rather than simply a means of transferring his designs to another medium", he said.
T stands for the Twenties and Thirties, the era when Erté gained renown as a costume designer for the Folies-Bergere in Paris and George White's Scandals on Broadway.
U stands for the unlimited work legacy he left behind. Be it the sensational silver lamé costume, complete with pearl wings and ebony-plumed cap, that he wore to a ball in 1914 or his ultra popular lithographs of the 70's or his elegant set designs for numerous productions, Erté was hailed as a "a mirror of fashion for 75 years" at the time of his death in 1990.
V stands for his very flamboyant lifestyle. It is reported that along with many of the era's most stylish women, Erté too, often wore his own designs. Especially that gold lamé oreador outfit, which he donned for an opera ball in Paris in 1926. He told Time magazine in 1982: "That night, the huge cape I designed was completely lined with fresh red roses which I tossed, one by one, at my audience as I descended the grand staircase."
W stands for woman, based on what Roland Barthes wrote in 1972. "Erté's purgatory is Woman. To tell the truth [it is] as if he could never free himself from them (soul or accessory, obsession, or convenience?), as if Woman signed each of his sketches more surely than his finely-hand-written-name ... Cherchez la Femme. She is found everywhere."
X stands for his xtra impressive working spirit. He accepted commissions to design jewellery, lamps, furniture and interior décor, while he was working till his late days.
Y stands for his yearning for the gouache or tempera medium rather than oil-paintings. He reportedly painted only once in oils, as he preferred the gouache or tempera medium.
Z stands for a zillionaire. That's who you have to be in order to obtain an original Erté artwork. Also, the amount of money you have to give to be the owner of the Clasp is massive. The Clasp is an Erté evening bag created by Stefano Canturi (the international jeweller responsible for Nicole Kidman's stunning Moulin Rouge "Satine" necklace) with the help of 3,978 diamonds, 20 ounces of gold, black sapphires, rubies, and pearl tassels. This objet d'art comes with a $780,000 price tag but that is a small amount to pay for a reminder of the man who mastered Art Deco once and for all.
Tags/ origins, alphabet, russia, erte, serigraphs, lithographs