Kinetic text to rule the world: Liliane Lijn in conversation this July
The University of Leeds has commissioned a public artwork Converse Column by internationally renowned British-American artist Liliane Lijn to mark the new south entrance to the University, adjacent to its new Nexus innovation hub. To celebrate the launch of the artwork, Lijn will discuss her work, influences and major new commission for the University of Leeds, with Leeds Art Gallery's Curator of Modern and Contemporary Art, Nigel Walsh in the Liliane Lijn in Conversation event on the 3rd of July.
A pioneer in the interaction of art, science, technology and language Lijn works with kinetic text and her new work for the University is designed to represent communication and to inspire collaboration and innovation with real world impact. The work is a nine metre-high revolving column of transforming words, to which staff and students have contributed ideas.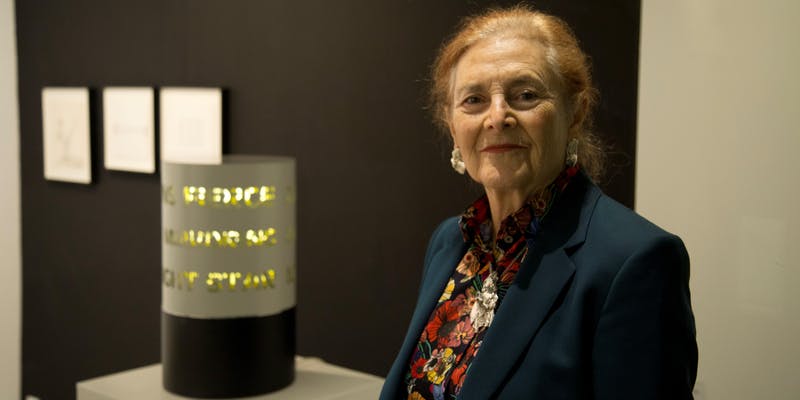 "Liliane Lijn's work covers a large spectrum of interests, from Light and its interaction with diverse new materials to the development of a fresh image for the feminine. Lijn has taken inspiration from incidental details both man-made and natural, mythology and poetry, science and technology. Lijn is interested in the development of language, collaborating across disciplines and making art that is interactive, in which the viewer can actively participate" notes the artist's site. Typeroom pays a small tribute to this ground-breaking creative with a selection of some of her heavily typographic-infused art experiments.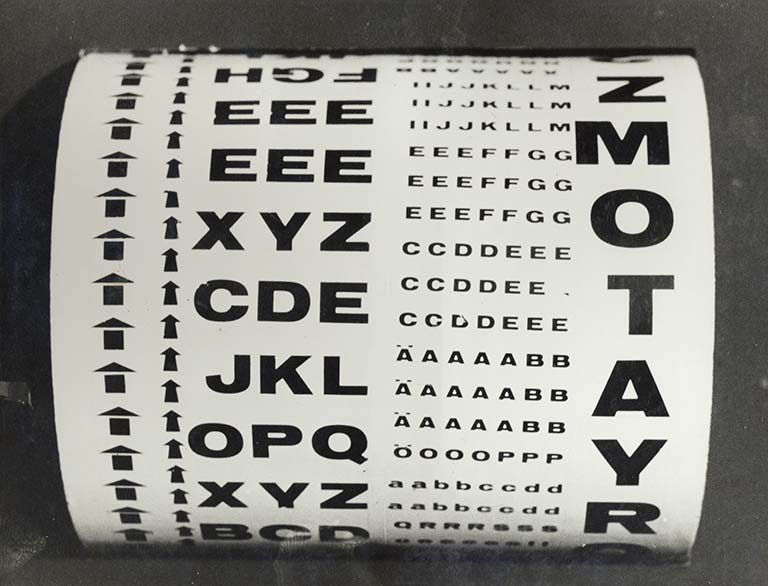 Alphabet, 1962. "The word accelerated loses its identity and becomes a pattern pregnant with energy. It is pregnant with the energy of its potential meaning should it once again become a word" said Liliane Lijn back in 1968. Six years earlier, in 1962, the British-American artist Letrasetted words onto the surface of cylinders and cones, then fixed them to motorised turntables, and made them spin at different speeds. "She wanted the word to be seen in movement, dissolving into a pure vibration until it became the energy of sound. When Lijn puts words on cylinders and cones and makes Poem Machines, she wants the word to be seen in movement splitting itself into a pure vibration until it becomes the energy of sound. These were the first in a series of works with text and Lijn called them Poem Machines because she made them to give power back to a depleted language" notes the artist's site.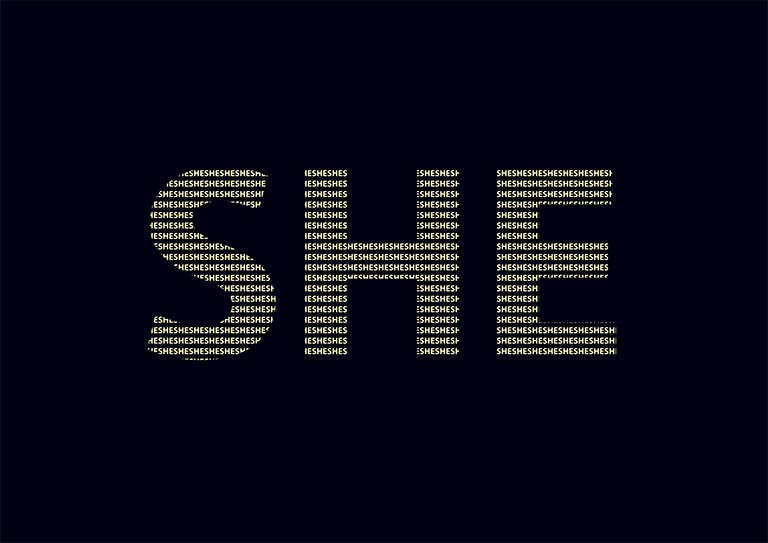 S/HE, 2014. "A linguistic intertwining of gender in nine languages. In S/HE, Lijn discovered nine languages in which the feminine pronoun SHE contains the masculine pronoun HE. These eighteen images indicate how cosmic motions can transform meaning." Collection of the artist.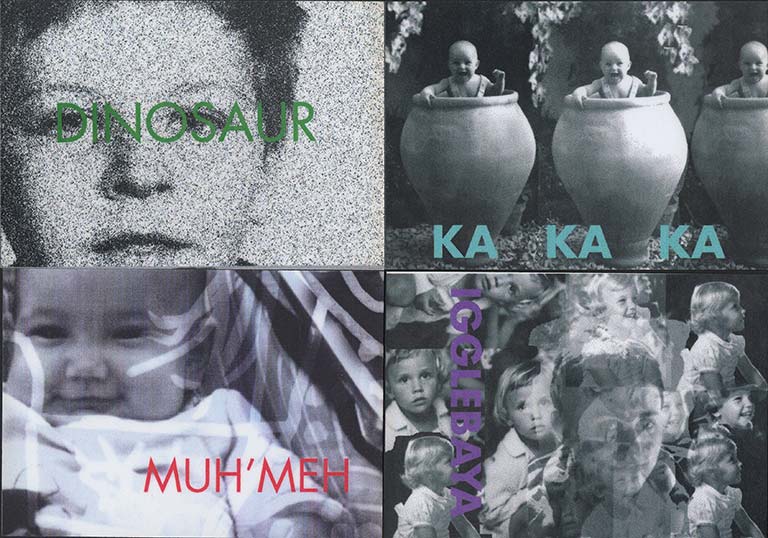 First Words, 2000. "What are the first words we say and could they have an influence on the rest of our lives? Lijn was regaled with the apocryphal anecdotes of famous men's first words but was unable to uncover even one anecdote relating to famous women until she began her own search for first words. It is widely believed that most children begin their relationship with language by naming their parents but Lijn has found that many children will try to name anything that interests them. Bird, tree, plane, colour are a few words which she has already collected from mothers. She is equally interested in the sounds made before complete words are pronounced. Lijn's plan is to collect 2000 first words: a word for each year since the birth of Christ. The 'children' in question can be grownups now as long as their first word is either remembered or documented."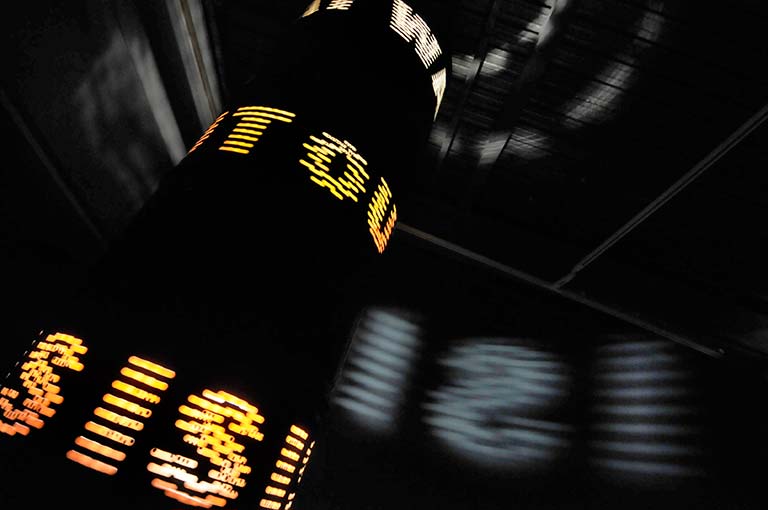 Way Out Is Way In, 2009. "The physicist David Bohm, whose seminars Lijn attended in the early 1970s said that 'Matter is 'frozen light'. Light, defined as something travelling at the speed of light, contains all information.' This led her to understand that light and language were indeed inextricably interconnected. In Way Out is Way In, Lijn combines the two main elements of her early work, light and text, in a column of luminous words made from points of light, borrowing a phrase from William Burroughs' The Naked Lunch considered to be Burroughs' seminal work. In common with Burroughs, whom Lijn met in Paris in the early 1960's, she has a lifelong interest in science and technology. Lijn's interest in science, again much like his, was connected to her early interest in ancient civilizations and their myths and rituals. The 3-meter column is made from used industrial drums that are programmed to rotate at steadily increasing speeds until the words, a tracery of drilled holes, blur into vibrating pulses of light. In Way Out Is Way In, the word becomes light and light slowing down appears as the word." Collection of the artist, photographs by Klaus Wehner.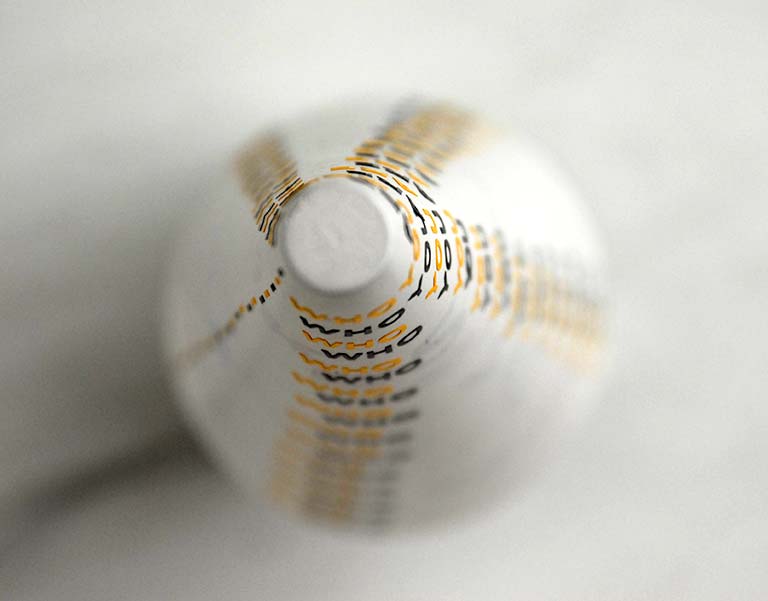 Am I Who, 2010. "In these recent text works Lijn wants words to be interchangeable with colour. Whether Lijn work with a poet's words or her own text, she wants the words to float into the viewers mind in continually changing sequences. Meaning, like a river, is always in flux." Collection of the artist.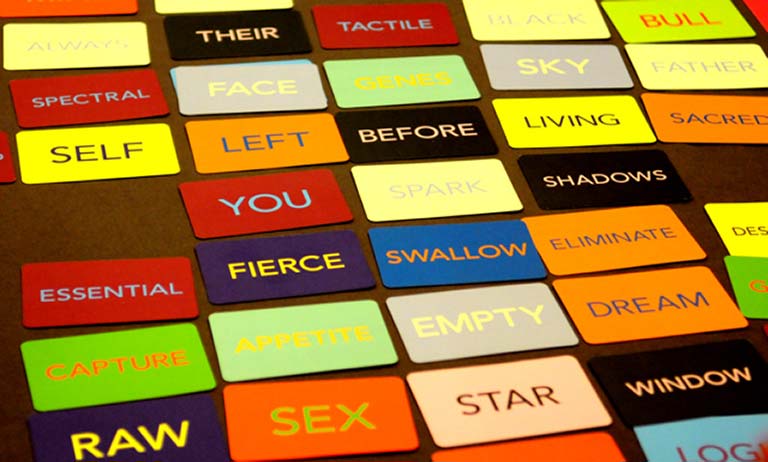 Poem Game, 1970. "In 1970, Liliane, Liliane Lijn created a deck of 54 of word cards. Each card had one word to a side, 'the words themselves having come to mind as I wrote them on the cards'. She originally called the cards Keysand invented three games to play with them: a game of power, a game of poetry and a game of divination. Invited by John Dugger and David Medalla to participate in the International Festival for Democracy in Chile at the Royal College of Art in London, Lijn originally staged Power Game in the autumn of 1974, in collaboration with her friend, the art critic, Alistair McIntosh. Power Game, was restaged by Lijn on the 28th of July 2009 at the ICA, as a socio-political live performance set in an imaginary casino. More recently, Power Game has been performed at BALTIC (2010), The Arches, Glasgow (2011) and at the Zabludowicz Collection (2012) and Southbank Centre (2016) London. In 1974, Lijn used the Poem Game cards to write Six Throws of the Oracular Keys. A book of poems and drawings, it was published in 1981 in the xeroxed edition Unifinitude by Edition de La Nepe, Paris. Poem Game was played at the Poetry Marathon, Serpentine Gallery (2009), at the Poetry Library, Southbank Centre (2013) and Art14, London. The aim of the game is to write a poem. On receiving their cards, each player may automatically put together his/her words into a sentence. However, when it comes to playing, each player in turn can only place one word down at a time. This means that no one player manages to write a complete phrase. Each player must continually adapt their prepared or imagined word sequences to the changes that occur during each round. The intention of Poem Game is to free the players from preconceived ideas of what a poem might be. To this effect, the players use the word cards to collaborate at writing a poem. The game may be played by 2 to 10 players but a small group of up to 5 is best."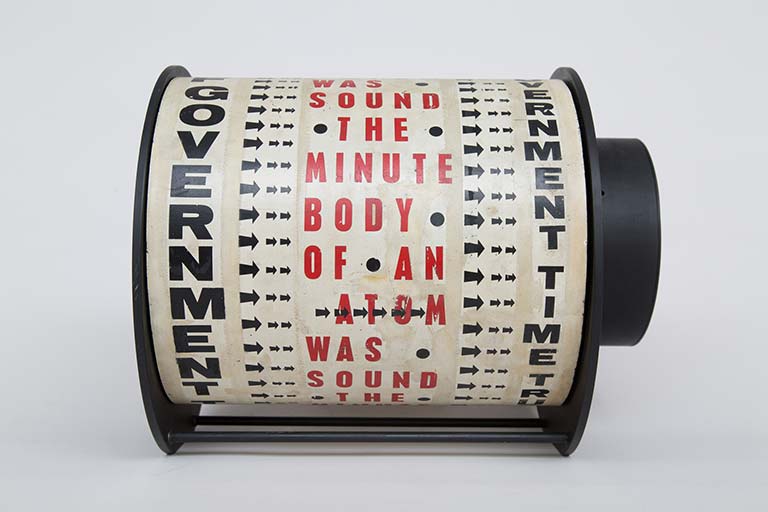 Get Rid of Government Time, 1962. Letraset on painted metal drum, plastic, painted metal, motor. Words from a poem by Nazli Nour. Frame altered in 1965, private collection. Photographs by Richard Wilding 2014.
All images via Liliane Lijn. The Liliane Lijn in Conversation event is organised by University of Leeds and Yorkshire Sculpture International. More info here.
Tags/ typography, art, letters, artist, leeds, poetry, university, liliane lijn, kinetic text