Everything you type should be in Comic Sans font today and this is why
Love it or hate it, Comic Sans has made a name of itself for numerous reasons. The sans-serif font is celebrated in the Netherlands every first Friday of July since 2009 and it is thanks to two Dutch radio DJs, Coen Swijnenberg and Sander Lantinga, who introduced to the world the Comic Sans Day 15 years after it was introduced to the world.
Designed by Vincent Connare Comic Sans MS is a sans-serif casual script typeface released in 1994 by Microsoft Corporation. A casual, non-connecting script inspired by comic book lettering, Comic Sans intended for use in informal documents and children's materials. "This casual but legible face has proved very popular with a wide variety of people" explained Microsoft of the typeface which has been so extremely popular, often used in situations for which CS was not intended, and inevitably has been the subject of criticism and mockery.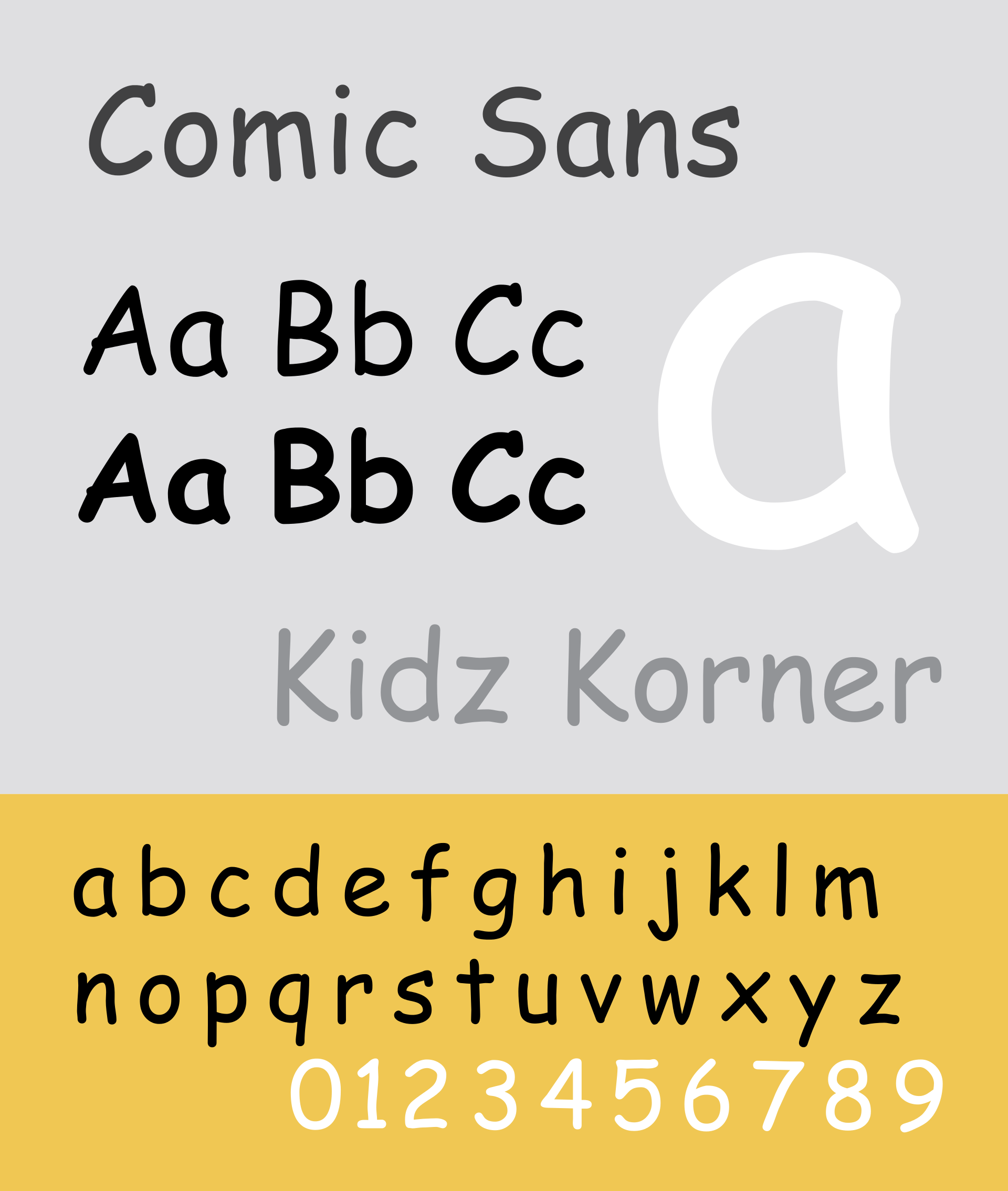 "What's so wrong with Comic Sans?" wondered Simon Garfield, author of Just My Type: A Book About Fonts (Profile Books) in his article for BBC almost a decade ago after Comic Sans became the target of an online hate campaign. "Comic Sans is unique: used the world over, it's a typeface that doesn't really want to be type. It looks homely and handwritten, something perfect for things we deem to be fun and liberating. Great for the awnings of toyshops, less good on news websites or on gravestones and the sides of ambulances" notes Garfield.
Over popular and in demand by many Comic Sans was created by Connare, type engineer and graphic novels fan, who began work on Comic Sans in October 1994. Connare had already created child-oriented fonts for various applications, so when he saw a beta version of Microsoft Bob that used Times New Roman in the word balloons of cartoon characters, he felt that the result was a formal look inappropriate for a program intended to introduce younger users to computers. His decision was to create a new face based on the lettering style of comic books he had in his office, specifically The Dark Knight Returns (lettered by John Costanza) and Watchmen (lettered by Dave Gibbons).
The Comic Sans adventure was just beginning. Connare completed the face too late for inclusion in MS Bob, but the programmers of Microsoft 3D Movie Maker, which also used cartoon guides and speech bubbles, began to use it. The speech bubbles eventually were phased out and replaced by actual sound, but Comic Sans stayed for the program's pop-up windows and help sections.
The typeface later shipped with the Windows 95 Plus! Pack. It then became a standard font for the OEM version of Windows 95. Finally, the font became one of the default fonts for Microsoft Publisher and Microsoft Internet Explorer. The font is also used in Microsoft Comic Chat, which was released in 1996 with Internet Explorer 3.0.
Installed on the majority of computers worldwide, Comic Sans widespread use happened overnight. Within four years of its release on Windows, designers had begun to argue that it had become overused, often through use in serious and formal documents in which it could appear too informal or even as inappropriate and disrespectful.
The Boston Phoenix reported on disgruntlement over the widespread use of the font, especially its incongruous use for writing on serious subjects, with the complaints urged on by a campaign started by two Indianapolis graphic designers, Dave and Holly Combs, via their website "Ban Comic Sans".
The movement was conceived in 1999 by the two designers after an employer insisted that one of them use Comic Sans in a children's museum exhibit, and in early 2009, the movement was "stronger now than ever". The web site's main argument is that a typeface should match the tone of its text and that the irreverence of Comic Sans is often at odds with a serious message, such as a "do not enter" sign. Comic book artist Dave Gibbons, whose work was one of the inspirations for the font, said that it was "a shame they couldn't have used just the original font, because [Comic Sans] is a real mess. I think it's a particularly ugly letter form" and film producer and New York Times essayist Errol Morris wrote on the subject back in August 2012: "The conscious awareness of Comic Sans promotes—at least among some people—contempt and summary dismissal." With the help of a professor, he conducted an online experiment and found that Comic Sans, in comparison with five other fonts (Baskerville, Helvetica, Georgia, Trebuchet MS, and Computer Modern), makes readers slightly less likely to believe that a statement they are reading is true.
"If you love it, you don't know much about typography [but] if you hate it, you really don't know much about typography, either, and you should get another hobby" commented Connare on its haters and fans alike, being obviously the biggest fan of his creation. "Twenty years ago, I made the best font in the world," he said speaking at WIRED's annual two-day conference in 2015.
But science is with the use of Comic Sans as studies, such as one from Princeton University in 2010, show that those who study using more difficult fonts such as Comic Sans are more likely to retain information.
So remember, Comic Sans Day is celebrated every first Friday of July and on this day you should "send all your mails, print all your reports and all your sticker address labels in this illustrious font" per Swijnenberg and Lantinga. If you are not impressed with the font's super-popularity just ask Fabiola Gianotti, the spokesperson of the ATLAS experiment. Back in July 2012, when the discovery of the Higgs boson was announced at CERN, Gianotti attracted comment by using the font in her presentation of the results. And that was just one of CERN's funny obsession with the most reviled font ever. Just in time for April Fools day 2014 CERN announced that all of its official communication channels are switching to exclusive use of the font Comic Sans.
"The move comes after weeks of deliberation by CERN management and top web designers about how best to update the image of the laboratory for this, its 60th anniversary year. 'This is an important year for CERN and we wanted to make a bold visual statement, sia dsays CERN Head of Communications James Gillies in a statement. 'We thought the most effective way to communicate our research into the fundamental structure of matter at the very boundaries of technology was by changing the font.' For Gillies, Comic Sans says: 'This is a serious laboratory, with a serious research agenda.' And it makes the letters look all round and squishy' he added. Following the viral success of ATLAS spokesperson Fabiola Gianotti's presentation on 4 July 2012 announcing the discovery a new particle consistent with the Higgs boson, Gillies scrambled a team of emergency typographers to work towards the change. Working in shifts night and day for over a year, they deconstructed Gianotti's presentation at the very tiniest level to study its fundamental structure. They then came up with a sophisticated statistical model to separate the font from the background content. 'According to our calculations, 80% of the success of the presentation came not from the discovery of a fundamental particle that explains the Brout-Englert-Higgs mechanism for how particles get mass, but from the choice of font,' says presentation analyst May Dupp, who worked closely with comic-book artists and circus clowns to lead the change. 'It's a logical step – and plain common sense – to apply this technique to all of CERN's communications.'
"When preparing my Higgs presentation, at first, I had Georgia on my mind," said Gianotti. "But when I saw the closely spaced, slightly squishy rounded characters in my drop-down menu, I knew in my heart that Comic Sans was the right way to go." Comic Sans makes scientists happy so touché!
Tags/ typeface, font, microsoft, comic sans, times new roman, bbc, new york times, national day, cern, comics, ms paint