World AIDS Day: brutal and humane, the US national AIDS crisis in posters
In 1981, a new disease appeared in the United States. As it spread, fear and confusion pervaded the country. The infectious "rare cancer" bewildered researchers and bred suspicion, but the worry was not the same for everyone. Many feared contact with those who were ill. Others, particularly but not exclusively gay men, feared for their lives and the lives of loved ones.
Reactions to the disease, soon named AIDS (acquired immune deficiency syndrome), were as varied as the uncertainties about it. Early responders cared for the sick, fought homophobia, and promoted new practices to keep people healthy. Scientists and public health officials struggled to understand the disease and how it spread. Politicians remained largely silent until the epidemic became too big to ignore. Activists demanded that people with AIDS be part of the solution.
Takings its title from "Surviving and Thriving," the book written in 1987 by and for people with AIDS that insisted people could live with AIDS, not just die from it, "Surviving and Thriving: AIDS, Politics and Culture" is a traveling exhibit and online adaptation curated by the National Library of Medicine that explores the rise of AIDS in the early 1980s, as well as the medical and social responses to the disease since.
"Posters, comic books, and postcards focused on AIDS are as old as the disease itself" notes the exhibition's curators. "Representing some of the best forms of public health outreach, this ephemera contains images and slogans that communicate a range of ideas about AIDS—from how to prevent it from spreading, to how to care for people with AIDS, to how to talk to children about the disease."
"Inexpensively printed and distributed, these colorful materials performed a great deal of social and political work over the course of the 1980s and 1990s. Whether originally wheat-pasted on bus stops or the sides of buildings, hung in municipal office spaces, or placed in the waiting rooms of doctors' offices, these documents provide powerful historical evidence about how people did and did not confront HIV/AIDS."
"Posters, comic books, and postcards focused on AIDS are as old as the disease itself"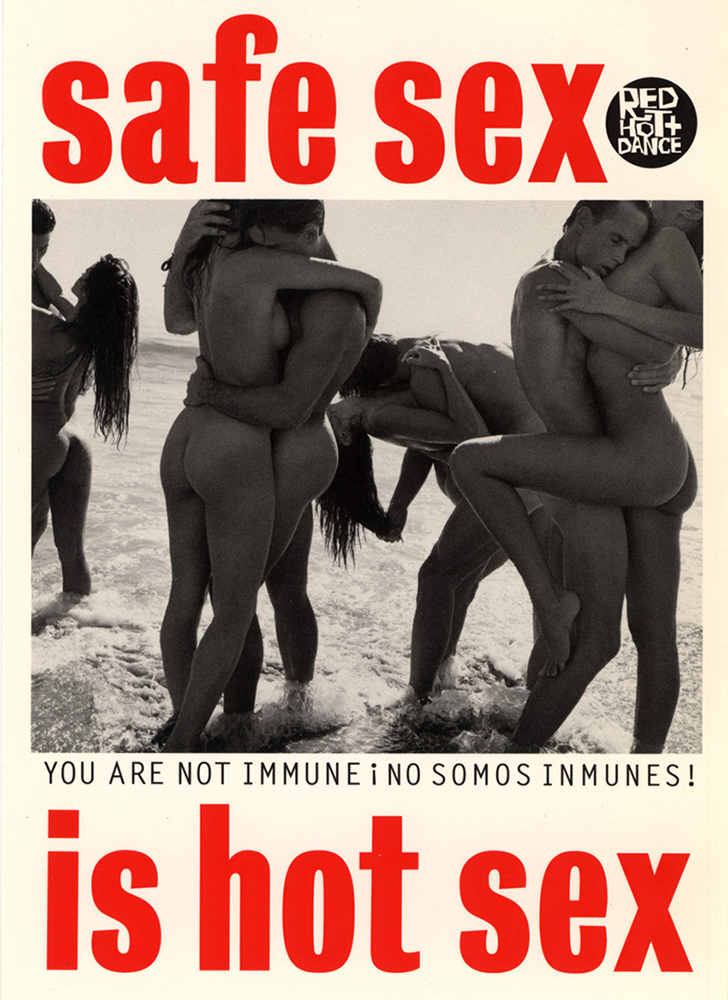 Safe sex is hot sex, 1991. Developed in 1990 by the Red Hot Organization, a leading international initiative dedicated to fighting AIDS through popular culture, this campaign featured diverse people locked in intimate poses. The posters combined text and visuals to normalize and eroticize safe sex. Both provocative and instructional, the carefully positioned subjects aimed to encourage viewers to change their sexual practices. The voyeuristic presentation worked in conjunction with the message: sex can be enjoyable and safe for all couples regardless of sexual orientation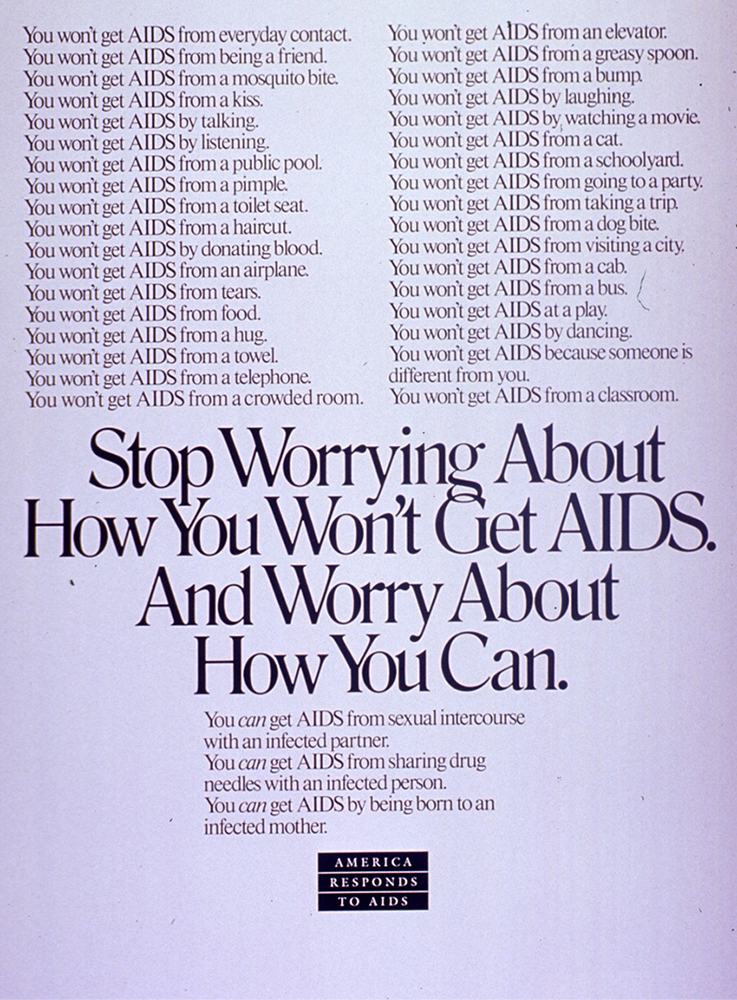 Stop worrying about how you won't get AIDS and worry about how you can, 1980s. Misinformation ran rampant through much of the 1980s as people struggled to interpret the new information about risk behaviors and safe practices. By providing the beginnings of a list of safe practices, this poster from American Responds to AIDS helped spread accurate information and dispel some of the stigma and fear associated with people with AIDS.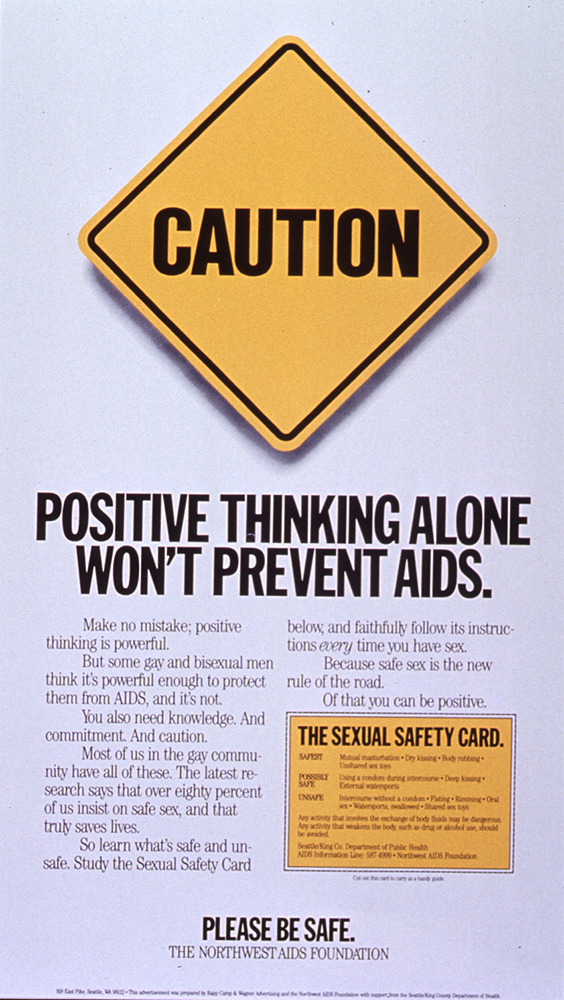 "Please Be Safe" by the Northwest AIDS Foundation. In 1987, with funding from the U.S. Conference of Mayors, the Seattle-based Northwest AIDS Foundation launched the "Please Be Safe" campaign to help gay and bisexual men reimagine their sexual behaviors. Using a different creative visual strategy than the sexually charged imagery of some contemporaneous public health efforts, this campaign used road signs—a straightforward, familiar set of symbols—to discuss and advertise sexual safety. The "Please be Safe" or "Rules of the Road" campaign used road signs and compelling, straightforward, community-specific language to help gay men engage in safer sex. The campaign sought to establish these practices as the new norm for all. The "Sexual Safety Card" featured on many of the posters provided quick and accessible information on activities at every level of safety.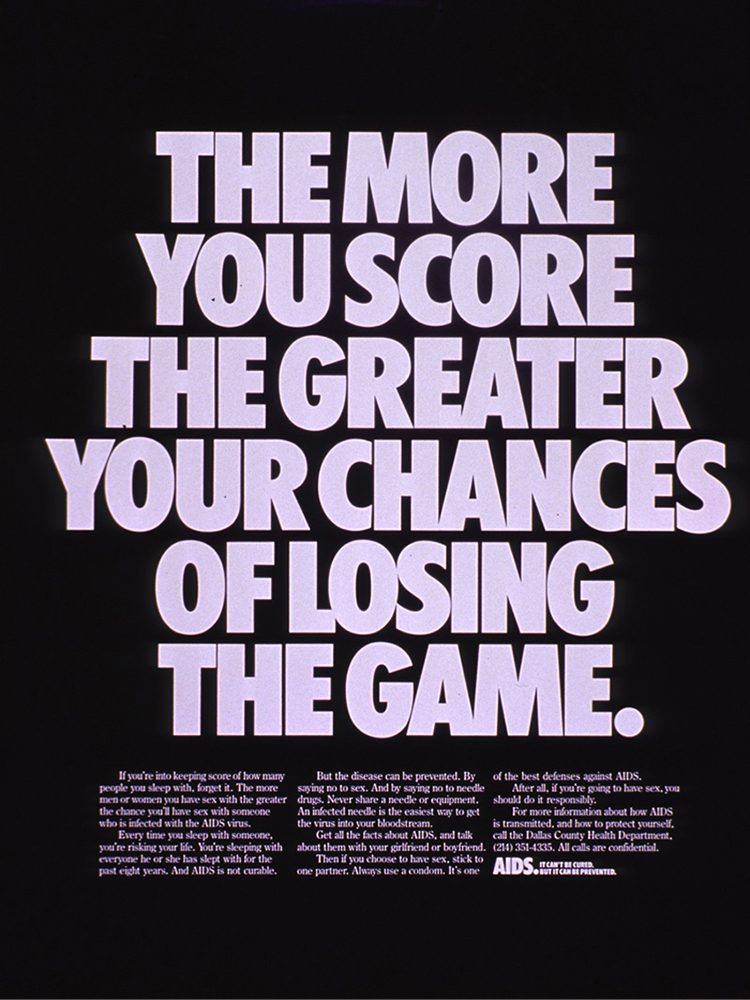 The more you score, the greater your chances of losing the game, 1980s. This fear-mongering poster offered a simple solution for preventing AIDS: Just say no. . Advice like this ignored the complexity of human behavior and, as such, missed out on the opportunity to educate people on realistic, alternative strategies.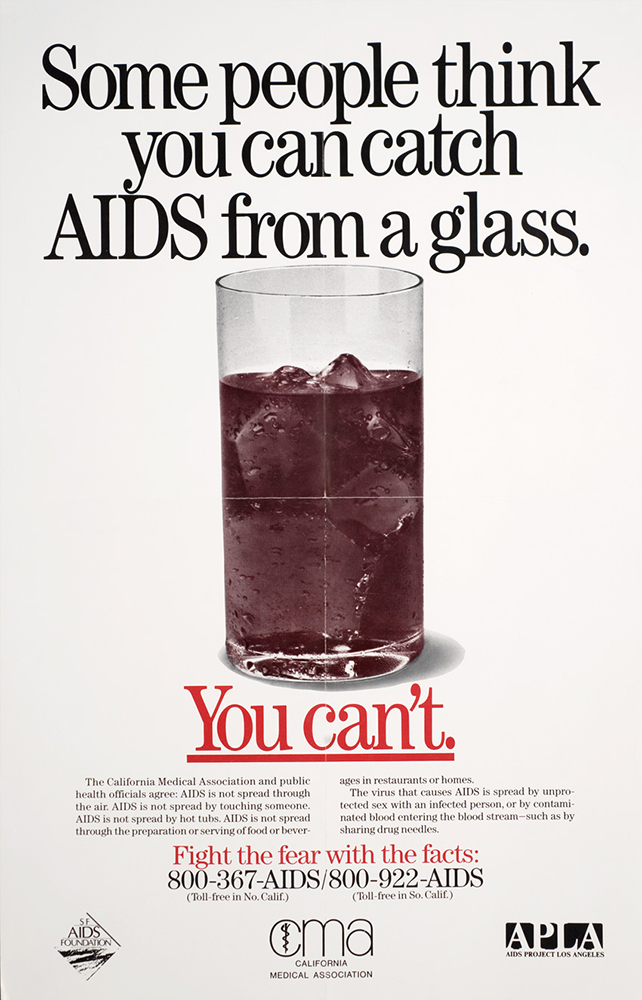 Some people think you can catch AIDS from a glass, you can't, 1980s by the California Medical Association. Evidence that AIDS was spread by the exchange of "bodily fluids" provided many opportunities for misunderstanding. Even after researchers proved that saliva could not transmit AIDS, the fear of used drinking glasses, shared eating utensils and kissing persisted well into the 1980s.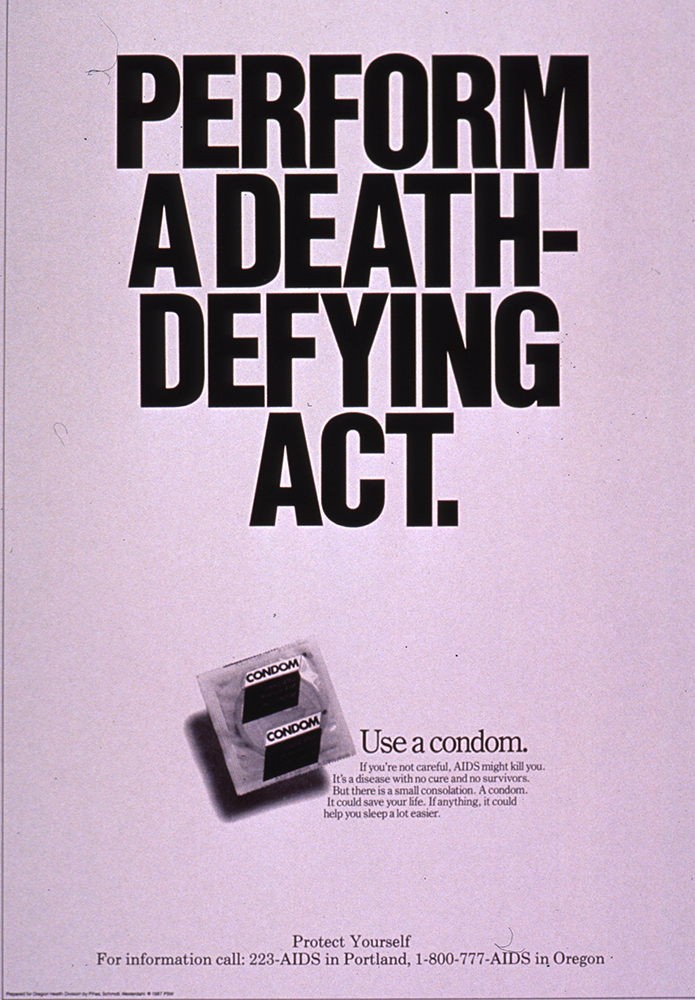 Perform a death-defying act, 1987 by the Oregon Health Division. This huge headline communicated a simple solution. By depicting condoms as a common, easy-to-use solution, this poster from the Cascade AIDS Project in Portland made protection approachable.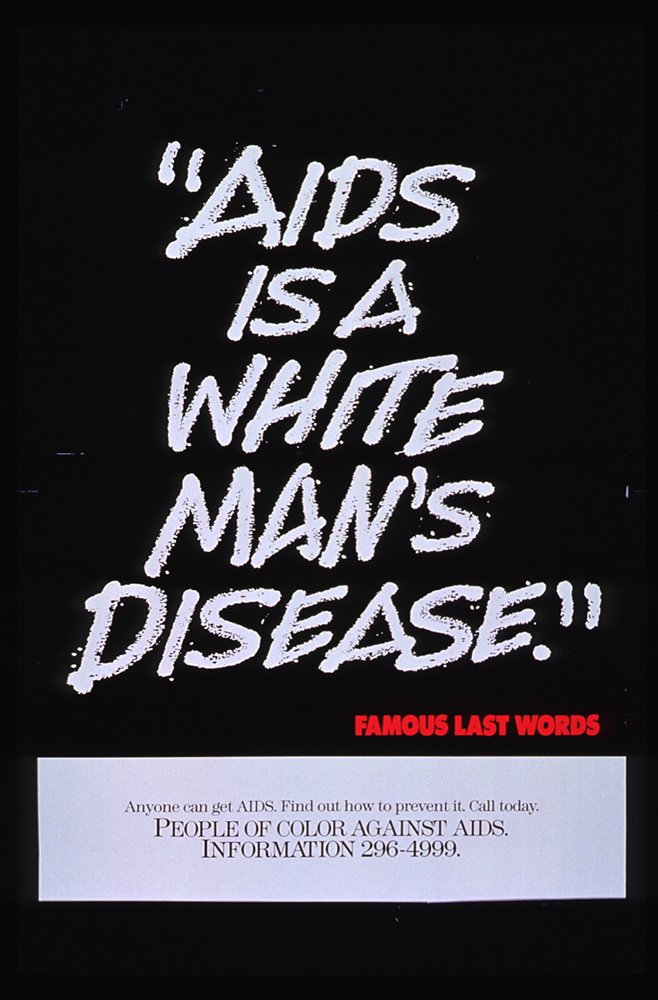 AIDS is a white man's disease, famous last words, 1980s by People of Color Against AIDS. Directed to the black community, this poster used straightforward language to debunk the all-too-widespread idea that AIDS was a gay, white disease.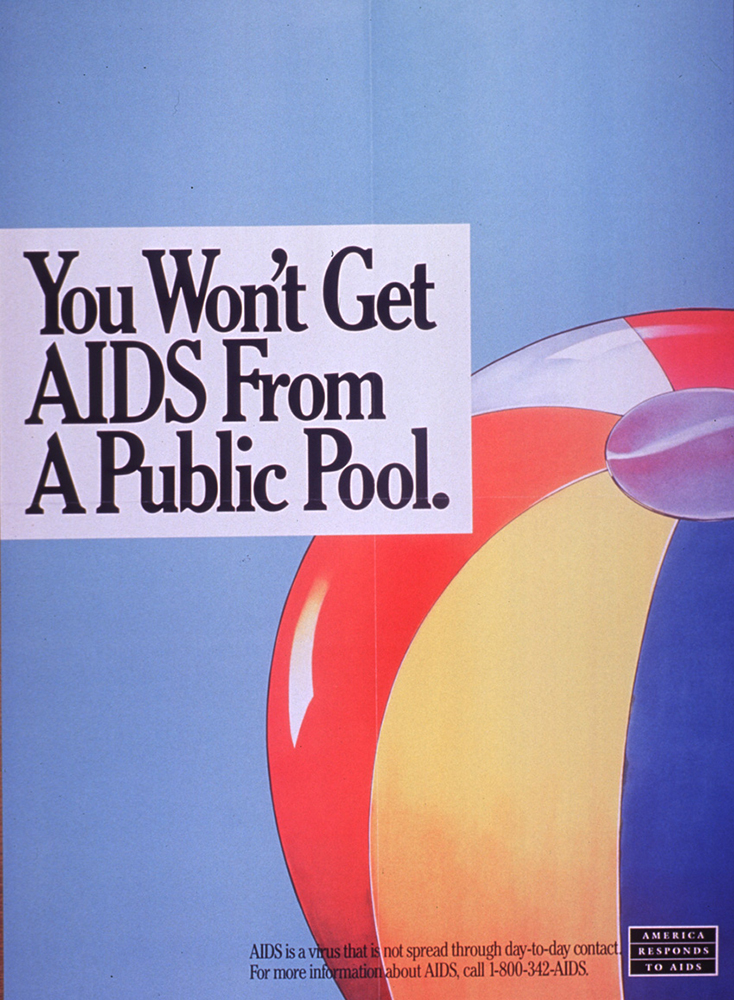 You Won't Get AIDS From. With misinformation too readily available, the You Won't Get AIDS From campaign from America Responds to AIDS attempted to reach a wide audience with neutral images and straightforward information on ways people could not "catch" AIDS.
From the "Safe Sex is Hot Sex" campaign dubbed too hot to handle during the Reagan era to the "America Responds to AIDS" campaign which promoted the "everyone is at risk" message of AIDS prevention, generalizing the epidemic beyond its core targeted communities which suffered the most, through the "Fear Mongering" ominous posters which declared in big bold type the danger of "sleeping around" whilst providing little -if any- information on how to prevent the spread of AIDS epidemic, the exhibition presents through posters and visual elements the US national AIDS crisis in pictures.
Slider images captions: ACT UP is watching: Photo from one of thousands of demonstrations nationwide, reminding officials that activists were watching. ACT UP (The AIDS Coalition to Unleash Power) was founded in March 1987. As of 2012, ACT UP chapters in nearly every major city continued to champion for rights for people with AIDS. Ignorance = fear, silence = death, 1989: In the 1980s and 90s, artist Keith Haring's widely recognized figures championed AIDS education and compassion, what was then a new cause. Today, Haring's foundation continues to support AIDS organizations nationwide, including AIDS Project Los Angeles, the Elizabeth Glaser Pediatric AIDS Foundation, and Gay Men's Health Crisis. Read my lips, 1988: Gran Fury, an artists' collective within ACT UP (The AIDS Coalition to Unleash Power), created iconic materials, including postcards, to spread information and promote education about HIV and AIDS. The mantra featured here subverts President George H. W. Bush's notable quip about no new taxes, delivered during the 1988 Republican National Convention, to call attention to his ambivalent support on AIDS outreach, education, research, and support.
Tags/ origins, exhibition, posters, campaign, activism, usa, world aids day, hiv, medical, epidemic, act up