Never Assume! Yorgo Tloupas on his evolution of a centennial classic, Vanity Fair France
Fiercely committed to excellence Yorgo Tloupas will attempt, albeit subconscious, to make an otherwise mundane industry interesting and he will change the rules of the game with extreme caution. From designing a logo and snowboards for Rossignol back in 1996, his first job ever, to the redesign of one of the world's most prestigious magazines ever, Vanity Fair France, Yorgo Tloupas has evolved into a powerhouse in graphic design and typography in the industry and he is ready to take any challenge possible for the thrill of it.
A Franco-Greek art director and designer based in Paris, son of world-renowned sculptor Philolaos Tloupas, Yorgo graduated from Penninghen before kicking off his career in the press with the launch of the Crash Magazine. In the following years he worked for a wide variety of clients in different fields, from art to fashion via the press and industry (Lacoste, Kenzo, Kamel Mennour, Absolut Vodka, Cartier, Hennessy to name a few) and in 2001, he moved to London to launch the Intersection Magazine along with renowned photographer Rankin and Dan Ross.
Upon his arrival back to Paris in 2010, Tloupas redesigned the French edition of GQ, won the French Bike Polo Championship and in 2015 he redesigned the magazine Next de Libération -whilst coordinating the typographic renewal of the newspaper. Nowadays, almost two decades after he embarked into this creative tour de force of his, Tloupas and his team work on visual identities and campaigns for clients such as Omega, Martell, Artcurial, Ricard and Loro Piana among others. The artistic director of Vanity Fair France which he redesigned with efficiency and typographic brilliance, Tloupas will take any risk given, from teaching at Penninghen through running his Black Crows Ski project to rebranding one of Condé Nast's most luxurious and iconic titles ever, and he will master it.
In this interview with Typeroom's Loukas Karnis, Yorgo Tloupas shares more insights on his latest adventure filled with vanities, fonts, and logos. Oh, what an adventure, non?
Typeroom: How long have you been working on the redesign of VFF?
Yorgo Tloupas: Well it was quite a hectic process. Condé Nast France recruited a new editor in chief, Joseph Goshn, to replace Anne Boulay who had left a few months prior, after heading the magazine since 2013. When he arrived, he wanted to do a few changes, both editorial and visual. So we worked together to rejig the order of sections, the names of chapters, and of course that had an influence on the overall design. But I had to do this with my team of two designers in just one month, as we were putting an issue together already. Suffice to say I don't redesign magazines like this usually!
Typeroom: What was the core idea behind the rebranding of one of the most iconic magazines in the world?
Yorgo Tloupas: We got lucky because, at roughly the same moment, Vanity Fair USA was going through a redesign as well, a gradual one in fact, with the new editor in chief pushing for new visual codes. Gone were the classic typographic rules of the last 20 years, and new hierarchies were starting to appear, bolder, more modern, less systematic. We also were aware that Vanity Fair Italia was doing a complete redesign, and we knew they were going to be quite radical. So the door was wide open for a proper change in France as well. We wanted more modernity, more simplicity as well, and a less vintage feeling overall.
Typeroom: Which were the steps to rejuvenate this established brand?
Yorgo Tloupas: We clearly jumped up the stairs four steps at a time! Firstly I wanted to simplify the color codes, getting rid of the multicolored typographic systems to replace everything by either black or red. Then we simplified the typographic language, with clearer and simpler stylesheets. We created a new set of grids, 6 and 7 columns, and brought hairline borders to separate columns and to classify information through all the sections. And finally, we decided that if the front and end sections were going to become way more organized and systematic, the middle section, with the long form articles, was going to become LESS systematic, more flexible and subject to changes depending on the articles.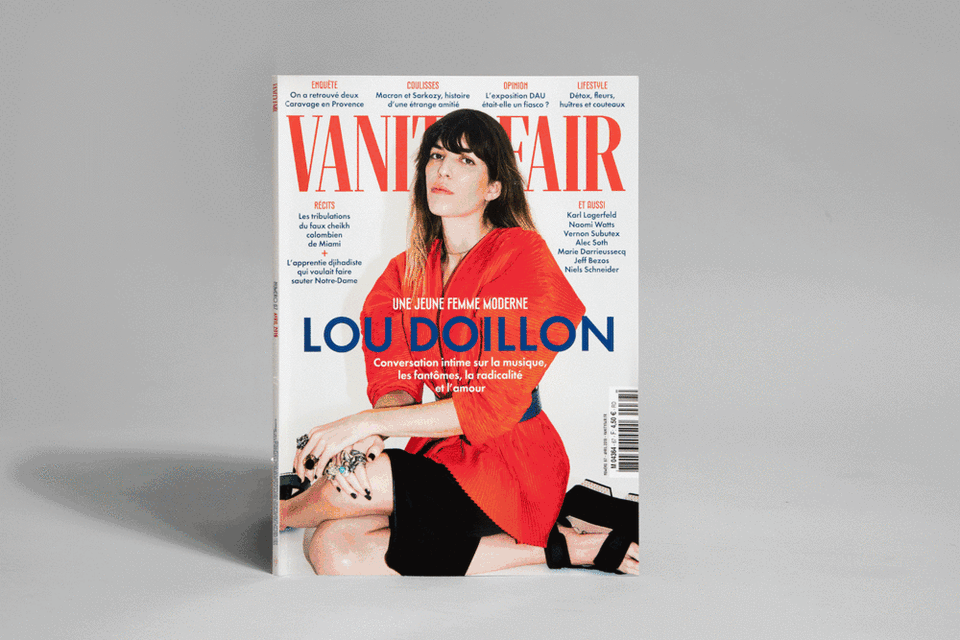 Typeroom: How important were the typographic elements for this project?
Yorgo Tloupas: What was interesting was to keep the same ingredients (VF Didot by Commercial Type, Vanité by Production Type, and Futura), and to reconfigure their balance them to get a new result. Some things stayed the same, mainly the baseline grid and the body text, and most of the rest changed a bit or a lot, but as the typographic bases stayed the same we didn't «lose» the reader - hopefully.
Typeroom: You worked with Production Type to design a family of custom typefaces for the French version of Vanity Fair. What was the typographic briefing for the designers?
Yorgo Tloupas: Back then, in 2013, I looked through decades of Vanity Fair archives to find sources that could be revived, and decided to use as an inspiration a 1916 cover, with a few letters that had an Art Deco vibe to them. From that, I drew, with the help of Leo Pico who was an intern for us back then, the draft for our custom typeface. Then Jean Baptiste Levée drew a full family and created tons of alternates that still help us to this day, giving Vanité a unique set of shapes to play with.
"The readers have a very limited grasp of subtle typographic changes and that the goal is to establish a font with usage, and to play with the sub-conscience of the audience"
Typeroom: Which qualities does Vanité convey to the reader and how is VFF different from other international editions of this Condé Nast title, if so?
Yorgo Tloupas: I always think that the readers have a very limited grasp of subtle typographic changes and that the goal is to establish a font with usage, and to play with the sub-conscience of the audience. Of course, I don't expect them to see the diagonal of an upper case N reaching the right stem higher than normal and to think «oh this is so 1930s». But their culture and their visual baggage will hopefully connect the dots and give Vanity Fair the aura of a centennial classic.
Typeroom: Which are the «codes» that define your take of Vanity Fair?
Yorgo Tloupas: Honestly it evolved, at the same time as magazine design and reading habits changed. When I started in 2013, Jonathan Newhouse, chairman of Condé Nast International, was very precise on how close he wanted us to stay to the American edition. So I had very few zones of differentiation available, and made the French version quite similar to the American one, with a few elements that I thought were an improvement on the very classic and dated look that Vanity Fair had at the time (Chris Dixon was just arriving at the art direction there, and was only starting to make his mark). Minor details really, but they did give our edition a typographically correct feeling. So the design and the use of Vanité was really where we marked our uniqueness.
"I don't know if today any publishing house would put this much effort and money into a launch, certainly in France times have changed, and this seems impossible in 2019"
Typeroom: Why did you decide to design a distinct VFF lozange logo for the French edition of the magazine?
Yorgo Tloupas: Since we had the same wordmark as all the other Vanity Fair editions, I thought we needed a symbol that we could use in small, on objects, in the mag, for events, etc… Also my passion in life - beyond surfing - is to design logos.
Typeroom: How many dummies have you designed before concluding to the final one?
Yorgo Tloupas: For Vanity Fair it was exceptional. We did 4 dummies over 18 months, as the pressure was quite high to deliver something as qualitative as the American version. We did 3 dummies with a reduced team of about 4 people, and the 4th one with the full editorial team of 20. I don't know if today any publishing house would put this much effort and money into a launch, certainly in France times have changed, and this seems impossible in 2019.
Typeroom: If you were a letter of Vanité, which one would you be and why?
Yorgo Tloupas: Ah! I like the upper case Y, of course. Kind of looks like a tuning fork.
"More modernity, more simplicity, less vintage feeling overall"
Typeroom: What is the state of the printing industry in France?
Yorgo Tloupas: It's booming, people are making millions and selling tons of magazines to an avid readership. Just kidding, it's as dismal as everywhere else, and everyone is extremely worried. But we do have a concentration of luxury brands in Paris, and they're all keen on publishing brand magazines. So I end up designing a lot of them. A brand mag is not really a real magazine, but considering how full of hidden adverts real magazines are, the difference is getting smaller.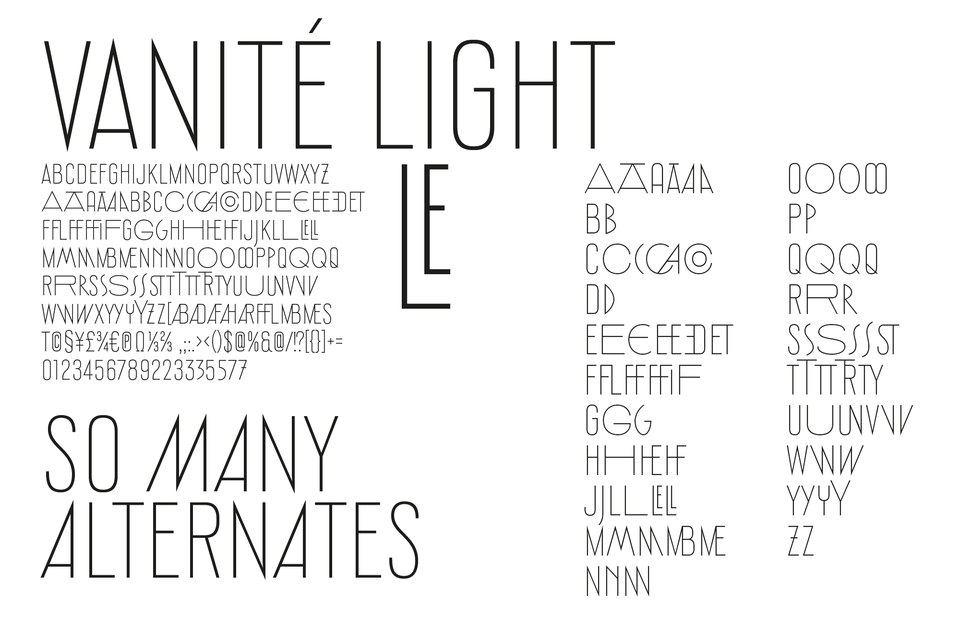 Typeroom: If you had to pick one piece of work or project that you are most proud of what would it be?
Yorgo Tloupas: Well it would be Black Crows Skis. No project comes this close to complete creative control. I was lucky enough to create the logo of a brand at its inception, then design all its products for the following 12 years, from skis to clothes to adverts to window displays to the website. Being a shareholder of the company also brings a whole new set of responsibilities.
Typeroom: What does a rebranding imply for a product/magazine?
Yorgo Tloupas: In both cases, the goal is to find the right balance between preserving a heritage if it exists and if it's worth preserving (especially for historical brands like Cartier, Martell, Vuitton), and resetting the visual codes if they need to be reset. This applies more to brands and/or magazines that have suffered during the «design crisis» of the '90s and '00s, when the arrival of the computer simplified the access to the practice of graphic design. Some brands either created or redesigned at the time need a complete reset today. For example, Amazon could do with a full redesign. Or, in France, Paris Match magazine would also need to be rethought visually, as this historical jewel of the French press was badly damaged in the last 20 years.
Typeroom: You have redesigned GQ, Libération Next, Beaux Arts and many other publications before VFF. Is there a distinctive pattern in your portfolio that repeats itself?
Yorgo Tloupas: I hope not, as I think my role is to serve the clients in the best possible way, and by extension to serve the readers. So I don't try to apply a certain style and use similar codes. In any case, the rules of the hierarchy of information are quite clearly defined in this trade, and it's all about choosing what to prioritize, a common decision with the editor in chief. In logo design, I'd say I have a more identify-able style, but I'd be hard pressed to describe it.
"Amazon could do with a full redesign. In France, Paris Match magazine would also need to be rethought visually, as this historical jewel of the French press was badly damaged in the last 20 years"
Typeroom: Your father, the world-renowned sculptor Philolaos Tloupas, is rightfully regarded as one of the most important Greek artists abroad. Which elements of his have you inherited in your artistry? What is the most important advice he gave you if any?
Yorgo Tloupas: Well I'm not sure he's that recognized, but I certainly work with my sister and my mother to promote his legacy. There is a show coming up in the National Museum of Valence in November 2019, to celebrate the 50 years anniversary of his Water Towers in the town. I've also found a prestigious gallery to look after his work, which I'm super happy with. His vision in life clearly inspired me, especially his manner of constructing every object of his life that could be constructed: house, furniture, boat, cutlery, basically apart from our car and the electronic devices, everything I grew up with was designed and built by my father. Today, of course, I don't design everything I own, but I try when possible to imagine objects the way I see them. I've done chairs and a couch for the office, which is about as comfortable as a brick, so I guess it says a bit about the rigidity of my character…
Typeroom: If Vanity Fair France was a person which would his/her motto be?
Yorgo Tloupas: Well there is an existing slogan for the American edition which I like, «glossy on the outside, gritty on the inside», which we translated back in 2013 into «brillant dehors, mordant dedans».
Typeroom: And what is yours?
Yorgo Tloupas: «Never Assume». Actually that was something that Dan Ross, my business partner in Intersection magazine, used to say, and I've been using it quite a lot since, so much so that my team printed a small book for me with that title on the cover, and dozens of ridiculous quotes I've told them over the years compiled inside, with their own interpretation of what I said. Stuff like «I have the immune system of a dinosaur» translated into «I'm never ill and I want people to know it».
Enter Yorgo Tloupas brilliance here.
Words: Loukas Karnis/ Images @Yorgo&Co
Tags/ typography, inspiration, london, printing, magazine, fonts, redesign, france, yorgo tloupas, grid, paris, vanity fair, condé nast publications, vanity fair france, fashion industry, sculptor, dan ross, rankin, jonathan newhouse