John Clifford on six graphic design icons who mastered type
Who coined the term graphic design? Who turned film titles into an art? Who pioneered information design? Who was the first female art director of a mass-market American magazine? Who are history's most influential graphic designers? Oh dear God, so many questions, so litle time. Well, God obviously exists as in his fun, fast-paced introduction to the most iconic designers of our time, author John Clifford takes us on a visual history tour that's packed with the posters, ads, logos, typefaces, covers, and multimedia work that have made these designers great. So when we asked the man responsible for this gift to remind us six of the best graphic Designers that ever existed, this is what we found out about the history of good typography.
Designers from El Lissitzky to John Maeda span a range of years and styles, but share a common thread: typographic excellence.
In simple terms, graphic design is combining words and images to communicate a message. I wrote Graphic Icons: Visionaries who Shaped Modern Graphic Design because I wanted a simple, visual reference on the pioneering designers who were so good at putting words and images together. Designers from El Lissitzky to John Maeda span a range of years and styles, but share a common thread: typographic excellence. Here are a few examples:

Jan Tschichold

After growing up in the heart of Germany's book industry, Jan Tschichold had a formal education in classical typography and calligraphy. A Bauhaus exhibition in 1923 introduced him to Constructivism, and he soon began incorporating modern elements into his designs. In 1928, Tschichold published a manual that continues to influence people today: Die neue Typografie (The New Typography), which is still in print. The strict standards in this book aimed to free designers from traditional restrictions and move them beyond centered type and ornaments. He believed design should be clear and efficient—and that the tools of clarity were sans serif type, asymmetric compositions, photography, and white space. Eventually, his work began to drift away from the rigid New Typography. Centered type, serif faces, and ornaments began to appear in his work, as he understood that different projects called for different solutions.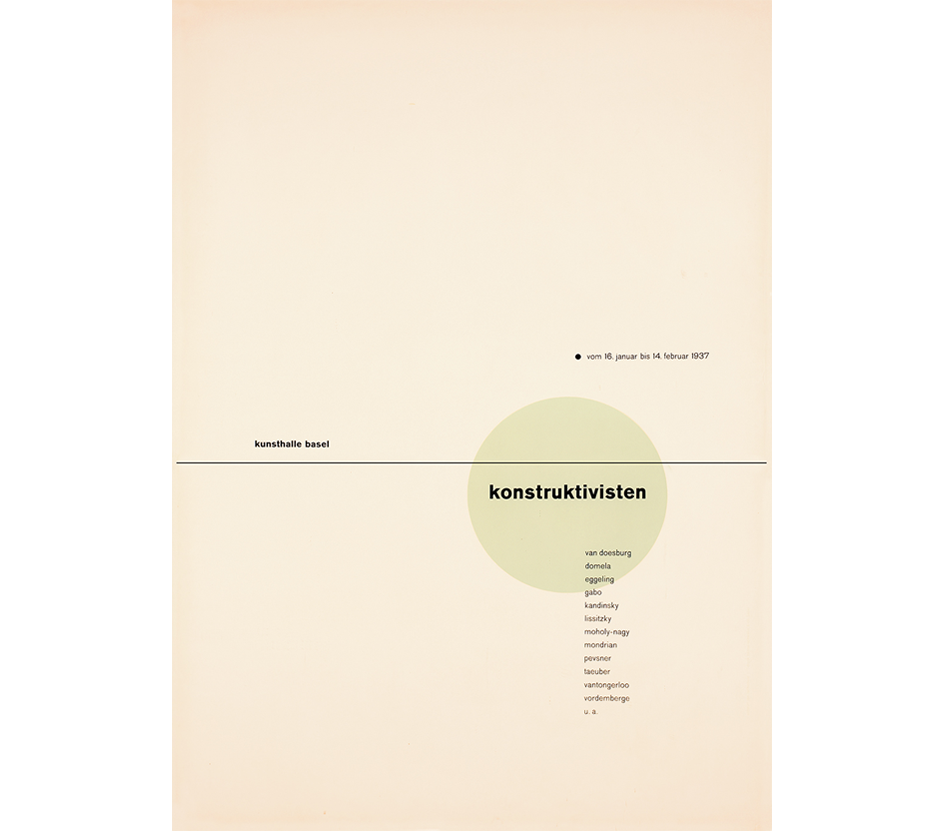 Exhibition poster, 1937

Filippo Tommaso Marinetti

Although better known as a poet, Italian Futurism founder Filippo Tommaso Marinetti brought a new form of expression to this literary art by breaking all the rules of typography—and graphic design still reflects his profound influence. His "Futurist Manifesto" called for the demolition of traditional means of creating, and urged artists to embrace the speed, mechanical processes, and violence of the industrialized world. He published his first book, Zang Tumb Tumb, in 1914. Based on his experiences during the Balkan War of 1912, the title is a graphic representation of the mechanized sounds of gunfire, grenades, and other weapons. It was one of his experiments in "words in freedom," where he broke away from conventional linear writing by using only nouns—no adjectives or verbs. Defying traditional typography, he designed the cover using a mixture of typefaces at varying scales and angles and scrambled around the page. He pioneered expressive typography, giving it a pictorial quality; his words looked the way they sounded.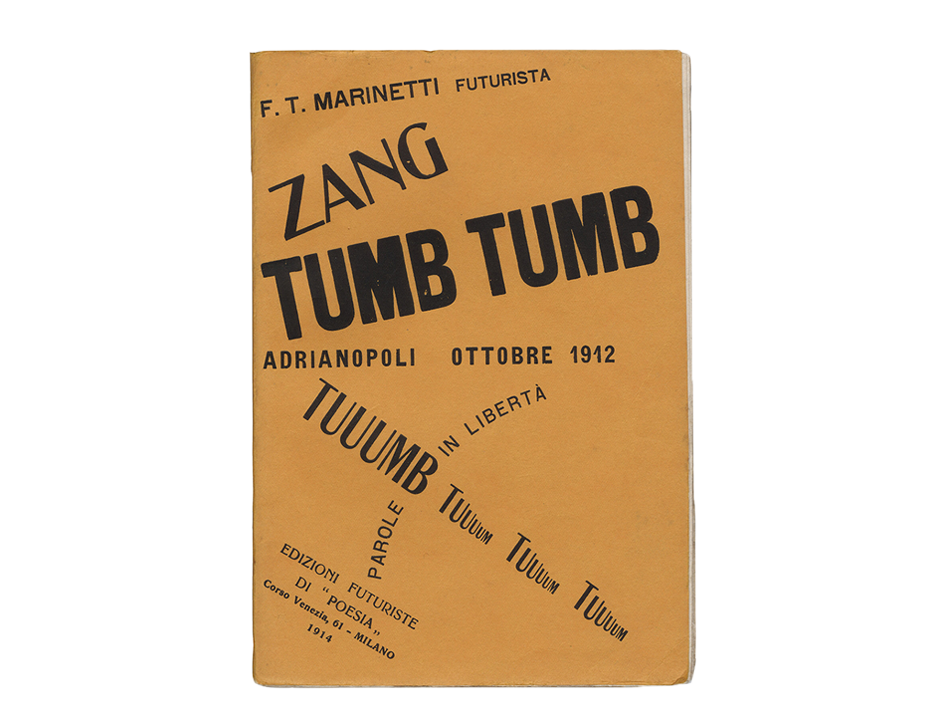 Poetry book cover, 1914

Ladislav Sutnar

Czech-born Ladislav Sutnar collaborated with writer Knud Lönberg-Holm at Sweet's Catalog Service, which compiled the catalogs of different manufacturers in the construction industry. These multi-source catalogs were convenient for the user, but visually they were a bit of a mess, as each manufacturer's section of the compilation looked different. Sutnar clarified the vast amount of information, using colors, shapes, and graphic symbols to guide the reader. He established hierarchy by emphasizing type—changing scale and weight, reversing out of color, and using italics and parentheses—which made skimming, reading, and remembering easier.
Sutnar and Lönberg-Holm also collaborated on guides that explained their methods, and encouraged designers to set consistent standards while still creating visual excitement. The way Sutnar steered readers through complex information sounds much like what we now call information design or information architecture, which has been further developed by Edward Tufte and Richard Saul Wurman, as well as by digital and web designers everywhere.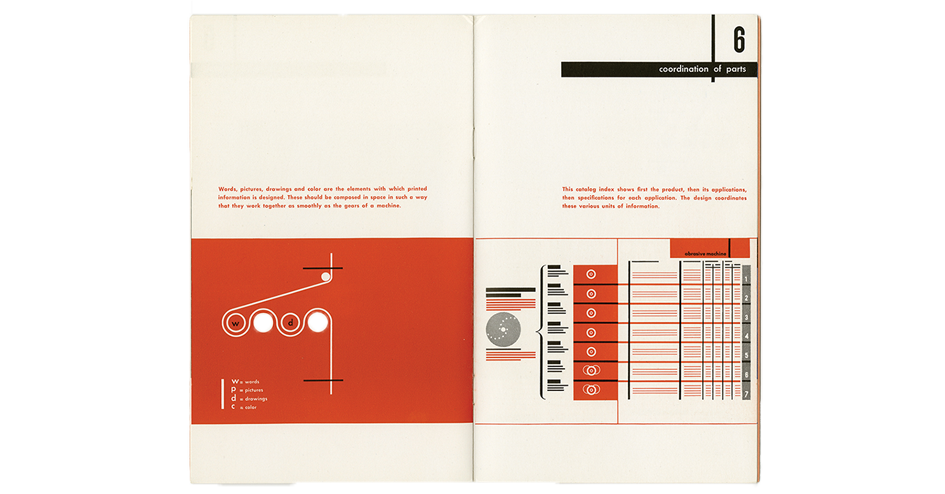 Design and Paper booklet spread, 1943
Herb Lubalin

Although he is celebrated for his lively type, Herb Lubalin didn't consider himself a typographer; the term felt too mechanical. Instead, he said, he designed with letters. He rejected the rules of traditional typography and the rigors of modernism to create type that was more expressive. He manipulated letterforms, incorporated flourishes, and added a dose of humor. Type became more than a medium for setting text; type became image. Changes in technology helped. Phototypesetting, a process of projecting type onto film for printing, gave designers in the 1960s much more freedom than setting metal type. This enabled Lubalin to experiment with big changes in scale and unusual letterspacing. He co-founded International Typeface Corporation (ITC) in 1970 to produce typefaces for the new technology. To promote ITC's products, Lubalin edited and designed the journal U&lc, which became a respected source for inspiration and information.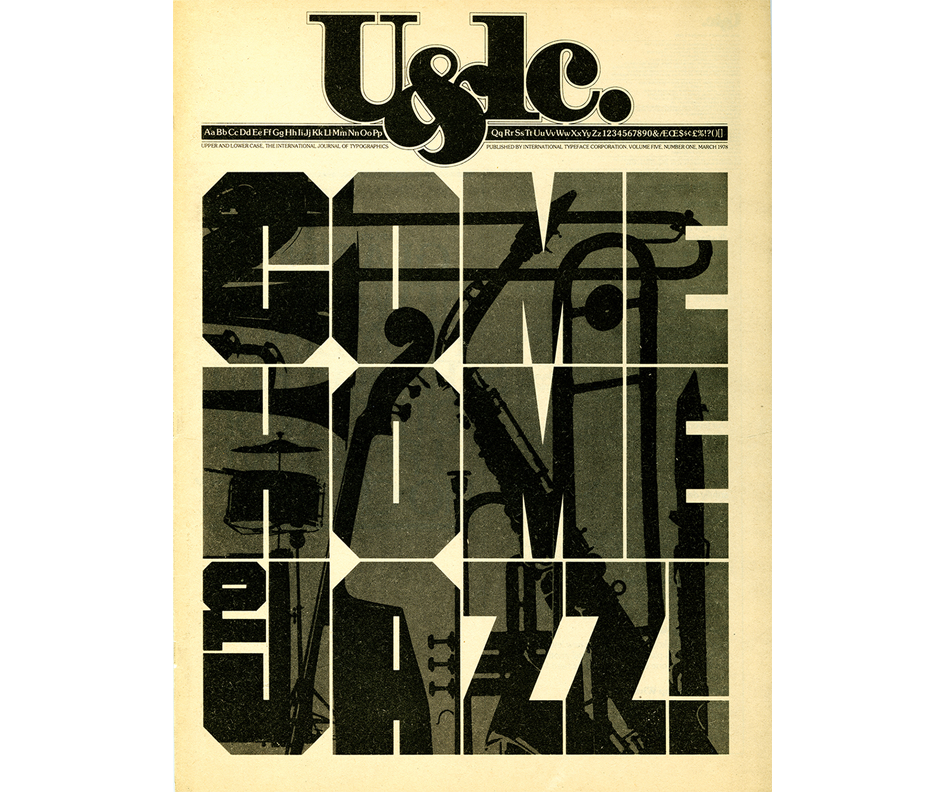 Magazine cover, 1978

Rudy VanderLans and Zuzana Licko

Apple broke new ground in 1984 when it introduced the Macintosh computer. Designers Rudy VanderLans and Zuzana Licko did the same (albeit on a smaller scale) with Emigre magazine. While many designers initially resisted the computer, these two embraced it, though in different and complementary ways: VanderLans liked the freedom it gave him in designing layouts, while it gave Licko a disciplined method for designing type. Emigre magazine quickly became a forum for designers, especially those interested in experimentation and technology. It featured in-depth articles and visual essays, in layouts that broke all the rules—with varying type sizes, overlapping layers, text columns crashing into each other, and distorted letterforms, all techniques that the Mac made easier. VanderLans and Licko sold their type designs to fund the magazine (which meant they didn't have to cater to advertisers). After the first two issues, the magazine was set exclusively in Emigre fonts. Licko began with rough, pixilated typefaces, like Oakland, and progressed to more versatile fonts, like the popular Mrs. Eaves.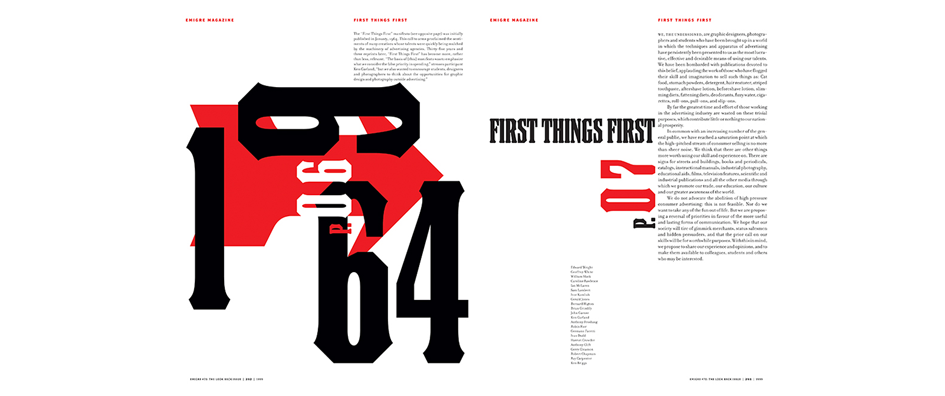 Emigre magazine spread, 1999
Paula Scher

As a design student, Pentagram's Paula Scher couldn't get the hang of working with type, of formally positioning words and letters in a layout. Then her teacher, Stanislas Zagorski, suggested that she think of type in a more conceptual way, using it as the main image in her work to communicate visually as well as verbally.
In 1994, Scher took on a defining project: a new identity for New York City's Public Theater (formerly known as Shakespeare in the Park). Director George Wolfe wanted a visual identity that looked nothing like Shakespeare, and Scher designed exactly that: a big, bold typographic language that was loud and urban and distinctive. Her street posters for the show Bring in Da Noise, Bring in Da Funk pushed this in-your-face style even further, with brash type that actually looked noisy. Scher's design became so popular that it changed theater advertising, as more groups tried to capture the youthful vigor of her work for the Public.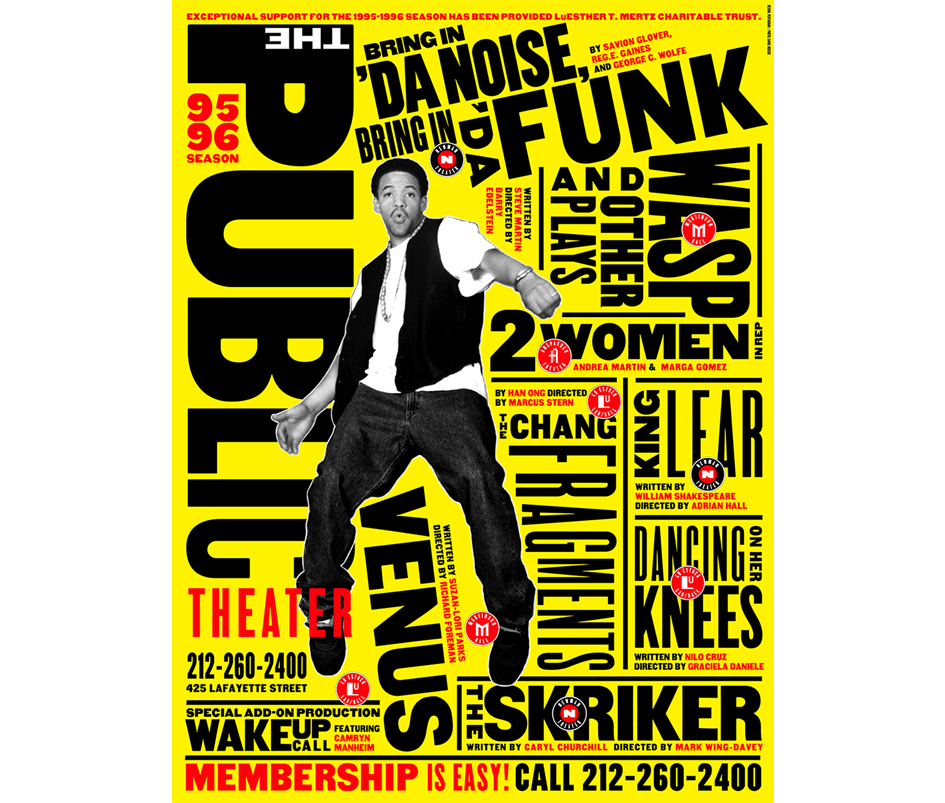 Public Theater poster, 1995
—
This article was written by John Clifford and adapted from Graphic Icons: Visionaries Who Shaped Modern Graphic Design by John Clifford. Copyright © 2014. Used with permission of Pearson Education, Inc. and Peachpit Press.

John Clifford is the author of Graphic Icons: Visionaries Who Shaped Modern Graphic Design, and the creative director of NYC design firm Think Studio, focusing on identity, digital, publishing, and print design. Follow him on Twitter.
In case you are still wondering why graphic design is the most intimate relationship you will ever experience PBS has an answer

Tags/ typography, graphic design, features, graphic icons, john clifford, tschichold, sutnar, lubalin, emigre, paul scher