Pentagram's Beirut redesigned MIT's heritage for the oldest magazine in the world
MIT Technology Review, this world-renowned, independent media company whose insight, analysis, reviews, interviews and live events explain the commercial, social and political impact of new technologies has a brand new face as Pentagram's Michael Beirut has developed a new brand identity and editorial design for MIT Technology Review.
This new visual language "builds on the publication's commitment to responsible journalism while reasserting its innovative approach".
"The new redesign is introduced at a moment when technology and culture have almost fully converged, and coincides with the publication's updated mission statement to bring about better-informed and more conscious decisions about technology through authoritative, influential and trustworthy journalism" notes Pentagram.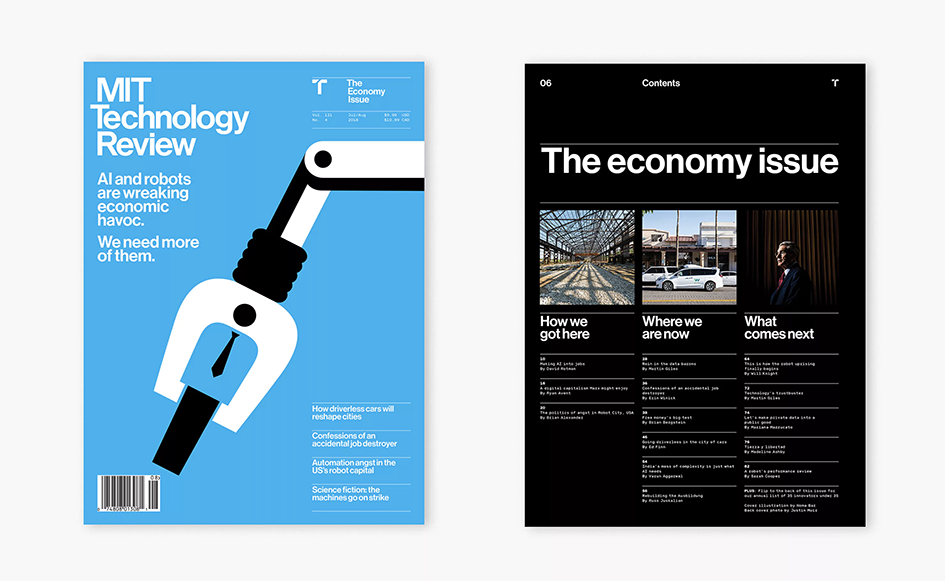 "Working closely with the magazine's in-house team led by Chief Creative Officer Eric Mongeon, Pentagram began by considering the graphic history of MIT and MIT Technology Review. In the sixties and seventies, the magazine found a foundational visual expression through the work of MIT's Office of Design Services, led by the legendary Muriel Cooper with Jacqueline Casey, Ralph Coburn and Dietmar Winkler. Since then, successive design teams at MIT Technology Review have explored their own interpretations of that original group's combination of modernist rigor and experimental expressiveness".

The redesign, which launches with the July/August issue on newsstands July 3, "extends this heritage and transforms it".
"MIT's emblematic use of Helvetica––now reborn as Monotype's Neue Haas Grotesk––is carried through to the nameplate and the rest of the cover. The redrawn wordmark has been customized and refined by Christian Schwartz at Commercial Type. Inside, the new text face is Independent, designed by Henrik Kubel at A2-TYPE. It is supplemented by a custom monospaced typeface, TR Mono, used for captions and sidebars and created especially for MIT Technology Reviewby Hubert & Fischer. Neue Haas Grotesk is used for headlines and display".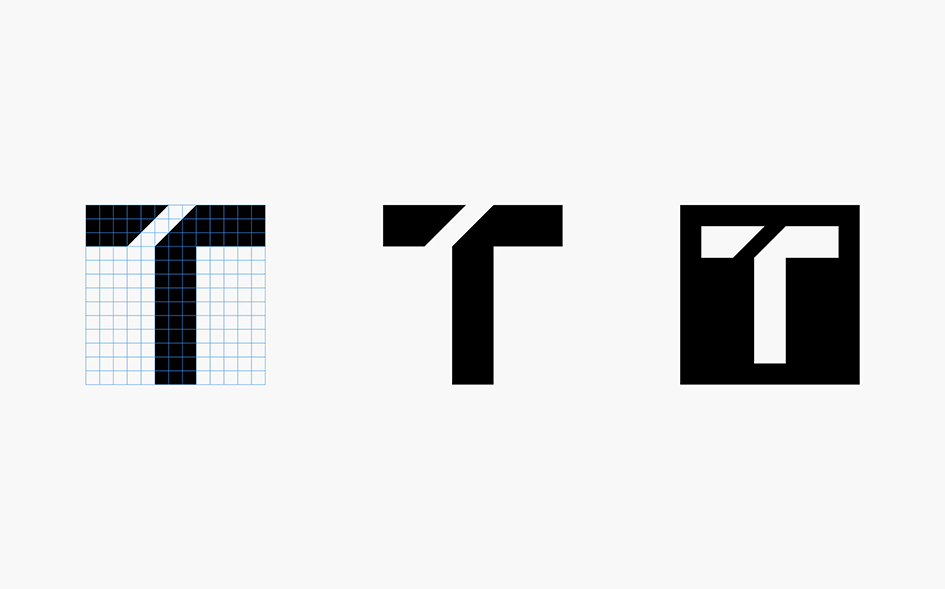 "All the typeface choices have been chosen not just for legibility and ease of use, but for consistency across print and digital platforms. The redesign employs a flexible 12-column grid that allows for more diverse layouts and a greater mix of elements like sidebars, infographics and pull quotes" notes Pentagram of the redesign which introduces a new symbol, a monogram with a 45-degree cut through the letter "T" to form a lowercase "r."
The new look will be extended to MIT Technology Review's digital presence, including the website designed by Upstatement, email newsletters and social media, as well as live events.
Pentagram previously designed the identity for the MIT Media Lab and MIT Libraries.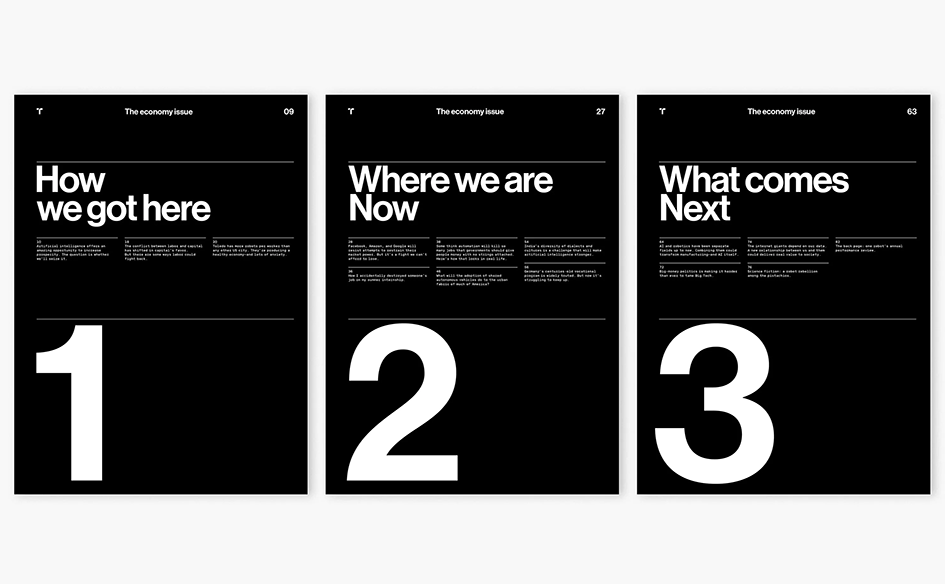 Founded in 1899 as The Technology Review, MIT Technology Review is a magazine published by the Massachusetts Institute of Technology.
As late as 1967, the New York Times described Technology Review as a "scientific journal."
Before the 1998 re-launch, the historical magazine had been published by the MIT Alumni Association and had a more intellectual tone and much smaller public circulation.
The magazine, billed from 1998 to 2005 as "MIT's Magazine of Innovation," and from 2005 onwards as simply "published by MIT", focused on new technology and how it is commercialized; was mass-marketed to the public; and was targeted at senior executives, researchers, financiers, and policymakers, as well as MIT alumni.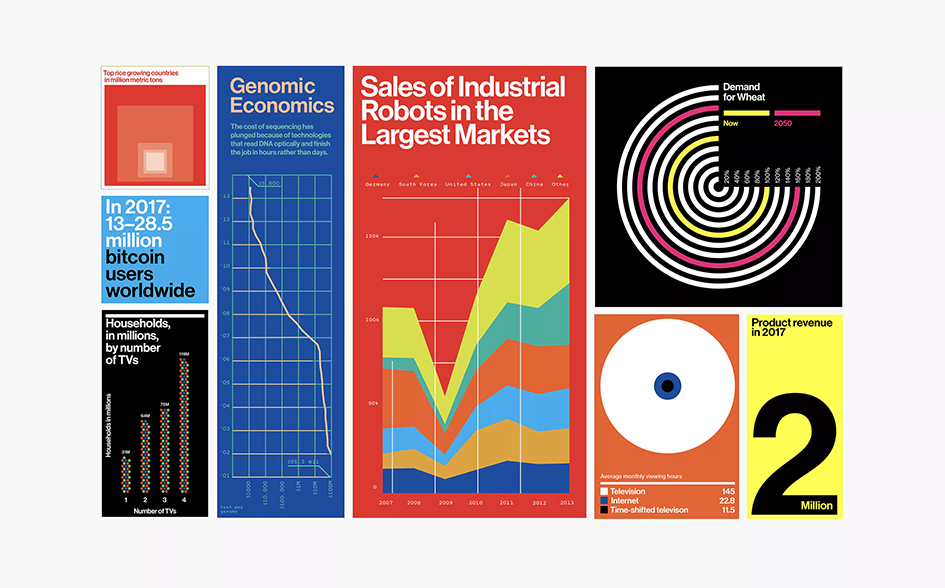 MIT Technology Review has become well known for its annual TR35 list of the top 35 innovators in the world under the age of 35.
In 2006, Technology Review was named a finalist in the "general excellence" category of the annual National Magazine Awards, sponsored by the American Society of Magazine Editors.
It currently claims to be "the oldest technology magazine in the world".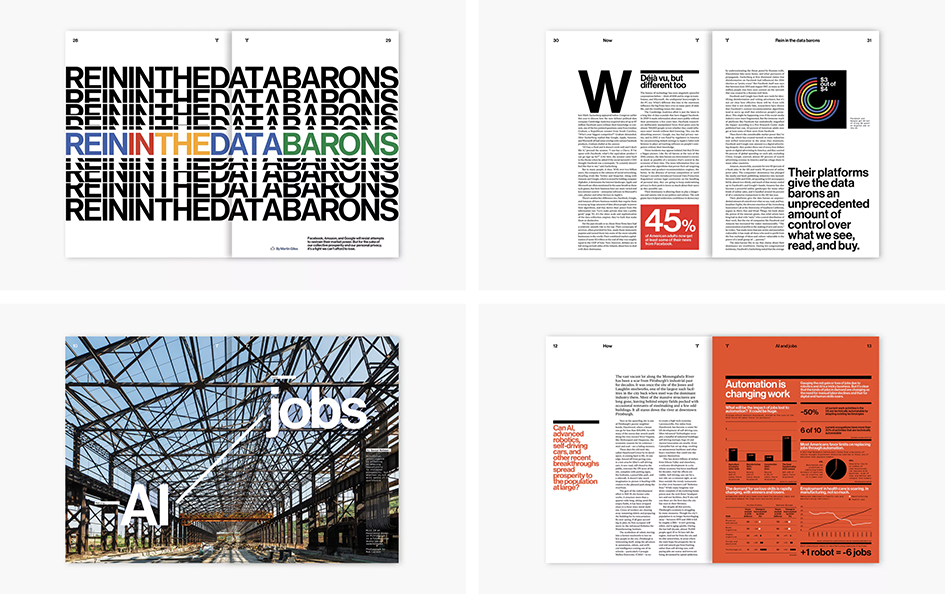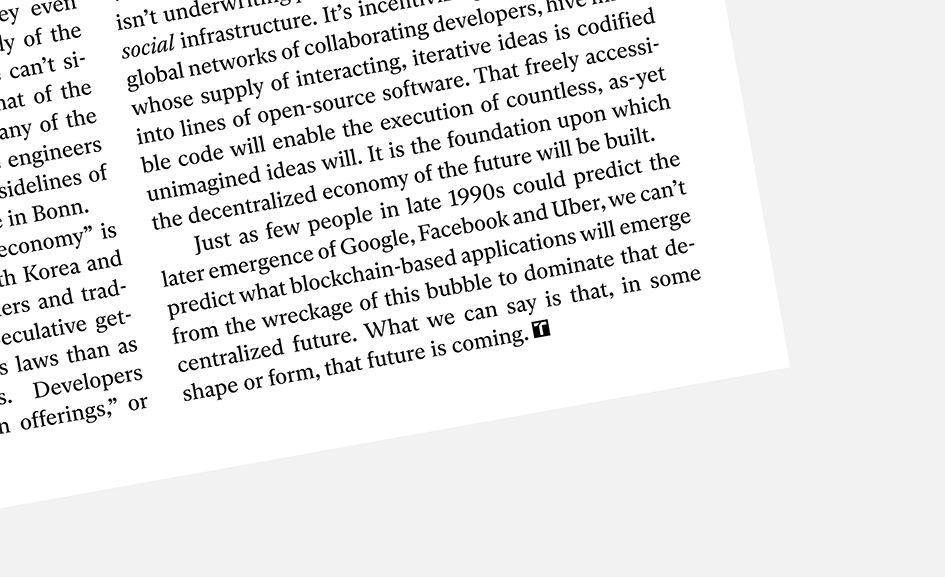 Images via Pentagram
Tags/ inspiration, typeface, helvetica, magazine, monotype, hubert & fischer, publication, redesign, pentagram, michael beirut, new york times, american society of magazine editors, visual language, henrik kubel, a2-type, commercial type, legibility, mit technology review, massachusetts institute of technology, media company, brand identity editorial design, neue haas grotesk, independent, tr mono, upstatement, eric mongeon, muriel cooper, jacqueline casey, ralph coburn, dietmar winkler, christian schwartz, mit libraries, mit media lab, mit alumni association, tr35, national magazine awards