Met150: Gareth Hague pays a bespoke type tribute to the Met's 150th anniversary
Next year one of the world's most iconic cultural institutions, the Metropolitan Museum of Art, is about to celebrate with unique excitement its 150th anniversary. Gareth Hague, the graphic designer whose typeface designs appear under the Alias name, brings to the celebration the typographic signature it deserves.
Hague designed a bespoke font and wordmark (a distinct text-only typographic treatment of the name of a company, institution, or product name used for purposes of identification and branding) for the Met150 which he unveiled on his Instagram account.
The custom typeface is Hague's proposal for the iconic museum's milestone anniversary. Clean, classic, yet contemporary enough to bare Hague's signature aesthetics the branding is as elegant as it gets.
On April 13, 1870, the New York State Legislature granted an act of incorporation that established The Metropolitan Museum of Art—"the beginning of a great enterprise," as the New York Evening Mail wrote.
"At the time of its creation, the Met had no building, no art collection, and no professional staff. Its newly organized Board of Trustees included such prominent civic leaders, businessmen, and artists as the lawyers Joseph H. Choate and Andrew Haswell Green, the railroad executive John Taylor Johnston, the painter John Frederick Kensett, and the architect Richard Morris Hunt. During the Museum's first decade the Trustees successfully raised operating funds, formed the nucleus of a collection, and began hosting exhibitions in rented spaces, first at 681 Fifth Avenue and later on West 14th Street. In 1880, the Museum opened its first building at what is now 1000 Fifth Avenue" notes James Moske, managing archivist in the Museum Archives.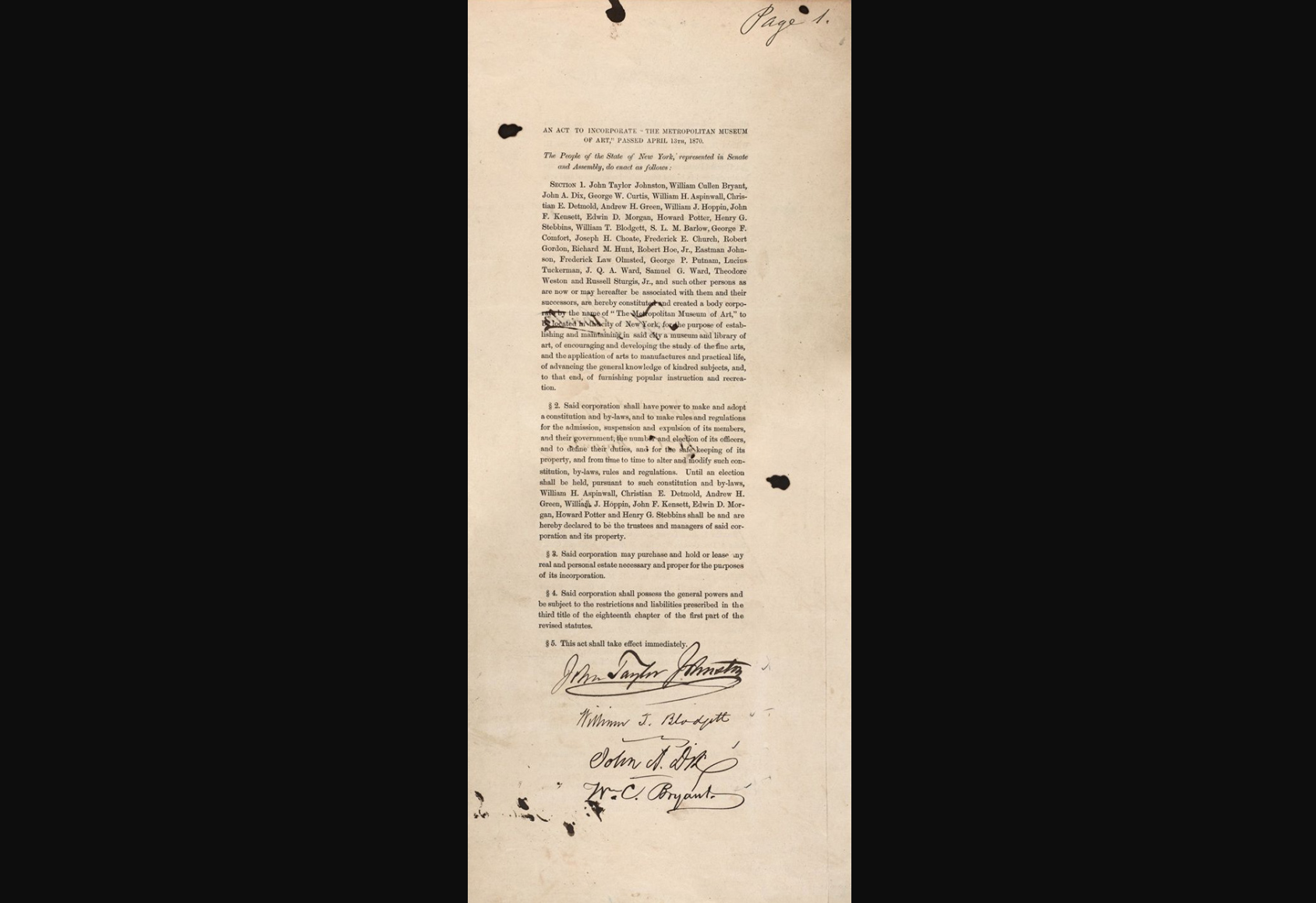 "Manuscript and printed copies of the New York State charter are among the most important holdings of the Museum Archives, which was also established in 1870. At that time, a Trustee was officially appointed Secretary and charged with collecting and organizing Museum records. Today, my three colleagues and I continue to fulfill this mission, and our role has expanded to include providing scholarly access to the records and promoting an informed understanding of the Museum's history. In addition to the Museum's original charter, other highlights of our collection include Office of the Secretary Records, The Havemeyer Family Papers relating to Art Collecting (PDF), John Taylor Johnston Collection (PDF), and Richard F. Bach Records (PDF). Another exciting and popular resource is our newly available Museum Exhibitions 1870–2010 (PDF)—a chronological list of all special exhibitions held at The Metropolitan Museum of Art from its founding in 1870 to the present."
Today, the Met's permanent collection has grown to more than two million works, supported by 17 curatorial departments and a staff of thousands.
Gareth Hague is perhaps best known for 2012Headline, the edgy, controversial typeface he designed for the 2012 Olympics in London. He's also designed many custom typefaces and corporate identities for prestigious clientele such as Prada and Vera Wang. In 1990, he met designer David James when they began working together to design record sleeves for some notable musicians such as Neneh Cherry and Boy George.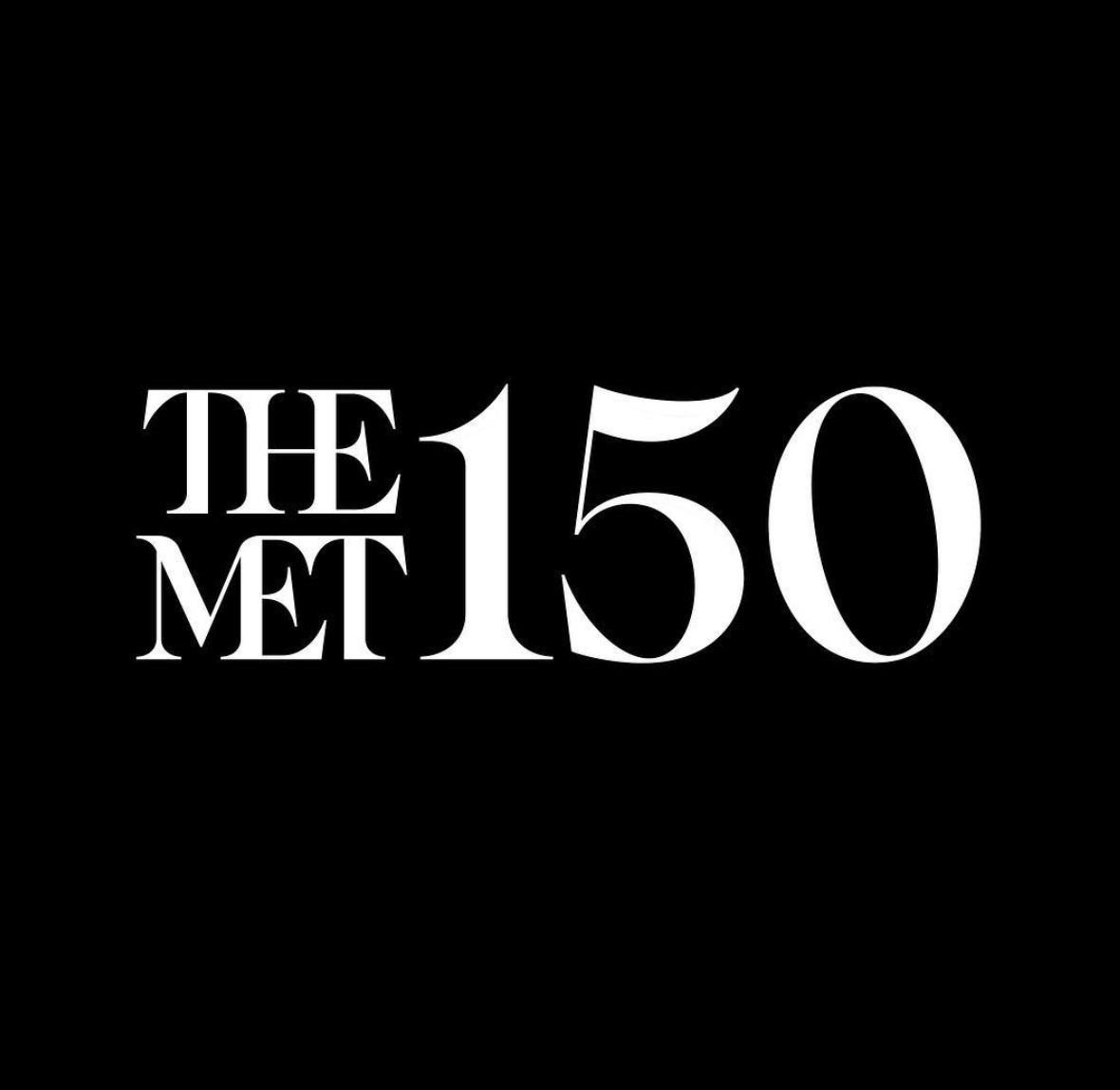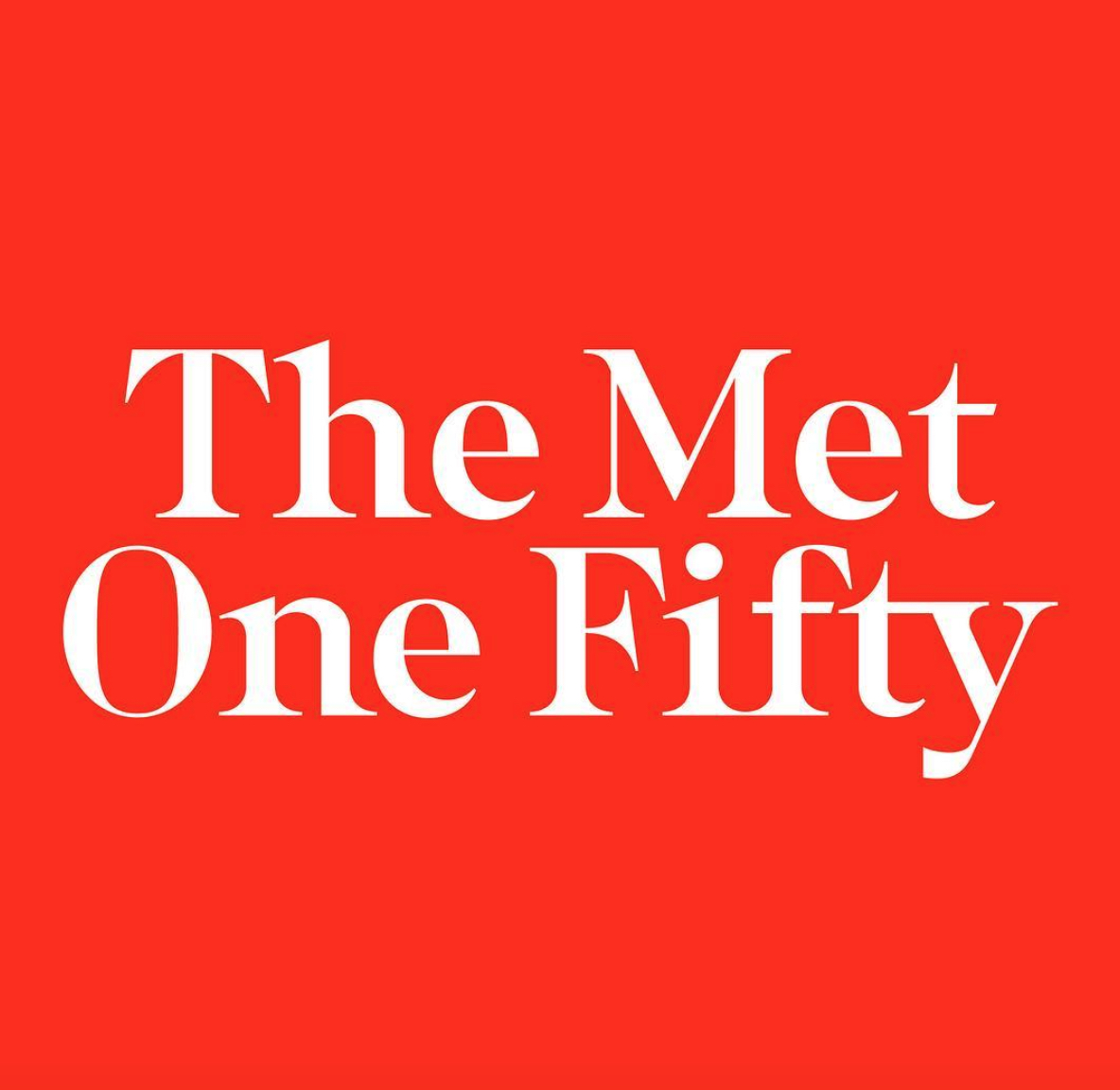 As they continued collaborating on more and more projects and branching out into more fields, they found themselves increasingly making use of art-directed photos and custom type design. Together, they co-founded Alias in 1996 in order to design and promote their own fonts and make custom typefaces and logotype designs on commission.
Be part of the celebration and explore the Met here.
Tags/ typography, graphic design, origins, font, branding, anniversary, gareth hague, bespoke type, metropolitan museum of new york, met, woodmark, alias